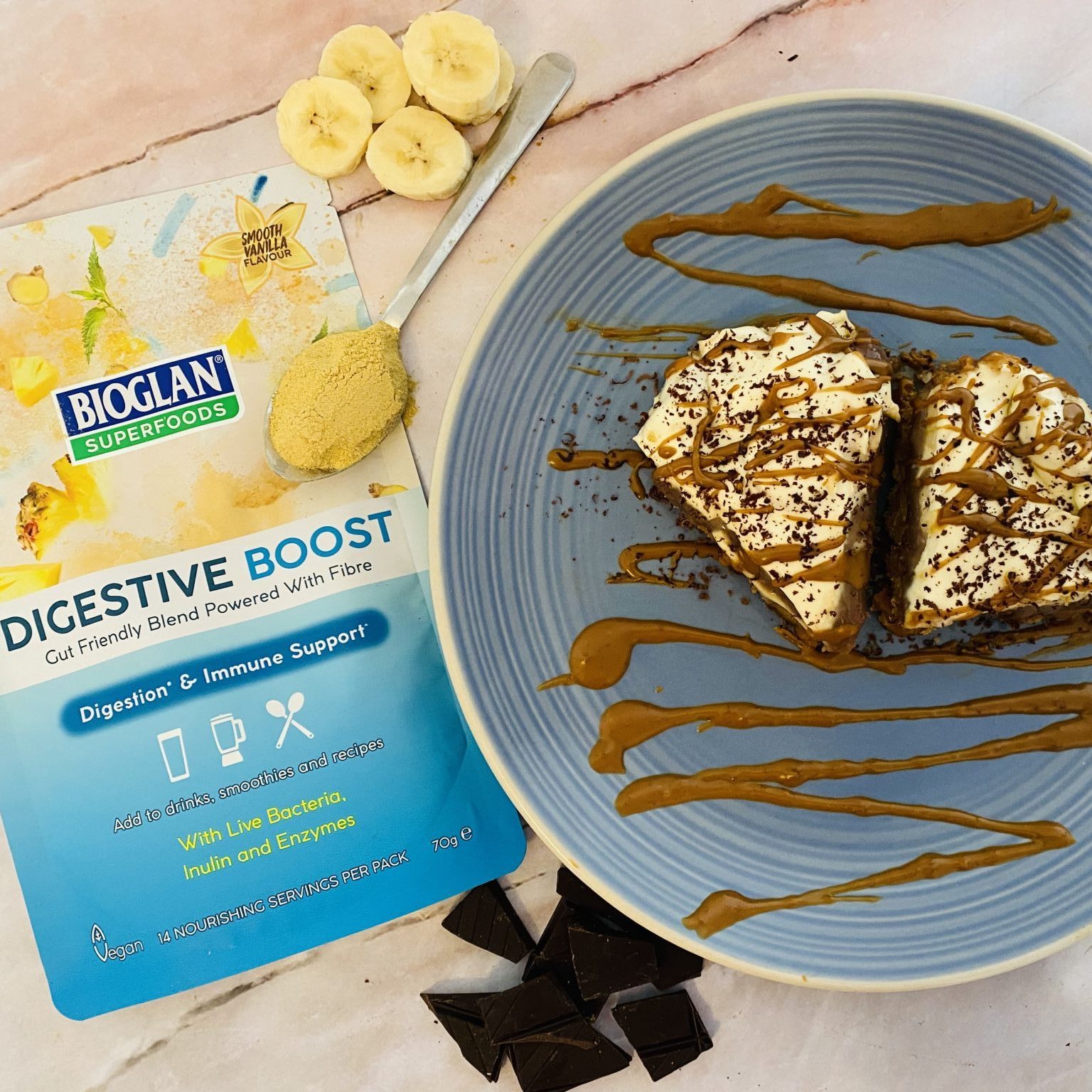 Vegan Banoffee Pie Slices
with Digestive Boost

4-6

Two Hours Thirty Minutes
These amazing Vegan Banoffee Pie Slices with Digestive Boost are a great treat and a fabulous dessert you can make ahead of time if you're entertaining people outdoors.
Ingredients
Buy ingredients online at your selected retailer
2 x 400g tins full fat coconut milk
300g HobNobs or any other vegan biscuit
3 tbsp dairy-free spread
20 medjool dates
1 tsp vanilla extract
1 tsp Bioglan Superfoods Digestive Boost
80ml plant-based milk
3 ripe bananas
2 tbsp icing sugar
30g vegan dark chocolate, grated
To serve (optional):
3 tbsp Biscoff spread
6 tbsp plant-based milk
Method
1. Place the 2 tins of coconut milk in the fridge so the cream sets at the top.
2. Transfer the dates to a small mixing bowl and cover with hot water straight from the kettle. Leave to one side to soak.
3. Add the dairy-free spread to a saucepan on a low heat until it has melted fully, then carefully pour the melted spread into a food processor along with the HobNobs, Digestive Boost and 1 tbsp of water. Process until fully combined and the HobNobs have broken down into crumbs. Transfer the base mixture to a cake tin that has a removable base. Spread the biscuit base evenly across the bottom and sides of the tin, pressing down into the tin to make sure that it's compact.
4. To make the caramel layer, drain the dates, remove the stones and add the dates to the food processor along with the vanilla extract and plant-based milk. Process until smooth.
5. Pour the caramel on top of the biscuit base and smooth it out with a spatula. Place the cake tin in the fridge and leave the caramel to set for an hour.
6. After 1 hour, cut the bananas into 0.5cm thick slices and arrange them on top of the caramel.
7. Scoop out the cream that has set at the top of the 2 tins of coconut milk and add to a mixing bowl along with the icing sugar. Whisk until fully combined, then pour on top of the slices of banana and gently smooth out with the spatula. Place the banoffee pie back in the fridge to set for at least 1 hour or until ready to serve.
8. When ready to serve, grate dark vegan chocolate over the pie.
9. If serving with the Biscoff sauce, combine 3 tbsp Biscoff spread with 6 tbsp plant-based milk and stir until the sauce is smooth and runny.
10. To serve, drizzle some Biscoff sauce over each slice of banoffee pie. Enjoy!