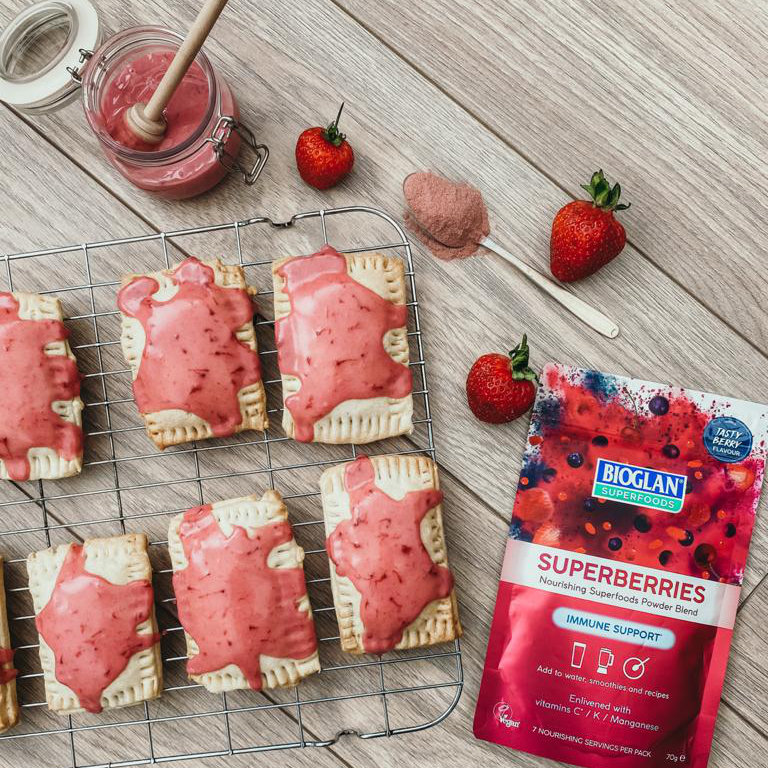 Strawberry Pop Tarts
with Superberries

Makes 9

Forty-Five Minutes
These vegan, strawberry pop tarts with Superberries are so berry, berry good! Flaky pastry with the delicious berries make for the perfect pair.
Ingredients
Buy ingredients online at your selected retailer
1 packet ready-rolled shortcrust pastry
For the filling:
400g strawberries
1 tbsp lemon juice
30g brown sugar
1 tbsp Bioglan Superfoods Superberries
For the icing:
120g icing sugar
1 tbsp jam (from the filling)
1 tbsp Superfoods Superberries
1 tbsp water
Method
1. Wash and slice strawberries and add to a small saucepan along with the lemon juice and sugar. Place over a medium heat until the mixture boils, then reduce the heat to low and stir occasionally. Cook for around twenty minutes until the jam is thickened. Remove from heat and set aside.
2. Preheat oven to 180 Celsius. Remove the pastry from the fridge and flatten it out. Cut into 18 equal sized rectangles.
3. Place 1 tbsp of jam onto one rectangle and place another rectangle over the top. Seal around the edge using the prongs of a fork.
4. Cook in the centre of the oven for 20-25 minutes until lightly golden, then place on a wire rack to cool.
5. To make the icing, stir all the ingredients together. Once the pop tarts have cooled, spoon over the icing and leave again for the icing to set. Enjoy!