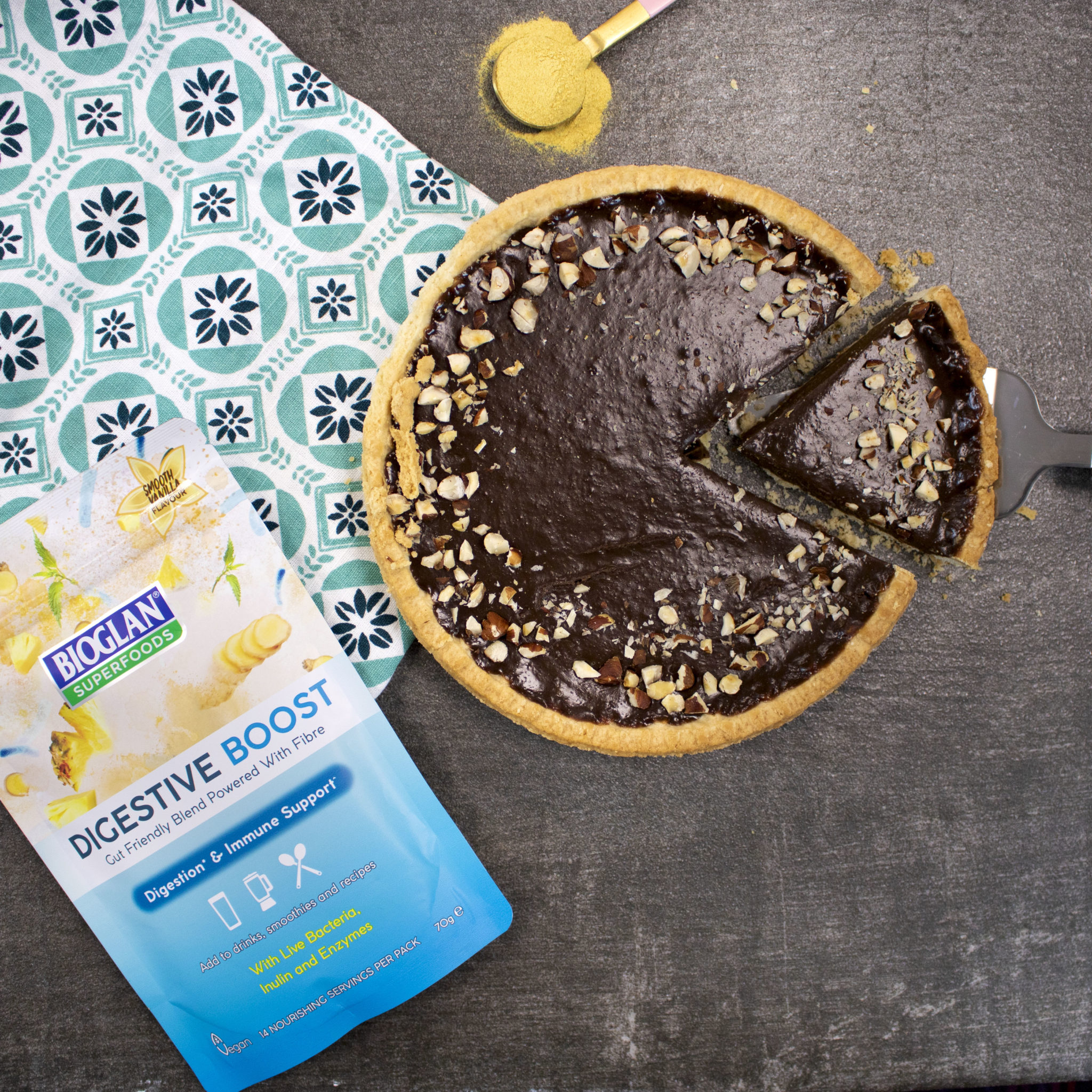 Nutella Tart
with Digestive Boost

6

One Hour
The 5th February is World Nutella Day so we had to celebrate the occasion with this heavenly chocolate and hazelnut tart. We added a teaspoon of our new, vegan Digestive Boost blend to give a lovely hint of vanilla flavour.
Ingredients
Buy ingredients online at your selected retailer
Pastry Case:
200g plain flour
100g cold butter
2 tbsp cold water
Nutella filling:
2 tbsps cornflour
2 cups whipping cream
350g Nutella
1 teaspoon Bioglan Superfoods Digestive Boost
Handful of hazelnuts
Method
1. Cut the cold butter into small pieces and add to a bowl coating it with the plain flour. Rub the butter into the flour lightly until it resembles breadcrumbs.
2. Sprinkle in the cold water and mix. Bring the dough together with your hands and put the dough onto a work surface dusted with flour. Knead to form together.
3. Dust the rolling pin with flour and roll out the dough.
4. Set the flan tin on the baking sheet. When the dough is 5cm larger than the tin, lift it up draped over the rolling pin and lay it across the flan tin. Press the dough into the corners of the tin using your fingers, don't trim off the edges. Chill in the fridge for 30 mins.
5. Heat the oven to 200C/180C fan/gas 6. Fill the pastry case with a round of baking paper and add baking beans.
6. Bake the pastry for 15 mins, then carefully remove the paper and beans and cook the pastry for a further 5 mins.
7. Carefully cut off the excess pastry and let it cool.
8. In the meantime, make the Nutella filling by whisking the cornflour together with ½ cup of whipping cream in a small pan. Add the cream a little at a time so you can whisk out the lumps.
9. Add the rest of the heavy cream and Nutella to the pan and begin heating on medium heat.
10. Keep whisking and boil the mixture for 2-3 minutes while it thickens.
11. Allow the mixture to cool and then stir in the teaspoon of Bioglan Superfoods Digestive Boost.
12. Pour the mix into the pastry and place in the fridge for 3-4 hours until set.
13. Sprinkle some chopped hazelnuts around the edges when ready to serve.