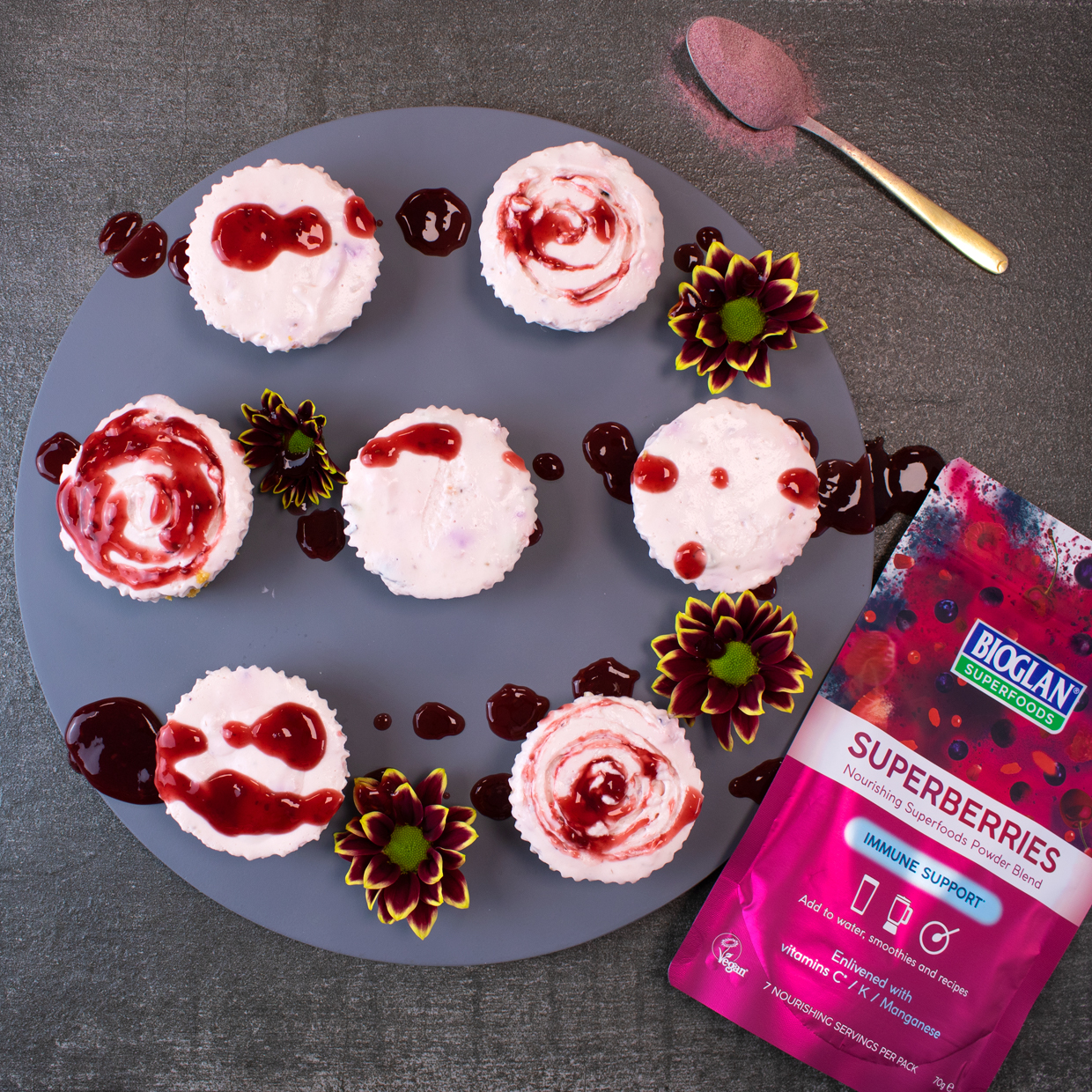 No Bake Mini Cheesecakes
with Superberries

12

Twenty Minutes
These berrylicious mini cheesecakes with Superberries are the perfect dessert after a big Christmas feast! They're light and creamy with a buttery biscuit crust. Best of all, they don't need to be baked so they can be prepared the day before giving you less to do on Christmas Day.
Ingredients
Buy ingredients online at your selected retailer
1 cup Digestive biscuits (crumbs)
¼ cup unsalted butter, melted
1 tbsp/packet unflavoured gelatin
½ cup cold water
750g cream cheese, softened
¾ cup caster sugar
450g strawberries
150g blueberries
150g raspberries
120ml heavy whipping cream
Method
For the base:
Blend the digestive biscuits into fine crumbs. Combine the digestive crumbs with butter. Press into the bottom of a cupcake or muffin pan. Set aside in the fridge to allow the biscuit base to firm up.
For the filling:
Add cold water to a small saucepan and stir in the gelatin, let it sit for one minute. Heat on low heat and stir until the gelatin dissolves completely. Allow it to cool slightly.
Add tall the berries to a food processor and pulse until coarsely chopped, you don't want it to be a puree.  
In a large bowl beat the cream cheese until it is fluffy. Beat in the sugar followed by the blended berries. Add the gelatin water and mix until combined. Fold in the whipped cream and spoon the filling evenly over the individual biscuit bases and refrigerate for at least 6 hours.
Slowly lift the individual cheesecakes out of the muffin pan and serve. Garnish with fresh berries and raspberry coulis if desired.