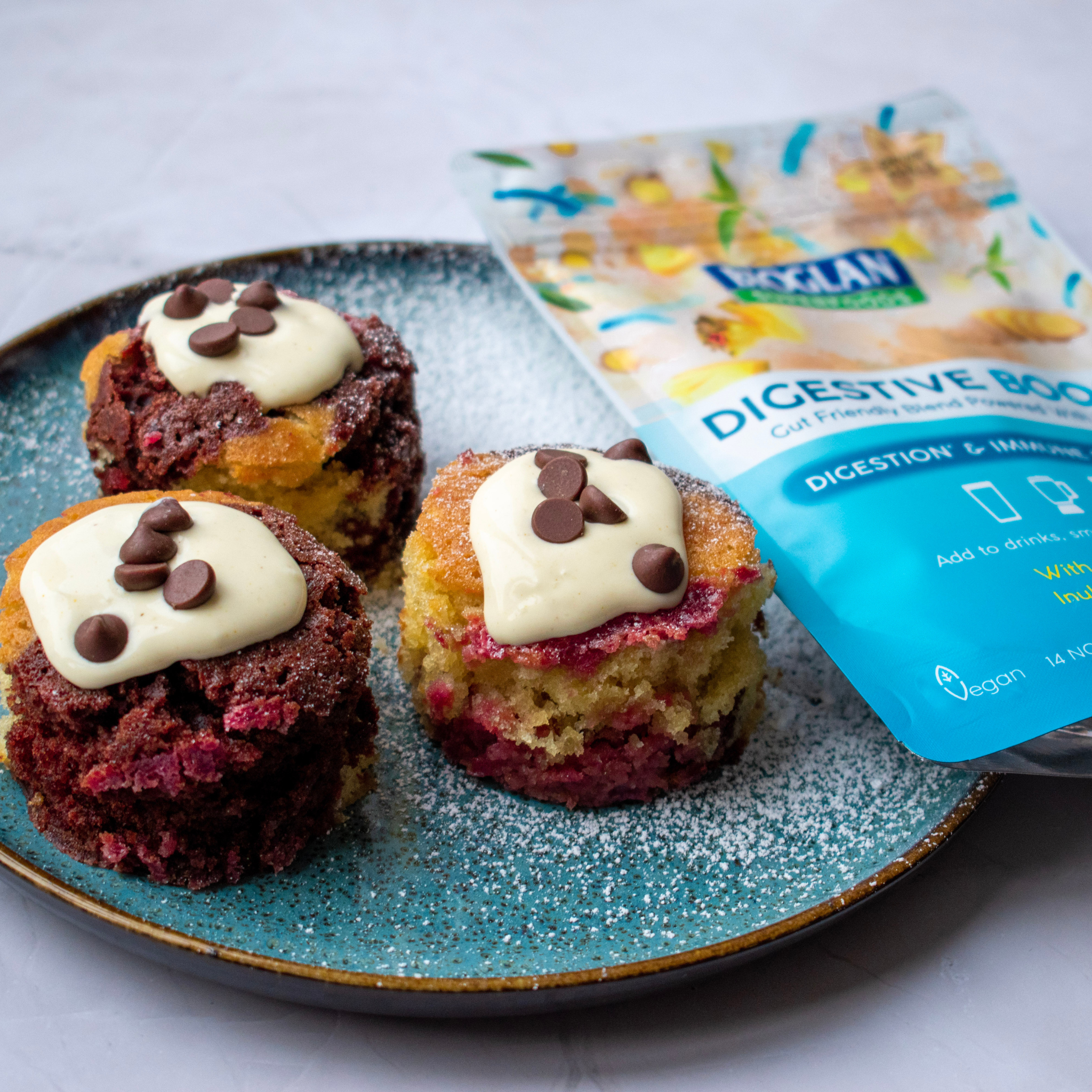 Neapolitan Traybake with Digestive Boost

16

One hour
Our nostalgic Neapolitan Traybake with Digestive Boost is not only pretty to look at but the vanilla, strawberry and chocolate flavours are tasty too.
Ingredients
Buy ingredients online at your selected retailer
200g unsalted butter
100g strawberries cut into quarters
200g caster sugar
3 eggs
1 tbsp vanilla extract
200g self-raising flour
1 tsp baking powder
2 tbsp cocoa powder
3 tbsp milk
1 drop of pink food colouring
For the icing:
200ml double cream
2 tbsp icing sugar
1 tsp Bioglan Superfoods Digestive Boost
Chocolate chips/shavings for decoration
Method
1. Preheat the oven to 180C/160C Fan. Line a 20cm square baking tin with baking parchment.
2. Put the strawberries in a blender and blitz until a smooth puree has formed. Tip the puree into a saucepan and heat gently for 3 minutes until the mixture has reduced. Then leave to cool.
3. Beat the butter and sugar together in a bowl until light and fluffy. Add the eggs one at a time and beat the mixture after each addition. Add the vanilla extract, flour and baking powder and mix well, trying to keep the air in the mixture.
4. For each flavour (chocolate, strawberry and vanilla) you will need a separate bowl – 3 in total. Divide the cake mixture evenly between these. For the chocolate flavour, add cocoa powder and milk to the first bowl and mix. For the strawberry flavour add the puree to the second bowl and a drop of pink food colouring and mix. For the vanilla flavour add the remaining milk to the third bowl and mix.
5. To get the effect drop alternating spoonfuls of each flavour into the tin, using a separate spoon for each flavour so the colours don't mix. Try to make sure you fill the tin evenly.
6. Bake in the oven for 30-35 mins and test with a skewer to ensure it is fully cooked through. Allow to cool for 15 mins when out of the oven and then transfer to a wire rack to cool down completely.
7. Make the icing by whisking the cream, digestive boost and icing sugar together to form soft peaks. Cut the sponge into squares or circles and either pipe or spoon the icing on top and finish off with the chocolate toppings.