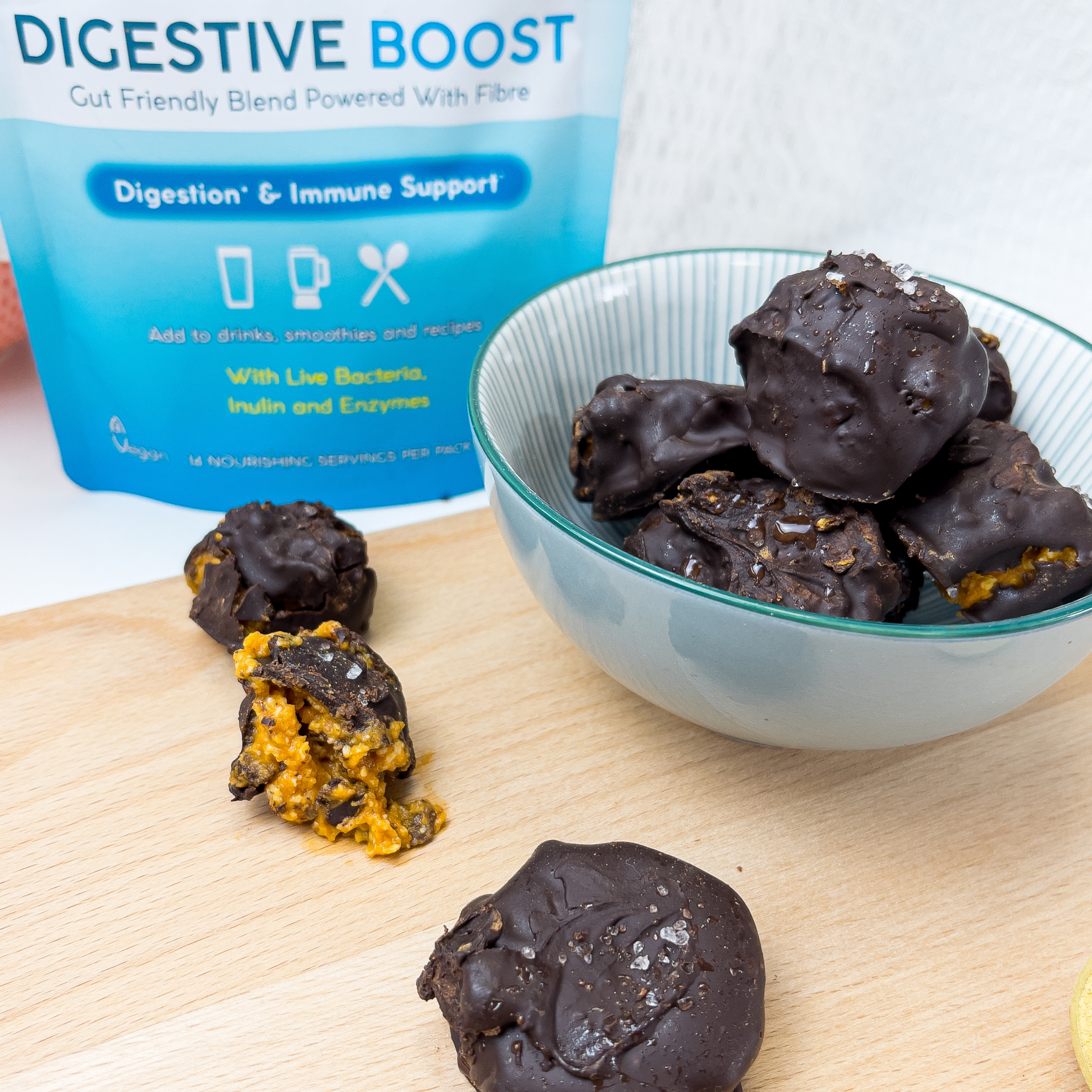 Dark Chocolate Pumpkin Truffles with Digestive Boost

15 large truffles

Three Hours Thirty Minutes
These Pumpkin Truffles with Digestive Boost are an easy no-bake snack. The dark chocolate and flaked sea salt make these a grown up Halloween treat.
Ingredients
Buy ingredients online at your selected retailer
15 oz canned pumpkin
1 cup oat flour
¾ cups pure maple syrup
1 tsp vanilla extract
1 tsp pumpkin pie spice
½ tsp salt
½ tsp cinnamon
3½ cups dark chocolate chips
1 tsp of Bioglan Digestive Boost
Flaked sea salt, for topping
Method
1. Add pumpkin, maple syrup, vanilla, pumpkin pie spice, salt, cinnamon, and sugar to a bowl and mix well.
2. Add 1 tsp of Digestive Boost and the oat flour, then mix until well combined (batter will be thick and not sticky).
3. Use a mini-ice cream scoop, or a spoon to form truffles.
4. Place truffles on a wax paper lined baking sheet.
5. Freeze the truffles for 20 minutes.
6. Melt the chocolate while the truffles are freezing. The easiest way is to melt in a microwave safe bowl in 20-30 second increments. Stir often and do not overcook to avoid burning the chocolate.
7. For each truffle, drop it into the melted chocolate. use a spoon to drizzle the chocolate over the top.
8. Use a fork and toothpick under the bottom to place truffle back onto the lined baking sheet.
9. Top immediately with flaked sea salt.
10. Repeat until every truffle is dipped in chocolate and topped with sea salt.
11. Place back in the freezer until solid.
12. Store in a Ziploc bag or freezer safe container.
13. Leftovers can be stored in the fridge or freezer.