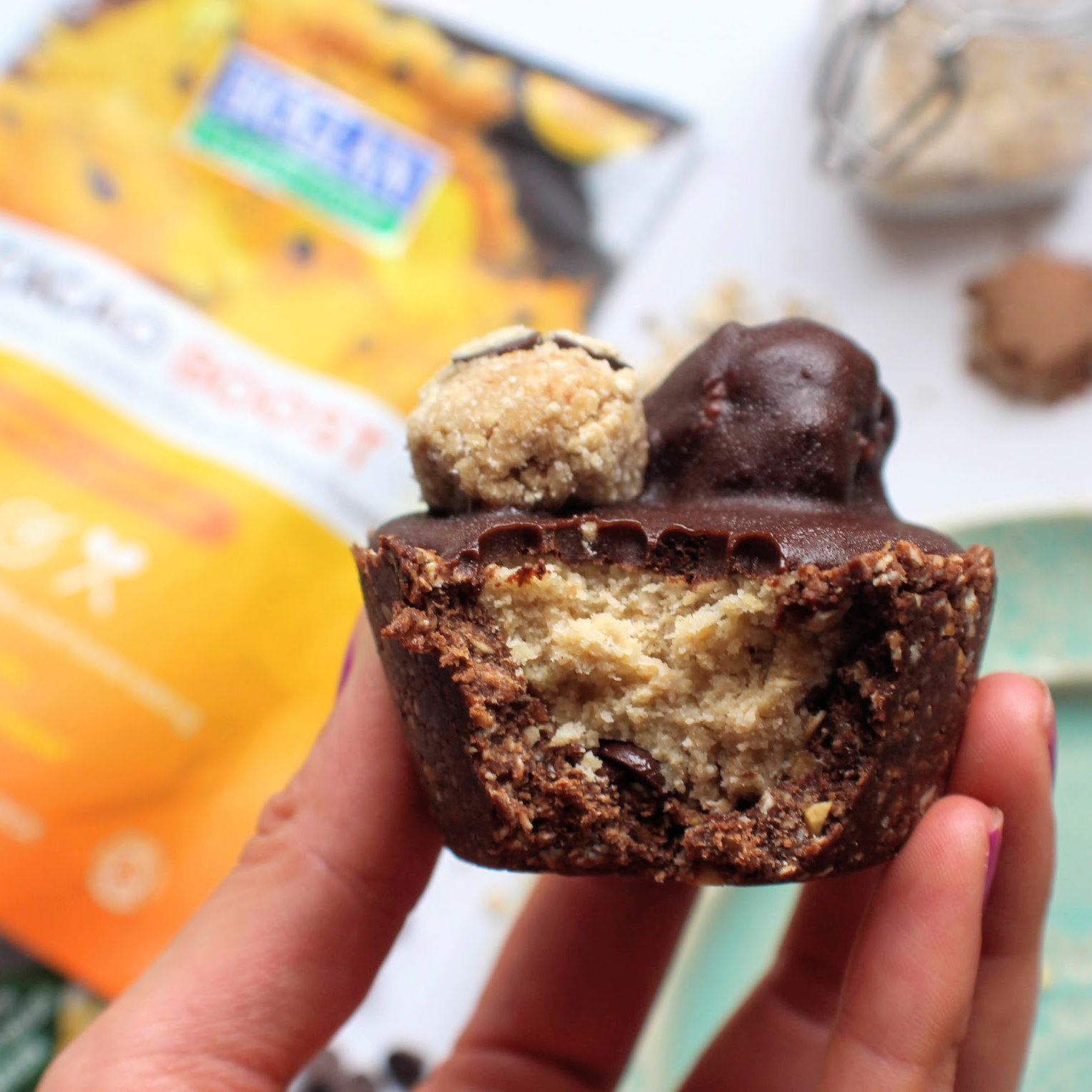 Cookie Dough Chocolate Cups
with Cacao Boost & Super Protein

4

Two and a half hours
This recipe is from our Superfoods Ambassador @spamellab. A chocolate crust, choc chip cookie dough filling, chocolate topping and cookie dough balls on top using our Cacao Boost and Super Protein.
Ingredients
Buy ingredients online at your selected retailer
For the cup cases:
150g oats
30g Bioglan Superfoods Cacao Boost
3 tablespoons nut butter
3 tablespoons maple syrup
2 tablespoons melted coconut oil
For the filling & balls:
100g ground almonds
100g oat flour
2 tablespoons Bioglan Superfoods Super Protein powder
40g sweetener
2 tablespoons maple syrup
50ml almond milk
1 teaspoon vanilla extract
50g dark chocolate chips
For the topping:
2 tablespoons coconut oil
2 tablespoons maple syrup
4 tablespoons cacao powder
Method
1. First make the cases: Place the ingredients into a blender and whizz up until the mixture comes together.
2. Divide between 4 cupcake moulds (silicone is best) and press up the sides and across the bottoms. Chill in the fridge.
3. Mix together the ground almonds, oat flour, protein, sweetener, syrup, milk and vanilla in a bowl until combined then stir in the choc chips.
4. Place about 1 large heaped tablespoon of the cookie dough into each cup to fill and press down. Roll the remaining mixture into small balls.
5. Melt the coconut oil and maple syrup then whisk in the Cacao Boost powder. Spoon over each cup to cover then use any remaining to coat some of the balls. Place two balls on top of each cup then chill in the fridge for 2 hours to set.
6. Pop out of the fridge and enjoy!