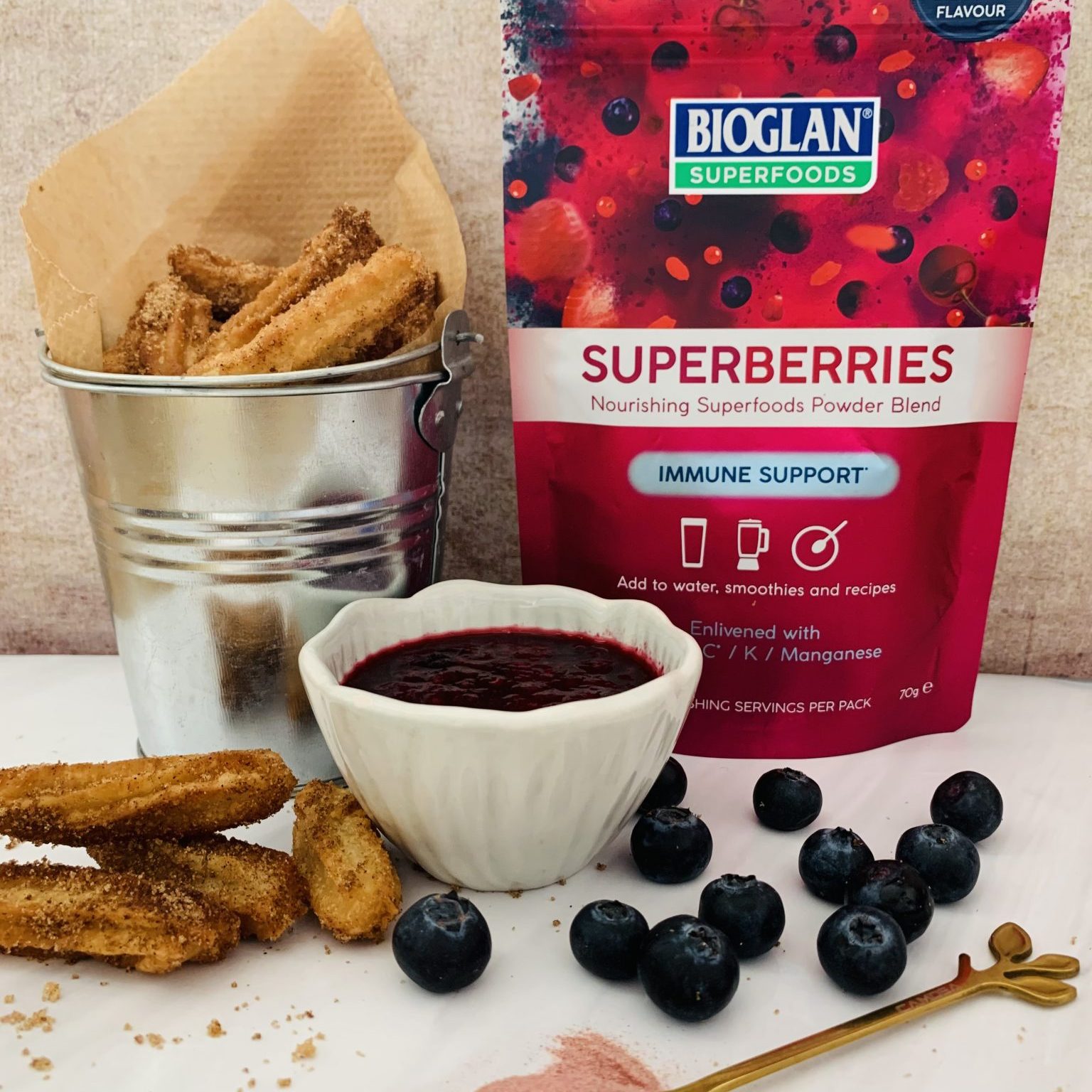 Churros with Berry Compote
with Superberries

4-6

Forty-Five Minutes
Hot mini churros coated in cinnamon sugar and a Superberries compote – trust us, these will not disappoint. Perfect as a dessert to share but we won't judge if you don't fancy sharing!
Ingredients
Buy ingredients online at your selected retailer
50g butter
200g plain flour, sieved
½ tsp baking powder
2 tsp vanilla extract
1 tsp ground cinnamon
60g brown sugar
Sunflower oil, for frying
Berry Compote:
2 tbsp agave syrup
125g each fresh or frozen mixed berries
1 tsp Bioglan Superfoods Superberries
1 tsp vanilla extract
Method
1. Begin with making the compote. Add the mixed berries with 60ml water in a saucepan over medium heat. Bring to a boil and mash the berries with a wooden spoon or potato masher.
2. Add the vanilla extract, Superberries and agave syrup. Mix well and then set aside to cool.
3. For the churros, combine the butter with 250ml water in a pan over medium heat.
4. Once the butter has melted, add in your flour and baking powder. Combine then add the vanilla and stir until your dough is golden in colour. Take it off the heat and allow it to cool.
5. In a separate dish, mix together the cinnamon and brown sugar and leave aside ready to cover your hot churros.
6. Line a baking tray with baking paper.
7. Spoon your churro dough into a piping bag with a 1.5cm star nozzle. Pipe the churros into small lengths onto your baking tray.
8. Fill a large saucepan or wok with sunflower oil up to about halfway and heat. In batches, deep-fry churros for 2-3 minutes until golden and cooked through.
9. Quickly remove churros from the oil, drain on paper towel, then toss evenly in cinnamon sugar. Serve hot with your berry compote. Enjoy!