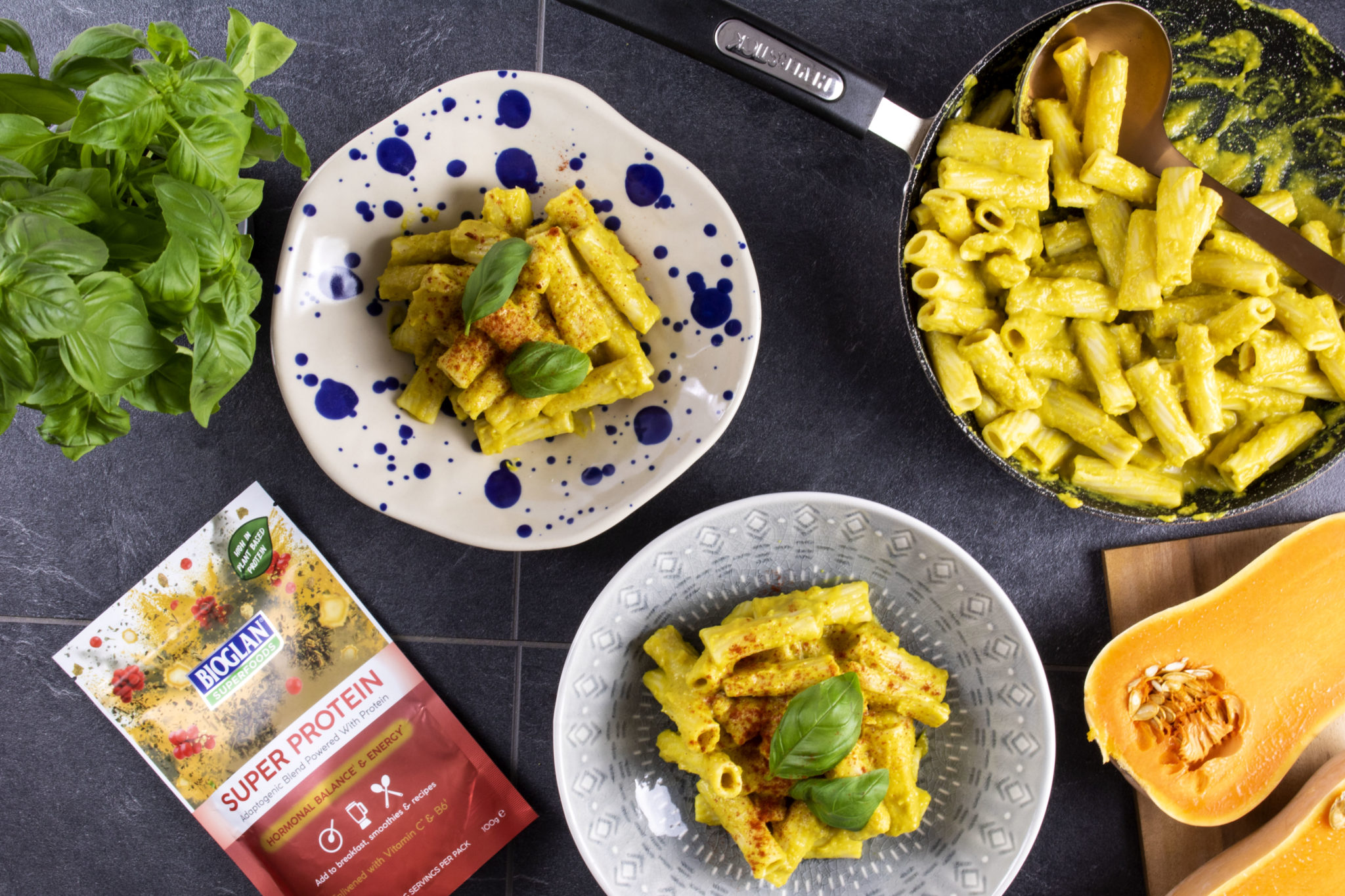 Cheesy Protein Pasta
with Super Protein

2

Thirty Minutes
This vegan pasta recipe has a delicious and creamy sauce with Super Protein, turmeric, butternut squash and nutritional yeast to give it that lovely, cheesy flavour.
Ingredients
Buy ingredients online at your selected retailer
1 small butternut squash, peeled and chopped into small, even pieces
200g egg-free dried macaroni
1 tbsp olive oil
1 medium onion, finely chopped
2 garlic cloves, crushed
4 tbsp nutritional yeast
¼ tsp turmeric
2 tbsp Bioglan Superfoods Super Protein
Method
Bring a large saucepan of water to the boil. Add the squash to the water and cook over a medium heat for 10-11 minutes until very soft, then drain.
Meanwhile, put the macaroni in a separate saucepan and pour over boiling water to cover. Bring back to the boil, then reduce the heat and simmer for 10 minutes (or according to the packet instructions) until al dente. Drain and keep warm in a serving dish.
Heat the oil in a frying pan and add the onion and garlic. Cook over a medium heat for 2-3 minutes until softened but not browned.
Spoon the onion and garlic mixture into a blender or food processor, along with the butternut squash (or use a bowl and stick blender). Pour in the vegetable stock and blend on high until smooth.
Add the turmeric, nutritional yeast and Super Protein powder and stir until fully dissolved.
Pour the smooth sauce over the macaroni and stir together thoroughly. Season with salt and freshly ground pepper and garnish with fresh basil leaves.