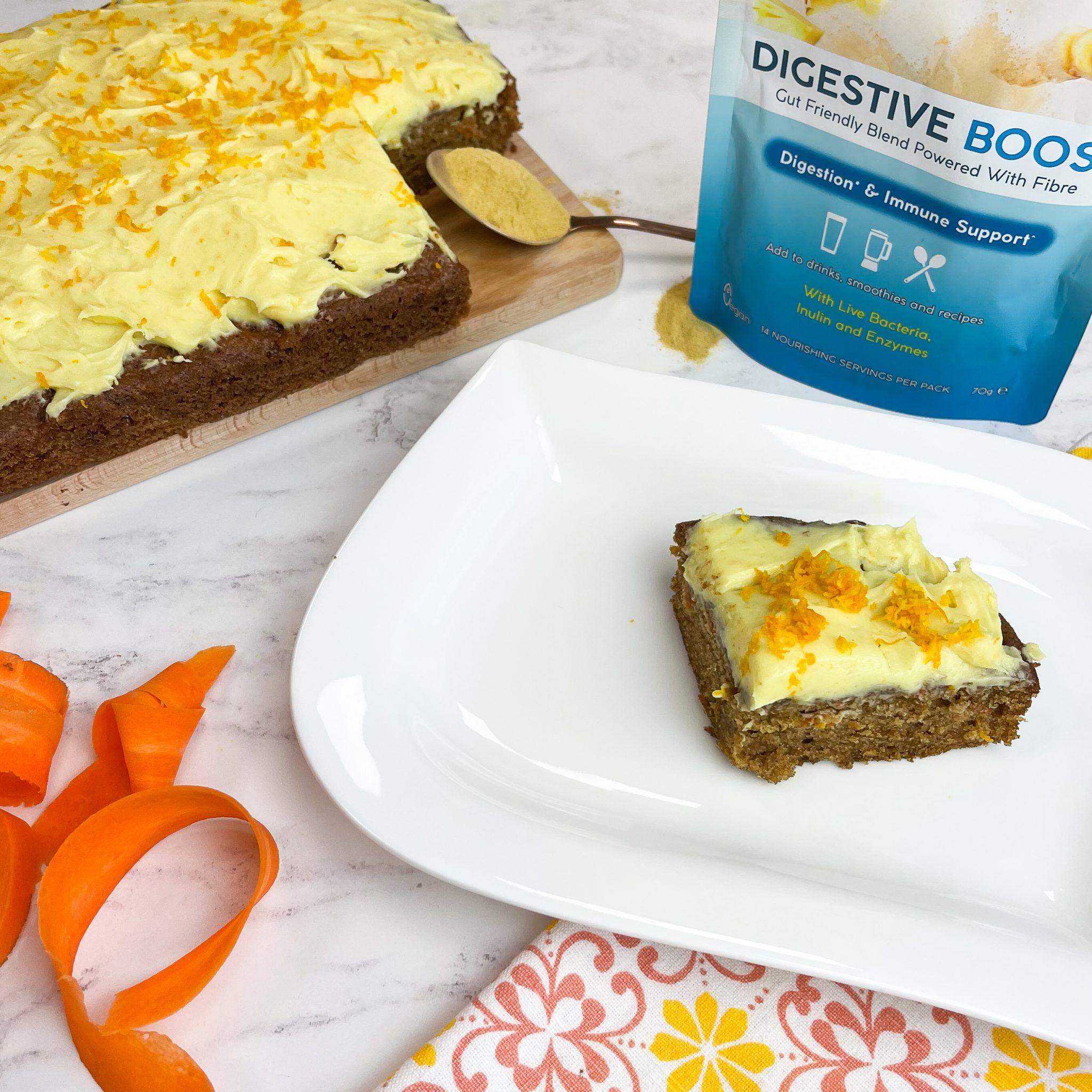 Carrot Cake with Digestive Boost

8

One hour fifteen minutes
Whatever the season, carrot cake is always a winner, enter our Carrot Cake with Digestive Boost. In this version we've amped up the icing with our Digestive Boost blend.
Ingredients
Buy ingredients online at your selected retailer
oil or butter, for greasing
200ml vegetable oil
200g light muscovado sugar
3 large eggs
200g plain flour
1 tsp bicarbonate of soda
1 tsp baking powder
2 tsp cinnamon
zest ½ orange
200g grated carrots (approx. 2-3 medium carrots)
For the icing:
100g soft butter
zest 1 orange
300g icing sugar
1 tsp Bioglan Superfoods Digestive Boost
125g full fat cream cheese
Method
1. Preheat the oven to 180°C, fan 160°C, gas 4. Grease a 20cm x 30cm x 5cm deep baking tin with oil or butter and line with baking paper.
2. In a large bowl, whisk (with an electric whisk) the oil, muscovado sugar and eggs together until smooth.
3. Sift over the flour, bicarbonate of soda, baking powder, ground cinnamon and add the orange zest and a pinch of salt. Whisk until evenly combined, then fold through the carrots.
4. Pour into the prepared tray. Bake on the middle shelf of the oven for 35-45 minutes until golden, risen and a skewer comes out clean when inserted in the middle.
5. Leave to cool in the tin for 10 minutes, then transfer to a wire rack to cool completely.
6. To make the icing, beat the butter and half the orange zest using an electric whisk until soft and creamy. Sift over the icing sugar, Bioglan Superfoods Digestive Boost, and beat for 2-3 minutes until evenly combined and it has the consistency of coarse breadcrumbs. Beat in the cold soft cheese for 3-4 minutes until fully incorporated and light and fluffy.
7. Spread the icing over the cooled cake and sprinkle over the remaining orange zest to serve. Enjoy!