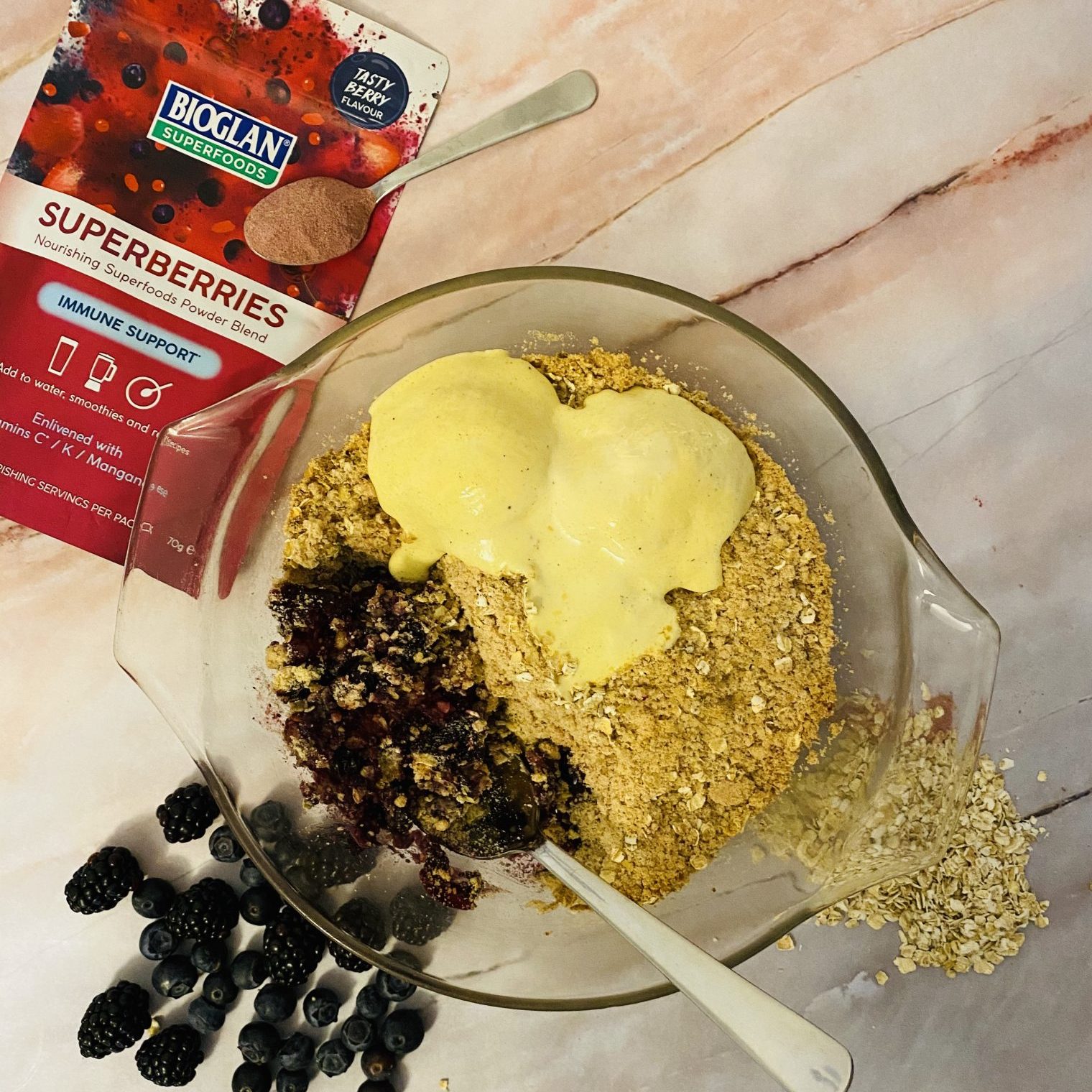 Berry Crumble
with Superberries

4

Fifty Minutes
A very berry delicious crumble filled with tasty, warm berries and Superberries – yum!
Ingredients
Buy ingredients online at your selected retailer
Punnett of blackberries
Punnett of blueberries
2 tbsp brown sugar
2 tbsp maple syrup
1 tbsp lemon juice
2 tbsp corn starch
1 tsp baking powder
½ cup all-purpose flour
2 tsp Bioglan Superfoods Superberries
⅓ cup coconut oil, softened
Topping:
½ cup oats
2 tbsp brown sugar
½ tsp cinnamon
Vegan vanilla ice cream, we used non-dairy Swedish Glace Vanilla
Method
1. Preheat the oven to 190 degrees Celsius.
2. Add the blueberries and blackberries to the oven proof dish.
3. In a bowl add brown sugar, maple syrup, and lemon juice and toss well. Add the corn starch and toss again.
Add 1-2 teaspoons of Superberries powder and mix in.
4. Add the coconut oil, all purpose flour and baking powder. Rub all the ingredients between your fingers to make it crumbly.
5. Once mixture is crumbly scatter on top of the berries in the dish, so it covers the filling.
6. Sprinkle oats on top and extra brown sugar and cinnamon to your liking.
7. Put in the oven to bake for 30-35minutes.
8. To serve add a scoop or two of vegan ice cream and enjoy!