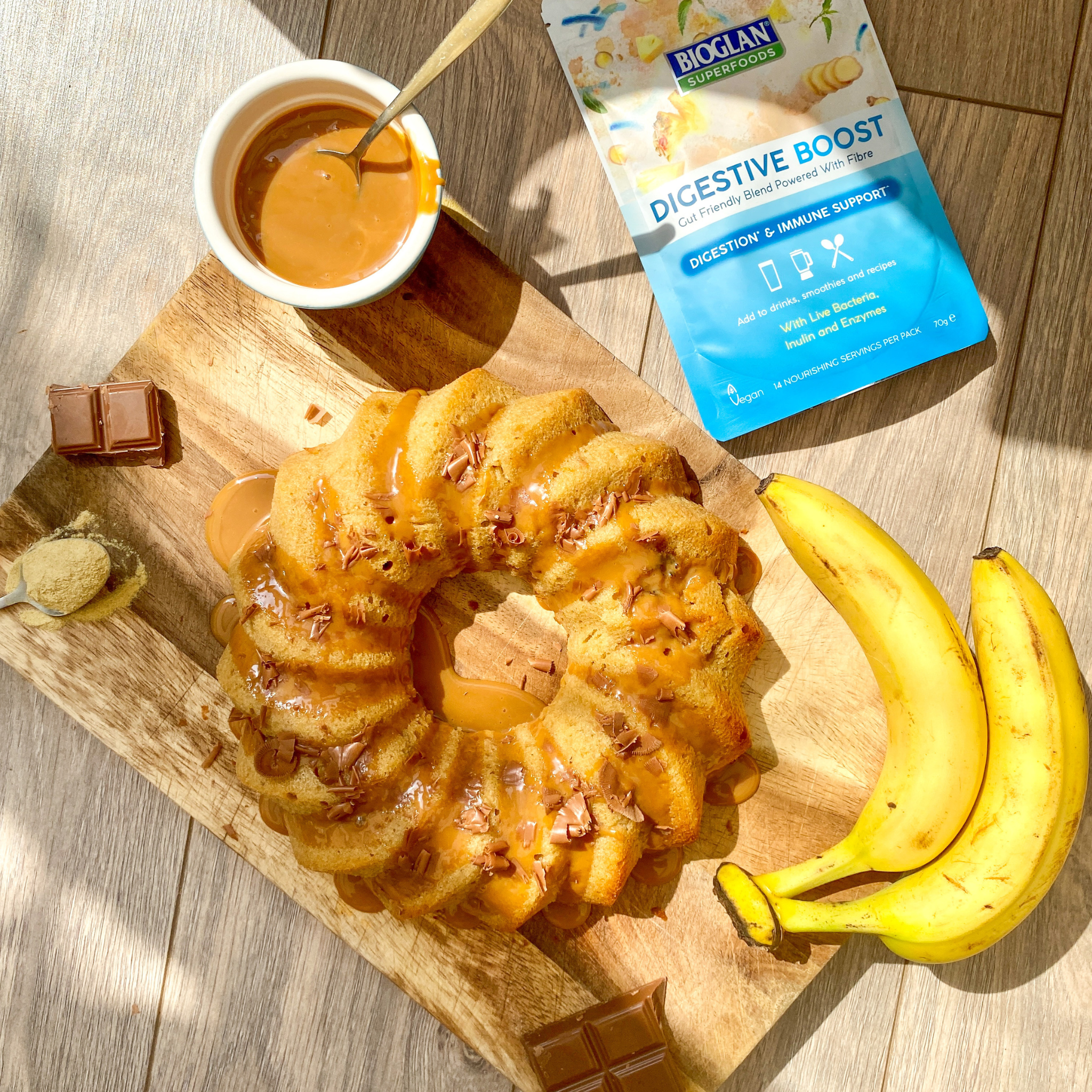 Banoffee Bundt Cake with Digestive Boost

10

Forty Minutes
Here's our take on a family favourite – Banoffee Bundt Cake with Digestive Boost. Including live bacteria, fibre, digestive enzymes and a delicious natural vanilla flavour. Our blend makes a yummy addition to your favourite bakes.
Ingredients
Buy ingredients online at your selected retailer
200g unsalted butter
200g soft light brown sugar
4 eggs
2 overripe bananas, mashed
1 tsp vanilla extract
100g plain yoghurt
250g self-raising flour
½ tsp salt
1x 400g tin of caramel
1 tbsp Bioglan Superfoods Digestive Boost
50g milk chocolate (optional)
Method
1. Pre-heat oven to 180°C / 160°C and grease a Bundt tin or regular baking tin if you don't have one to hand.
2. Cream together the butter and sugar by hand or using an electric mixer. Add the eggs one by one, and mix until combined.
3. Add the bananas, yoghurt, vanilla and salt and mix until combined.
4. Finally, add the flour and mix just until combined, scraping down the sides of the bowl as needed. Pour the batter into prepared tin and bake for around 25 minutes, or until a skewer inserted into the thickest part of the cake comes out clean.
5. Leave to cool in the tin on a wire rack. Once cool, carefully remove the cake from the tin and place on a cake stand or large plate.
6. Add the contents of the tin of caramel to a bowl, stir in the Digestive Boost and add a couple of tablespoons of water, stirring to combine until it is a pourable consistency.
7. Drizzle the caramel over the cake and top with some grated milk chocolate.
8. Store the cake in the fridge covered with clingfilm or re-usable food wraps for up to 5 days. Allow to come to room temperature before serving for the best flavour.