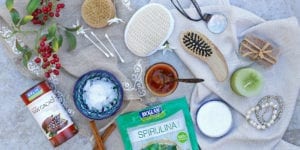 DIY Hacks for a Superpowered Beauty Regime
In the throes of party season, the late nights and extra indulgence can begin to take their toll. But just because you've hit the dancefloor three nights in a row doesn't mean you have to suffer. Feel your best inside and out with these easy-peasy DIY party-season beauty hacks.
1.Try a superfood face mask
When it comes to party season, prep is everything. Glowing skin is the ultimate base for your carefully planned beauty look, so treat it to a cleansing, brightening face mask. Psst… This also helps to revive your skin after a few late nights. Just mix two spoonfuls of Bioglan Superfoods Spirulina Powder with enough water to make a smooth paste, apply to your face and leave on for 15 minutes. Rinse off to reveal refreshed, glowing, party-ready skin.
2. Indulge in a good-enough-to-eat hair treatment
Nothing plays havoc with your hair like cold weather and heat-styling, so treat dried-out locks to a deep conditioning treatment without forking out at a salon. Simply take equal measures of coconut oil and honey (a tablespoon of each should do for medium-length hair), mix together and leave somewhere warm to melt. Apply to damp hair, paying extra attention to damaged ends. Relax for half an hour, then rinse, shampoo and condition as usual. The result? Silky, swishable tresses.

3. Dry-brush that bod
Nothing makes skin glow like a dead cell-busting exfoliation sesh, and dry-brushing is the best way to do it. Not only does it tackle cellulite and buff away dry skin, but it improves circulation and lymph movement, helping to faster eliminate toxins from the body… Something we could all use a bit of at this time of year. Opt for a natural bristle brush, using gentle circular motions from toe-to-top before your morning shower.
4.Buff your lips to be super-kissable
Found yourself ducking away from the mistletoe? Whether you're puckering-up or just remedying some winter chapping, give your lips a kiss better in the form of a homemade exfoliating lip scuff. Mix together a teaspoon of white sugar, another of honey and a half teaspoon of Bioglan Superfoods Cacao Powder. Apply to the lips and allow to infuse for 10 minutes or so. When you're ready, gently scrub the mixture off, taking with it those dry and dead skin cells which stop your lippy looking flawless.
5.De-puff tired eyes
If you come out of party season totally unscathed, you're doing it wrong… but that doesn't mean you shouldn't have a few tricks up your sleeve for combating the inevitable bags under your eyes. Our favourite method requires nothing more than a couple of green tea bags. Simply infuse in hot water for three to five minutes, cool in the fridge, squeeze out excess liquid and place over your eyes. The caffeine helps to shrink blood vessels, reducing puffiness and dark circles, as well as tightening and smoothing your skin. Bright eyes and bushy tail, here we come.