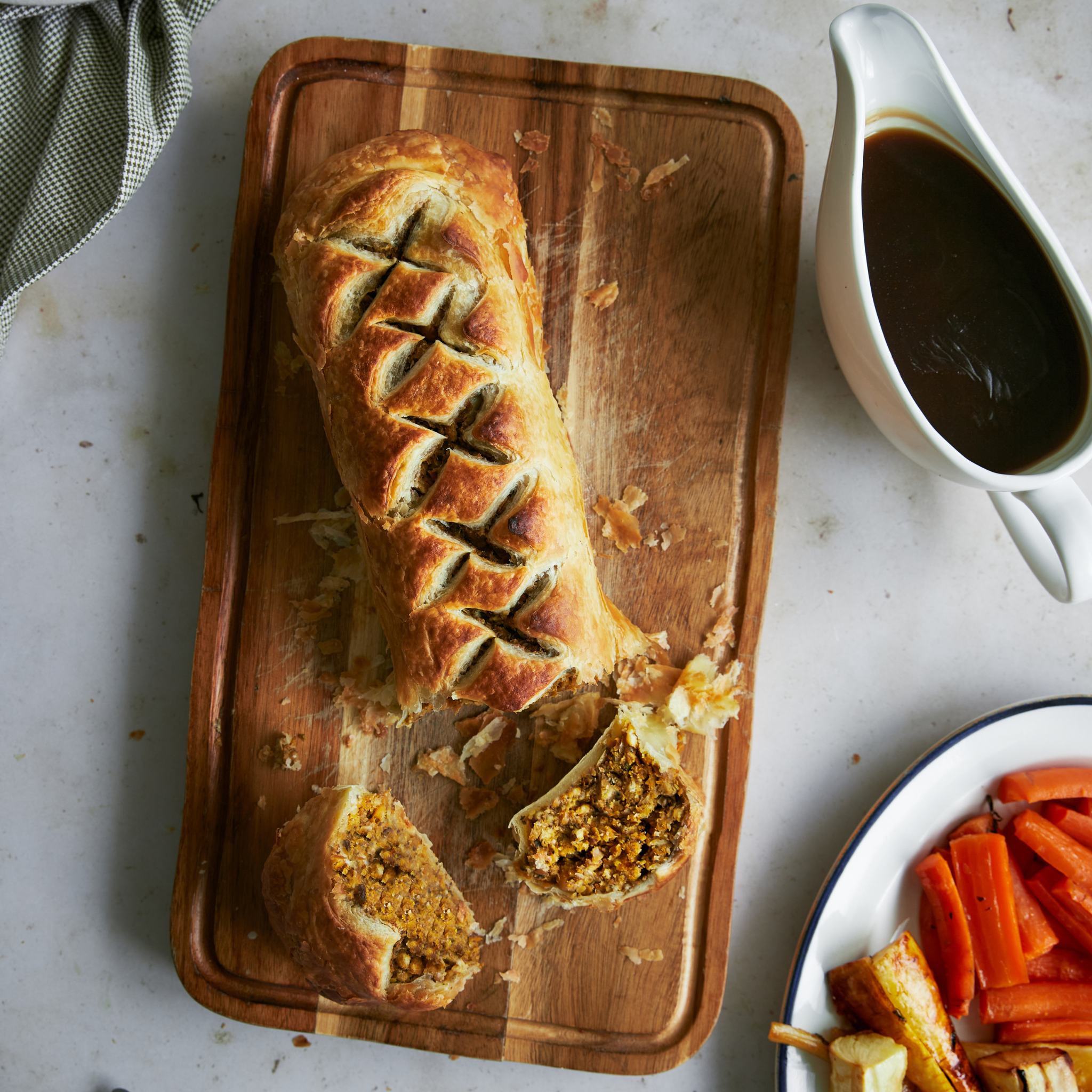 Vegan Wellington with Green Boost

6

One hour thirty minutes
Celebrate Christmas in style with our Vegan Wellington with Green Boost. This impressive centrepiece will satisfy vegans, vegetarians and flexitarians too.
Ingredients
Buy ingredients online at your selected retailer
1 sheet vegan puff pastry , thawed if frozen
2 tablespoons ground flax meal + 5 tablespoons water
1 teaspoon Bioglan Superfoods Green Boost Powder
2 tablespoons cooking oil
½ medium onion , diced
2 small carrots , diced small
2 stalks celery , diced
4 cloves garlic , minced or crushed
1 teaspoon dried thyme
1 teaspoon ground sage
½ teaspoon dried rosemary
225g mushrooms , minced or finely chopped
1½ tablespoons tamari sauce, low sodium (sub soy sauce)
100g unsalted ground walnuts
75g panko breadcrumbs
2 tablespoons tomato paste
1½ tablespoons vegan Worcestershire sauce
1 tablespoon vegan butter , melted
Method
1. Preheat oven to 200°C/180° fan. Line a rimmed baking sheet with parchment paper and set aside.
2. Combine the ground flax, Green Boost and water in a small bowl. Set aside for 10 min. It will thicken and gel up a bit.
3. Heat the oil in a large pan over medium heat. Add the onion, celery, and carrots. Sauté until softened about 6-8 minutes.
4. Add garlic, thyme, sage, and rosemary. Sauté for 1 minute.
5. Add mushrooms and sauté until they soften and release their moisture about 5-7 minutes. You want the pan to be dry. Now add the tamari and cook for 1 minute. Remove from heat and set aside to cool for 10 minutes.
6. Add chickpeas to a large mixing bowl and mash with a potato masher. Don't over mash - just mash enough to break down whole chickpeas, but leave lots of texture.
7. In a large bowl add the mushroom mixture, breadcrumbs, walnuts, flax mix, Worcestershire sauce and tomato paste. Stir with a wooden spoon until combined, use your hands if needed, and season to taste. If the mixture seems too wet add more breadcrumbs. You should be able to form it with your hands easily.
8. Using your hands, shape the mixture into a solid log that will fit in the middle of the pastry sheet (with a few inches of slack). Make sure the log is packed well.
9. Unroll the puff pastry sheet and lay it over the baking sheet (or a flat surface if you need to roll it first). Place the loaf in the middle of the pastry sheet. Pick up one side and wrap it over the loaf and repeat on the other side. Gently press to seal together (don't force if it doesn't close, just thin & lengthen the loaf or remove some mixture and form again). If the pastry doesn't seal easily, just lightly brush a little non-dairy milk in that area and seal.
10. Now roll up the ends and press gently to seal. If you have a lot of extra length, you may want to trim the dough first before sealing. Otherwise, the ends of the loaf will be very doughy. Flip the loaf over so the sealed edges are facing the baking sheet.
11. Brush the top and sides with melted vegan butter. Using a sharp knife, gently make diagonal slits across the whole top of loaf about 1-inch apart. Now repeat going the other direction to criss-cross slits.
12. Place in the oven for 30-35 minutes until heated throughout and the pastry is golden brown. Let sit 10 minutes before gently cutting with a sharp knife. Serve with gravy if desired and enjoy!