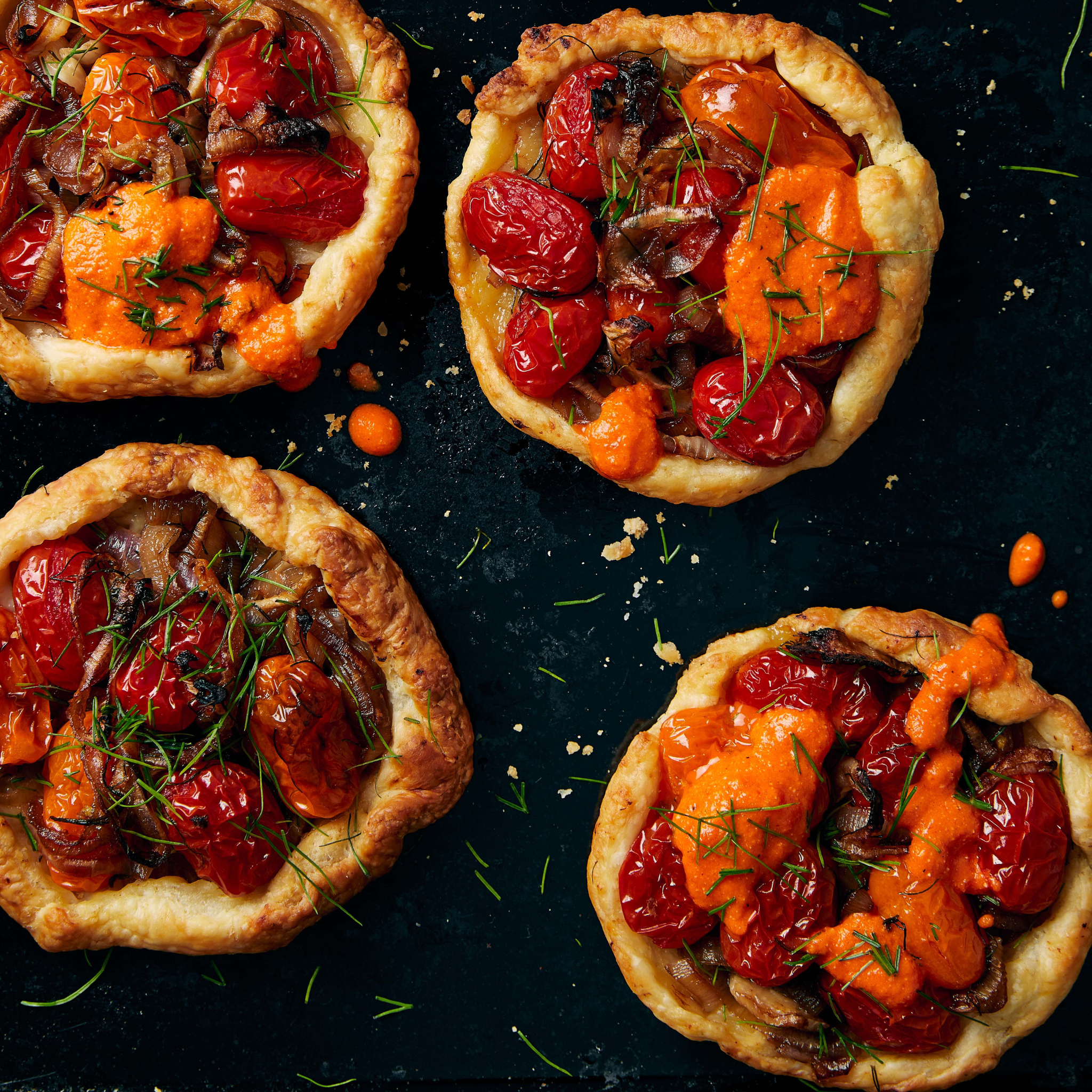 Vegan Tomato Galettes with Beauty Protein

4

Fifty minutes
Our Vegan Tomato Galettes with Beauty Protein are perfect as a light lunch, starter or no fuss dinner.
Ingredients
Buy ingredients online at your selected retailer
1 Jus rol puff pastry
2 handfuls of cherry tomatoes
1 red onion, peeled and sliced
3 tbsp vegan butter
1 tsp Bioglan Superfoods Beauty Protein
1 tbsp brown sugar
2 tbsp balsamic vinegar
Romesco sauce:
3 red peppers,1 fresh red pepper and 2 roasted from a jar
1 garlic clove
70g flaked almonds
1 tbsp red wine vinegar
1 tsp smoked paprika
250ml olive oil
Method
1. Preheat the oven to 190C/170C Fan/Gas 5. Line 2 baking trays with baking paper.
2. Blend all the romesco sauce ingredients together in a food processor except the olive oil. Add enough olive oil to loosen and make a paste.
3. Roll out the pastry to 1cm thick, cut out 2 circles and place on the baking trays. Spread the romesco sauce over the bases.
4. Heat the butter in a frying pan, and once hot, melt in the red onions on medium heat until soft and translucent. Lower the heat and pour in the Bioglan Superfoods Beauty Protein, brown sugar and the balsamic vinegar. Cook until coated and slightly caramelized, stirring often, about 2 minutes.
5. To make the galettes, toss the tomatoes in olive oil, salt and pepper. Pile the onions then the tomatoes onto the pastry, leaving a wide border, then fold the pastry up around the sides.
6. Bake for 40 minutes, or until the crust is golden and the tomatoes cooked through.
7. Remove from the oven and let cool for a few minutes. Now serve warm or lukewarm.