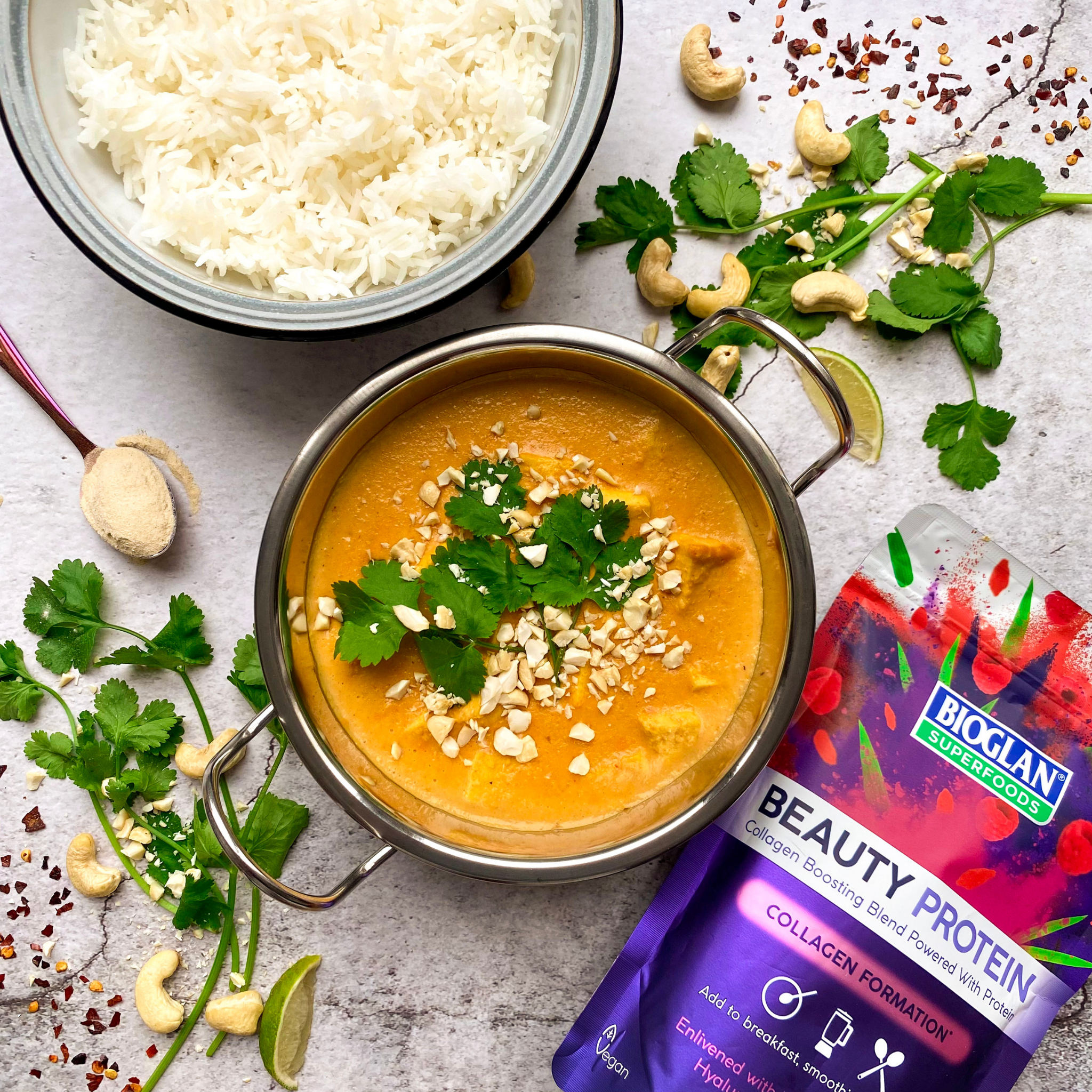 Vegan Tofu Korma with Beauty Protein

4

Thirty minutes
If you love a warming curry try our Tofu Korma with Beauty Protein. It's full of flavour and ready in just 30 minutes.
Ingredients
Buy ingredients online at your selected retailer
1 block of Tofu (unflavoured)
100g cashews
1 red onion
2 garlic cloves
1 tbsp vegetable oil
2 tsp ground coriander
1 tsp paprika
¼ tsp chilli flakes
1 tbsp tomato puree
Juice of ½ a lime
250ml dairy-free milk
1 can of coconut milk
1 tsp Bioglan Superfoods Beauty Protein
Fresh coriander & cashews to garnish
Method
1. Soak your cashews in warm water and drain the tofu block for about 10 minutes.
2. Peel and roughly chop the red onion and peel the garlic.
3. Cut the tofu into small cubes and fry in the sunflower oil in a pan for a few minutes until they start to brown slightly.
4. Drain the cashews and add them to a blender along with the red onion, garlic, ground coriander, paprika, chilli flakes, tomato puree, lime juice, milk, and season with salt & pepper. Blend until smooth.
5. Pour your cashew sauce and the coconut milk into the pan with the tofu and mix well. Stir in the Bioglan Superfoods Beauty Protein. Simmer for about 10-15 minutes, stirring occasionally.
6. Serve with rice or naan bread and garnish with the cashews and chopped coriander.