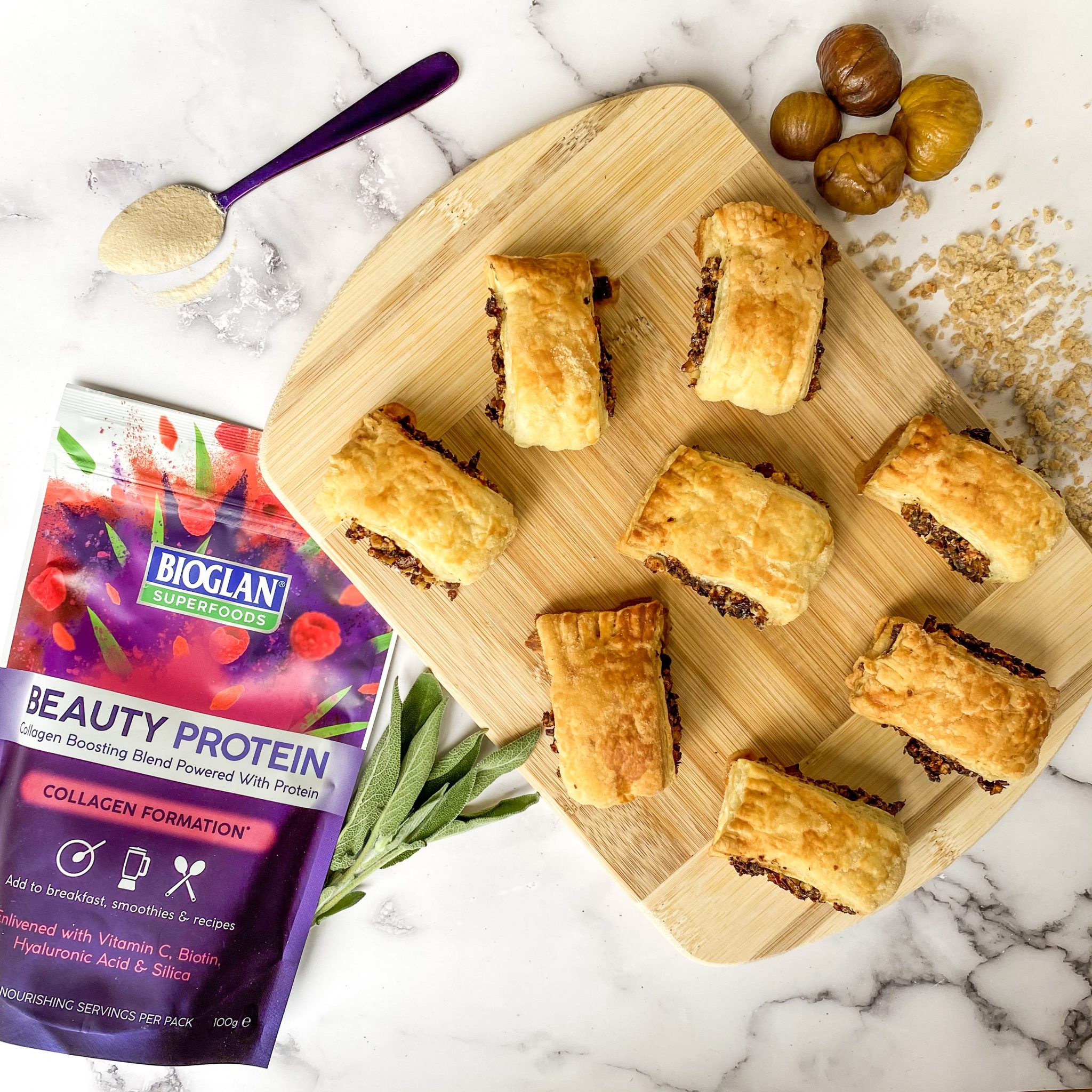 Vegan Sausage Rolls
with Beauty Protein

10

One Hour Twenty Minutes
Finally we can start seeing our friends and family again indoors and outdoors! Looking for some recipe inspiration? These homemade sausage rolls with Beauty Protein are perfect whether you're going for a picnic or having people over.
Ingredients
Buy ingredients online at your selected retailer
250g chestnut mushrooms
2 leeks (finely chopped)
2 garlic cloves (crushed)
1 tbsp sage leaves (finely chopped)
1 tbsp brown rice miso
1 tbsp Dijon mustard
30g chestnuts (finely chopped)
70g fresh white breadcrumbs
1 x 320g sheet ready rolled puff pastry (dairy-free)
1 tsp Bioglan Superfoods Beauty Protein
2 tbsp olive oil for frying
Dairy-free milk for glazing
Method
1. Preheat the oven to 180°C.
2. Put the mushrooms into a food processor and pulse until finely chopped. Add a tbsp olive oil to a large frying pan and gently fry the leeks for 10 mins until soft. Remove from the pan and set aside to cool.
3. Add another tbsp of olive oil to the pan and fry the mushrooms for 10 mins over medium heat. Then add the garlic, sage, miso and mustard and fry for another minute. Allow to cool.
4. Put the mushroom mixture into a bowl with the leeks and then add the chestnuts, Bioglan Superfoods Beauty Protein and breadcrumbs. Season and combine until you have a fairly stiff mixture.
5. Unravel the pastry on a floured surface. Mould the mushroom and leek mixture into a sausage shape down the middle of the pastry. Roll the pastry over the mixture and seal the seam by pressing with a fork. Cut into 10 pieces.
6. Lay the pieces on parchment paper and brush each piece lightly with the milk. Bake for 25 mins or until golden brown. Enjoy!