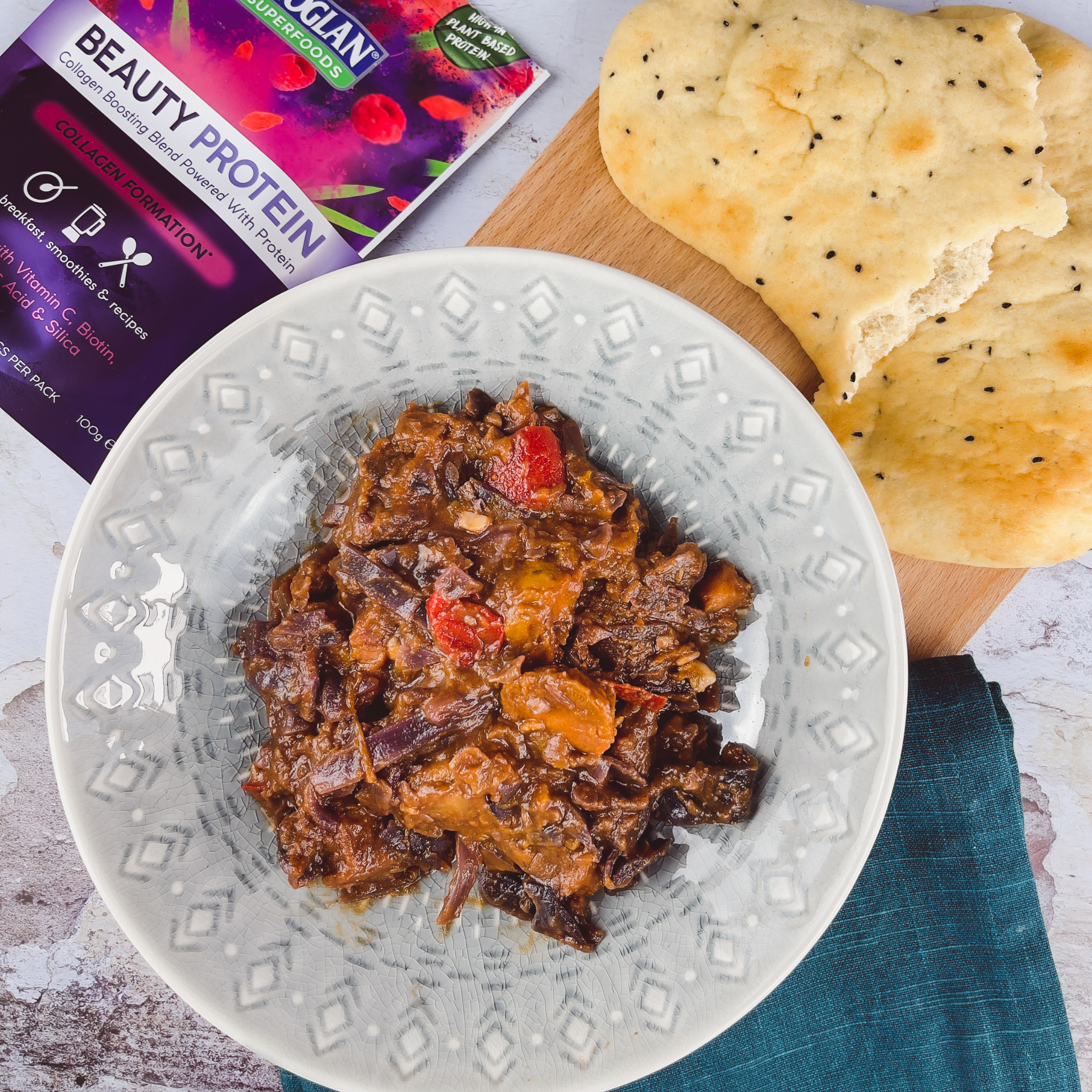 Vegan Red Cabbage Curry with Beauty Protein

6-8

Twenty minutes prep + four hours thirty minutes cooking time
If you love a comforting curry our Vegan Red Cabbage Curry with Beauty Protein will be right up your street. We've made ours in the slow cooker to make it super easy. Slow cooking the red cabbage makes it soft and tender.
Ingredients
Buy ingredients online at your selected retailer
3 tbsp olive oil
2 large onions, halved and sliced
3 garlic cloves, crushed
1 tsp Bioglan Superfoods Beauty Protein
1 tsp ground ginger
1 tsp paprika
½ tsp cayenne
2 red chillies, deseeded and sliced
2 red peppers, deseeded and sliced
1 small red cabbage, diced
500g sweet potatoes, peeled and chopped into chunks
300g passata
400ml light coconut milk
2 tbsp peanut butter
naan bread (optional)
Method
1. Heat 1 tbsp olive oil in a large non-stick frying pan and add the onion. Sweat for 10 mins until soft then add the garlic. Stir in the Bioglan Superfoods Beauty Protein, ginger, paprika and the cayenne and cook for another minute then tip into the slow cooker.
2. Return the pan to the heat and add another 1 tbsp oil along with the chilli, red pepper and shredded cabbage. Cook for 5 mins then tip into the slow cooker.
3. Add the remaining oil to fry the sweet potatoes for around 5 mins. You want them to pick up some colour, then add them to the slow cooker.
4. Pour the passata and the coconut milk over the cabbage and sweet potatoes, stir to mix everything together and cover the slow cooker with a lid and cook for 6 hrs on low or 4 hrs on high, you want the sweet potatoes to be tender.
5. Stir the peanut butter through the curry, season well with salt and pepper and serve with naan bread and enjoy!