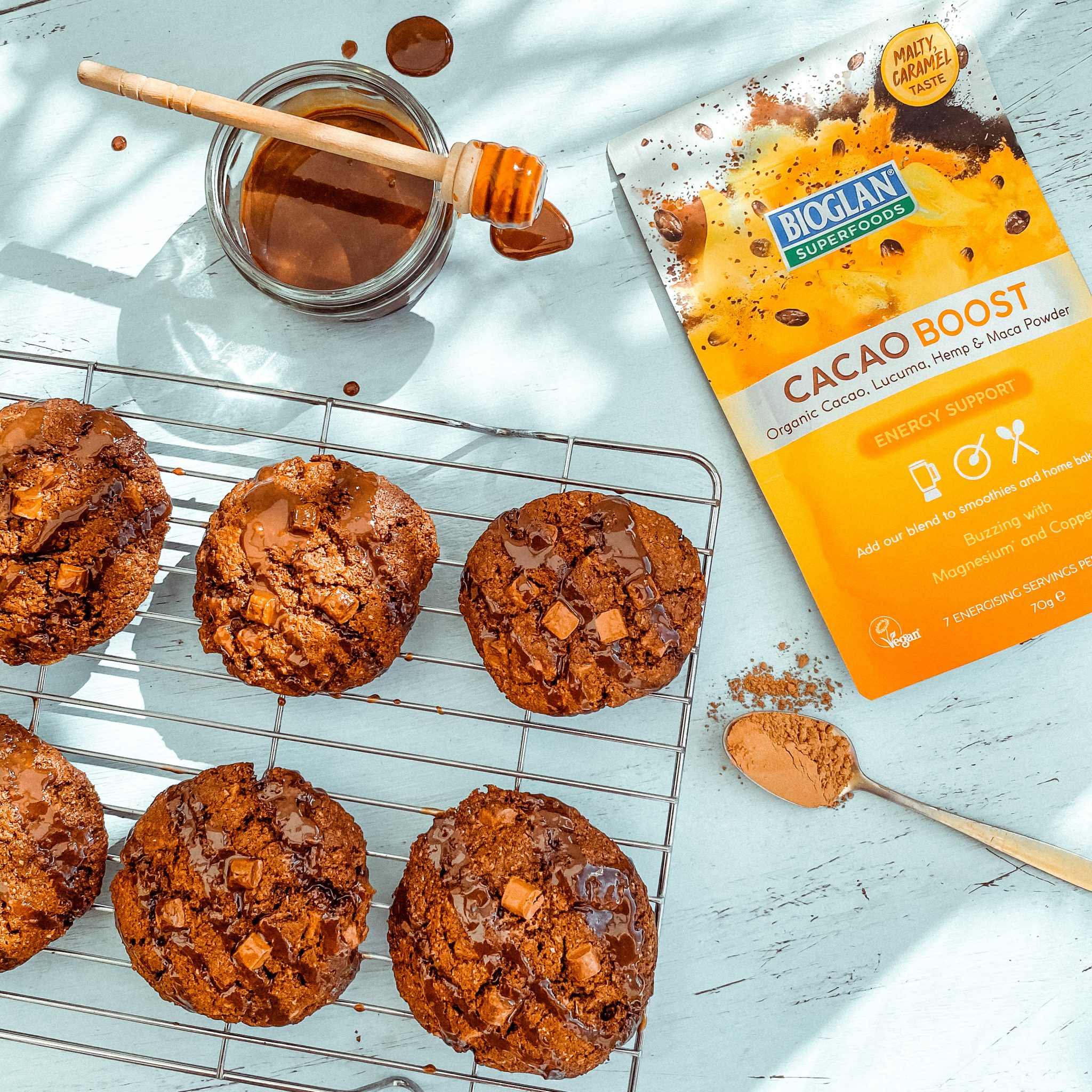 Vegan Choc Chip Cookies
with Cacao Boost

18

Thirty Minutes
These vegan cookies with Cacao Boost are simply choctastic!
Ingredients
Buy ingredients online at your selected retailer
100g coconut oil, solid, not melted
150g light brown sugar
1 tsp vanilla extract
150ml dairy free milk (we used oat)
40g Bioglan Superfoods Cacao Boost
1 tsp bicarbonate of soda
¼ tsp salt
200g wholemeal flour
90g vegan chocolate chips plus extra for topping
Method
1. Preheat the oven to 350ºF/180ºC.
2. Mash together the coconut oil and brown sugar using a fork until you have a smooth, creamy consistency.
3. Add the vanilla extract, milk, baking soda, and Cacao Boost and stir to combine.
4. Add the flour and stir again. Then add the chocolate chips and mix until just combined. If the mixture feels warm place in the fridge for 15 minutes to firm up slightly, this will make it easier to roll into balls.
5. Once the mixture is chilled, take ping pong ball sized balls of the mixture and roll in your hands. Place them onto a lined baking tray (you will need 2 trays for the whole batch) Press them down slightly with your fingers. Be sure to leave space between each cookie as they spread out. Top with more chocolate chips if using.
6. Bake for 12-15 minutes or until lightly browned. Allow them cool for 5 minutes on the trays before transferring them to a cooling rack and then let them cool completely. Enjoy!