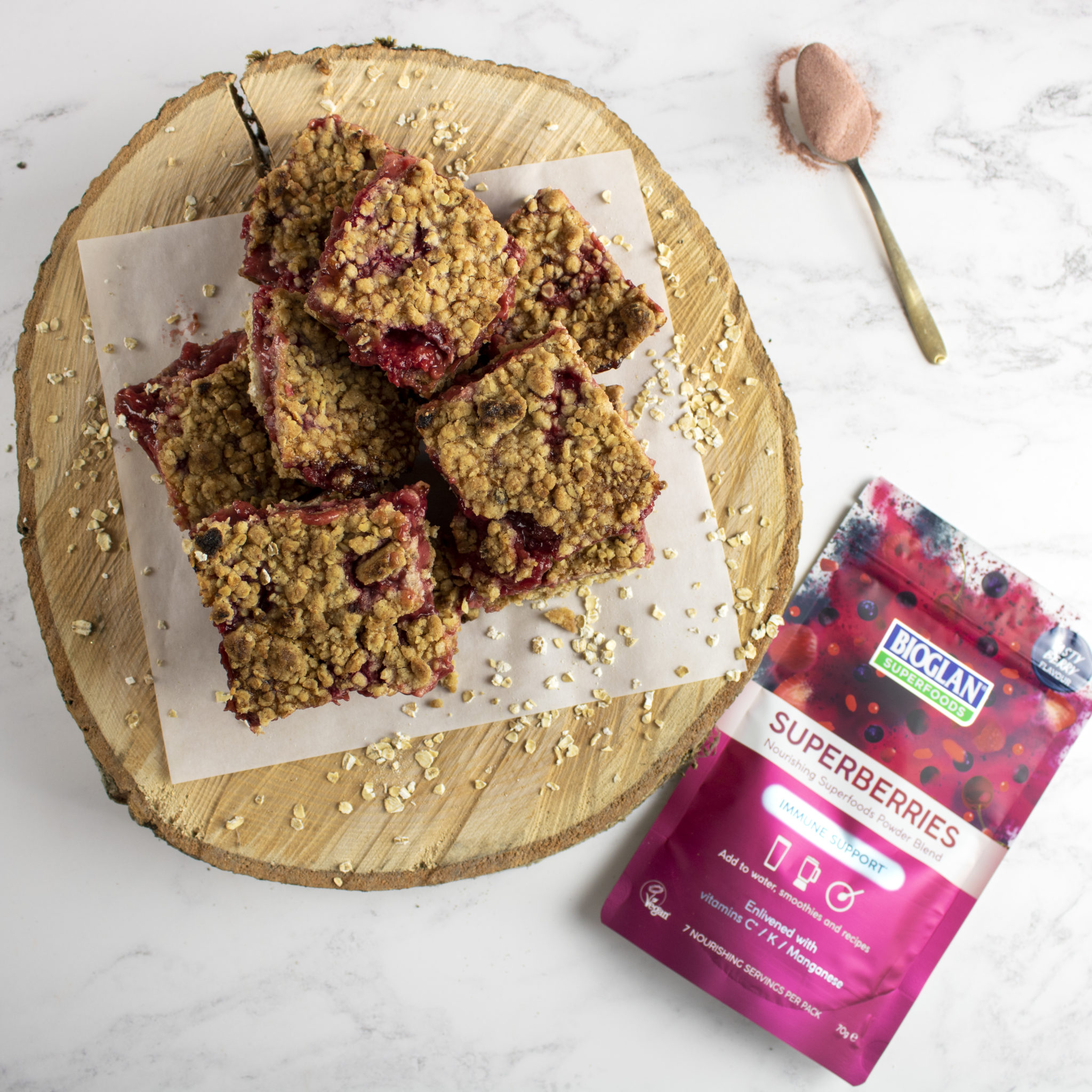 Vegan Berry Crumble Bars
with Superberries

9

One hour
Vegan, oaty bars with a berrylicious filling! Top tip, serve these warm for that extra crumbly goodness.
Ingredients
Buy ingredients online at your selected retailer
150g rolled porridge oats
180g plain flour
130g light brown sugar
175g coconut oil
¼ tsp baking powder
¼ tsp salt
½ tsp cinnamon
For the filling:
2 tsp cornflour
1 tbsp fresh lemon juice
150g strawberry jam
400g mixed fresh berries
1 tbsp Bioglan Superberries
Method
Preheat the oven to 190C/375F/gas mark 5. Grease a 20cm/8in square tin and line with baking paper. Combine the oats, flour, baking powder, sugar, cinnamon and salt in a mixing bowl. Add the coconut oil and rub in using your hands until the mixture is like breadcrumbs. Tip about two thirds of the mixture into the tin and spread it out evenly pushing it down so it is flat. Bake for 15 minutes until the crumble is golden around the edges.
To make the filling, mix the cornflour and lemon juice together in a large bowl to make a paste. Stir in the jam followed by the berries and Superberries powder. Add the filling over the base and spread it our evenly. Top with the remaining crumble mixture and bake for a further 25-30 minutes until the crumble is golden and the filling is bubbling.
Leave to cool in the tin then carefully lift it out by pulling the baking paper out. Cut into squares and serve.
Store any leftovers in the fridge for up to a week.