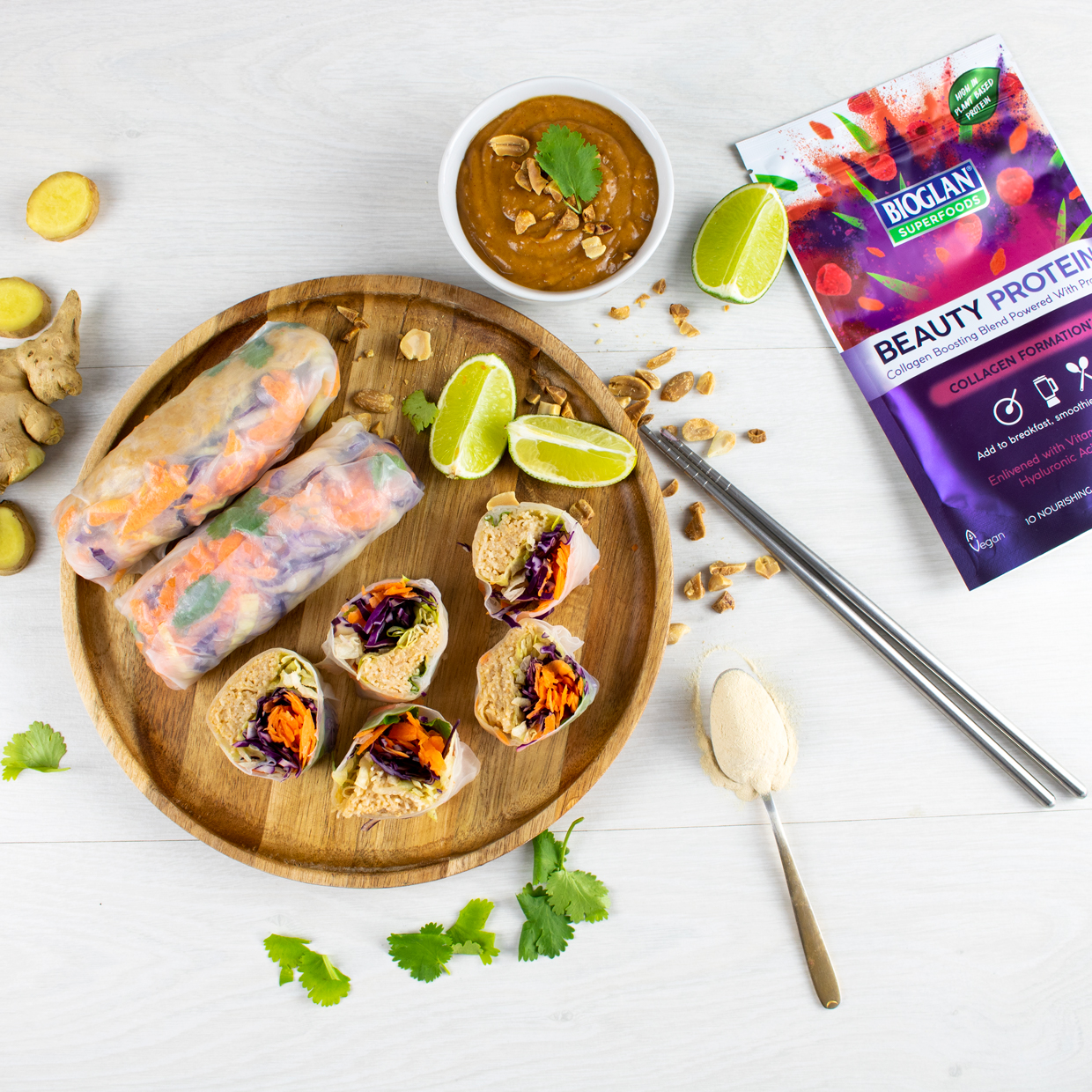 Rice Paper Rolls and Peanut Dip
with Beauty Protein

Makes 8 rolls

Forty Minutes
These rice paper rolls are filled with lots of bright veg and you can make these your own by adding any fillings you like. The peanut sauce with our Beauty Protein is the perfect dip, this is definitely one of our favourites!
Ingredients
Buy ingredients online at your selected retailer
100g rice noodles
8 rice paper roll sheets
2 carrots, grated
½ red cabbage, finely sliced
½ lettuce, finely sliced
1 bunch coriander, leaves only
For the peanut sauce:
250g peanut butter
150ml warm water
1 teaspoon sesame oil
1 tbsp Bioglan Superfoods Beauty Protein
2 tbsp chilli sauce
3 tbsp soy sauce
2 tbsp brown sugar
1 inch fresh ginger, grated
1 clove garlic, grated
Method
1. Cook the rice noodles according to the pack instructions. Drain, rinse in cold water and set aside
2. In a small mixing bowl, add the brown sugar, warm water and Beauty Protein and stir until dissolved. Then add the rest of the ingredients for the peanut sauce.
3. Remove about ½ of the peanut sauce and set aside in a small bowl. Stir the cooked rice noodles into the remaining sauce and set aside.
4. Fill a large shallow dish with warm water. One at a time, dip a rice paper roll in the water until it becomes loose. Shake excess water and place smooth-side down on a plate or clean surface.
5. Place a small handful of each of the vegetables and noodles on the rice paper, about 1 inch away from the bottom. Be careful not to overfill them!
6. Start rolling and tucking all of the ingredients in as you go. When you have rolled about halfway, tuck in the right and left sides of the rice paper, and keep on rolling.
7. Repeat with the remaining ingredients.