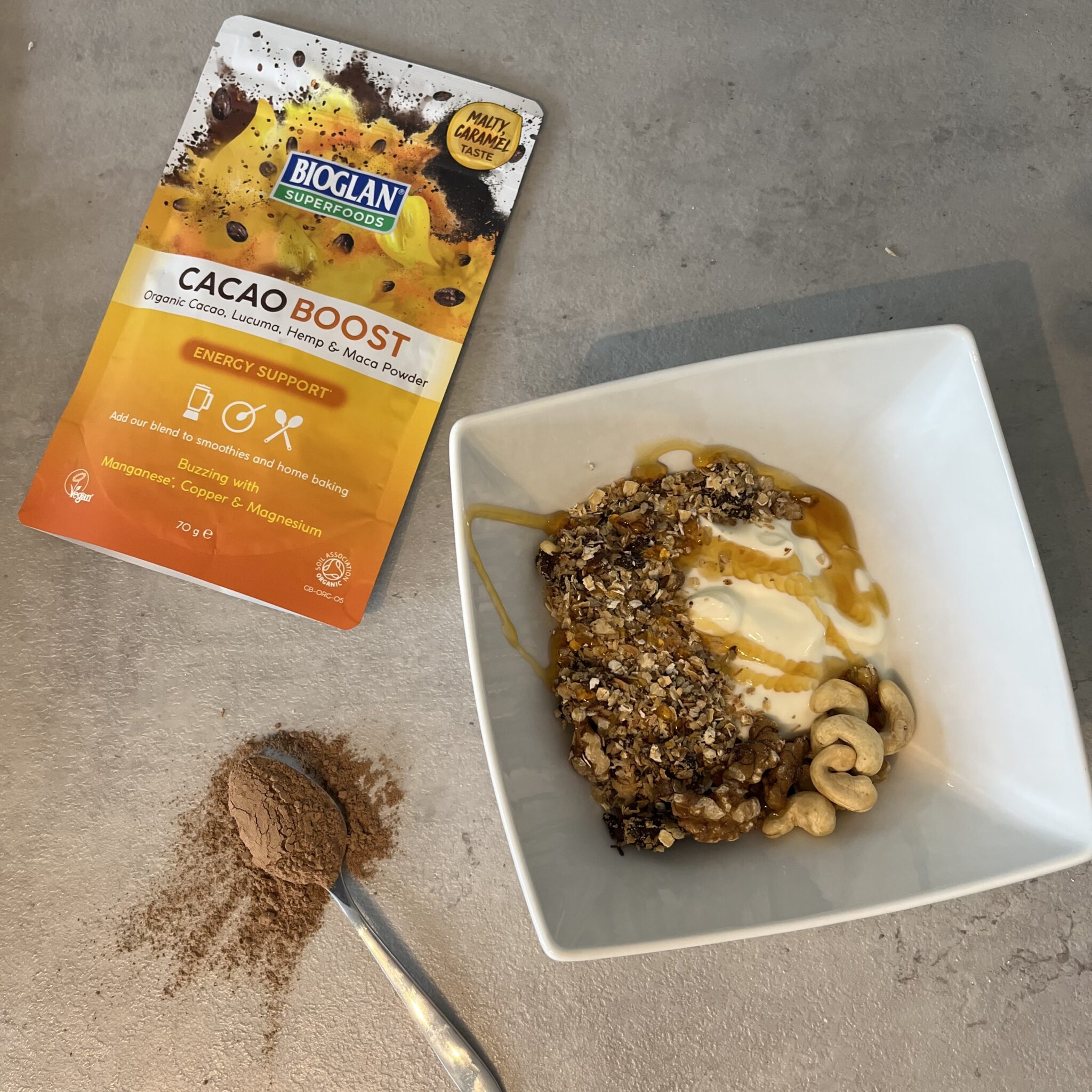 Chocolate Granola
with Cacao Boost

20

Forty minutes
This chocolate granola is both tasty and healthy, with the addition of chocolate chips. What more could you want for breakfast? As well as adding a malty, chocolate flavour, the Cacao Boost adds copper and manganese for an energy boost!
Ingredients
Buy ingredients online at your selected retailer
250g rolled oats
60g chopped nuts (we used almonds and walnuts)
30g desiccated coconut (optional)
1/4 tsp salt
30g coconut sugar
30g Bioglan Superfoods Cacao Boost
30ml maple syrup
30g coconut oil
1/2 tsp vanilla extract
60g chocolate chips
Method
Preheat oven to 160 degrees c and line baking sheet with parchment paper. In a large bowl, mix oats, nuts, coconut flakes, and salt.
In a saucepan, heat coconut sugar, Cacao Boost, maple syrup and coconut oil over medium heat. Let cook for 3-4 minutes or until sugar is dissolved. Turn off heat and add in vanilla.
Pour saucepan mixture onto oat mixture and stir until combined. Pour onto baking sheet and press into flat sheet. Bake for 25-30 minutes total.
Once fully baked, top with chocolate chips immediately. Stick back in oven for 5 minutes until chips are melted. Stir granola, letting melted chocolate cover all the granola.
Let cool for one hour before breaking apart. Serve and enjoy! Can be stored in the cupboard for up to two weeks.