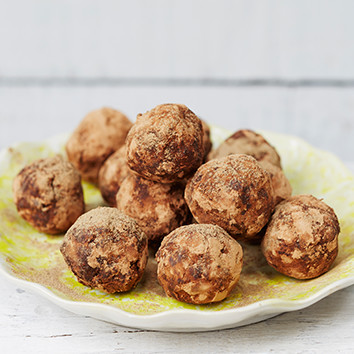 Cacao and Fig Balls
Recipe by Natasha Corrett

Makes 10-12

20 minutes
Natasha Corrett on her delicious Cacao & Fig Energy Balls:
"Living in a busy city means that that glass of wine and fun dinner party calls louder than the yoga studio sometimes and that is perfectly ok. It's important not to deprive yourself of fun. However, its more important to support your body with the right nutrients to give you the energy you need to keep going. When you are on the run between meetings or working late and need a quick fix or boost having something that you have prepared in your bag is the best way to stop yourself from reaching for the chocolate bar or a sandwich from a café chain that is not Honestly Healthy. In this recipe for Cacao & Fig Energy Balls I have added the Cacao Boost powder as it not only gives it an utterly delicious chocolate taste but you know its supporting you.  The ground almonds in the recipe give you added protein and the figs help to boost your energy. These take all of about 10 minutes to make and can keep them in the fridge or freezer for up to 2-3 weeks in an airtight container so you can always be prepared if you need a little energy pick me up."
Ingredients
Buy ingredients online at your selected retailer
250g dried figs
3 tbsp Coconut Oil
30g almond flour
¼ tsp cinnamon
4 tbsp Cacao Boost
Method
Put all the ingredients into a food processor and blend until it becomes a sticky ball. Form into 10-12 balls the size of a ping pong ball and then dip into some more Cacao Boost powder.
Put into the fridge for 1 hour to set. Leave in fridge until you want to eat them, they will keep in an air tight container for approximately 10 days.