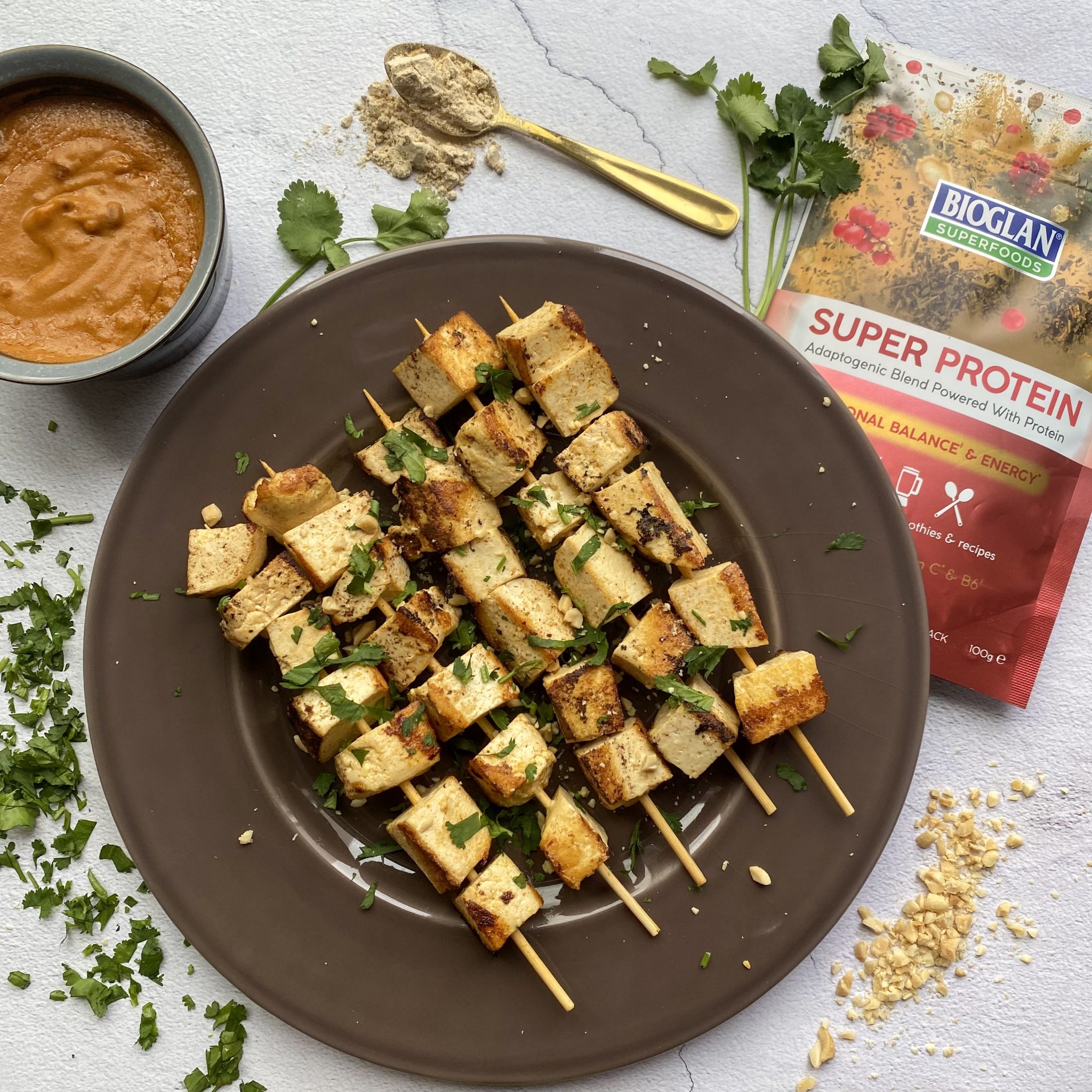 Vegan Tofu Satay
with Super Protein

8-10 Skewers

Forty-Five Minutes
These Vegan Tofu Satay skewers with Super Protein are super tasty and bursting with protein! Having a summer barbecue? Grill them on there instead of a pan for a great vegan dish.
Ingredients
Buy ingredients online at your selected retailer
For the tofu:
2 blocks extra firm tofu (500g)
8-10 skewers (soaked in water for 30 mins if wooden)
½ cup coconut milk
1 heaped tsp red Thai curry paste
1 tbsp maple syrup
1 tbsp soy sauce
½ tsp garlic granules
⅓ tsp salt
For the peanut sauce:
¾ cup coconut milk
½ cup smooth peanut butter
1 heaped tbsp red thai curry paste
1 tbsp soy sauce
2 tbsp maple syrup
½ cup water
Pinch of salt
1 tsp Bioglan Superfoods Super Protein
Method
1. Cut the tofu into blocks and place in a large bowl.
2. Mix the coconut milk, Thai curry paste, maple syrup, soy sauce, garlic granules and salt in a bowl. Drizzle over the tofu, toss to coat and leave to marinate for at least 30 minutes.
3. Place the peanut sauce ingredients minus the Superfoods Super Protein in a pan and simmer for a few minutes until thickened. If you like it thinner just add a splash more water. Pour into a small bowl to serve later. Once cooled, stir in the Super Protein powder.
4. After half an hour, place the tofu pieces onto skewers.
5. Heat a griddle pan on medium high heat with a little oil. Place the tofu skewers in and cook for a few minutes on each side until charred.
6. Pour over any remaining marinade over the top before flipping. Depending how big your pan is you may need to do it in two batches.
7. Sprinkle with some fresh coriander, chopped peanuts and peanut sauce! Enjoy.