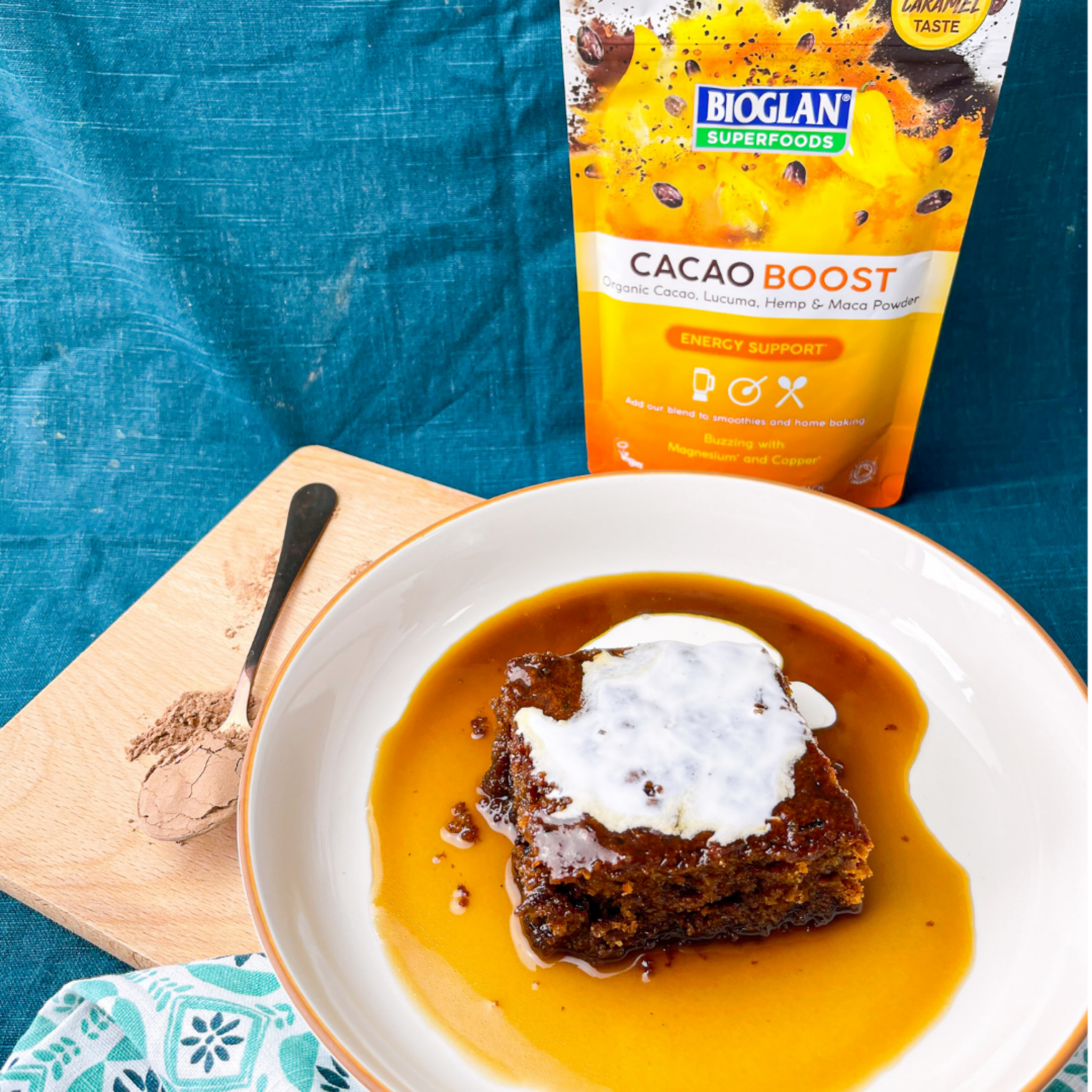 Vegan Sticky Toffee Pudding with Cacao Boost

4-6

One hour thirty minutes
If you're cooking an indulgent Sunday dessert, try our Vegan Sticky Toffee Pudding with Cacao Boost. The perfect way to round off your Sunday roast.
Ingredients
Buy ingredients online at your selected retailer
175g pitted dates
350ml oat milk
1 tsp Bioglan Superfoods Cacao Boost
1 tsp vanilla extract
1½ tsp bicarbonate of soda
215 vegan butter
200g brown sugar
200 self-raising flour
½ tsp ground nutmeg
1 tsp ground ginger
1 tsp salt
1 tbsp maple syrup
3 tbsp oat cream
Method
1. Pre-heat the oven to 160°C, grease and line a 30x15cm oven proof dish.
2. Make the pudding! Finely slice the dates and add them to a small saucepan with the oat milk, Bioglan Superfoods Cacao Boost and vanilla extract. Stir until the dates have softened – approx. 10-15 minutes.
3. Remove from the heat and stir in the bicarbonate of soda, cool until the mixture is at room temperature.
4. Add 115g of the butter and 100g of the sugar until combined.
5. Sift the flour, ginger, cinnamon, nutmeg and salt into the mixture and fold to combine.
6. Pour the mixture into the dish and bake in the oven for 45 minutes, or until risen and a skewer inserted into the centre of the sponge comes out clean.
7. While the pudding is baking make the sauce! In a small saucepan add the maple syrup and the remaining sugar and butter. Cook for 5 minutes until the ingredients have combined and you have a syrup. Remove from the heat and allow to cool slightly before adding the cream.
8. To serve, plate up a slice of the pudding and drizzle a generous amount of the sauce, and serve with extra oat cream. Enjoy!