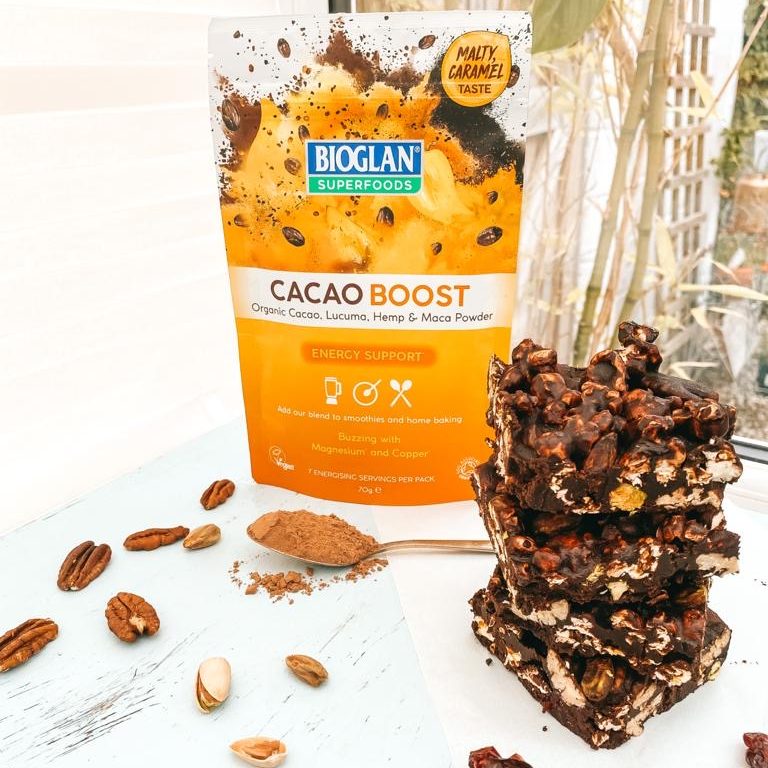 Vegan Rocky Road
with Cacao Boost

8

Two Hours Fifteen Minutes
To celebrate World Chocolate Day we bring you this amazing Vegan Rocky Road with Cacao Boost. The hardest part of this recipe? Waiting two hours for it to set in the fridge!
Ingredients
Buy ingredients online at your selected retailer
60g of pistachios, shelled
100g of pecans
120ml maple or agave syrup
120ml coconut oil
45g Bioglan Superfoods Cacao Boost
50g of dried cranberries
Handful of popcorn
Method
1. Line a 20cm square tin with baking paper.
2. Toast the nuts in a pan on a medium heat for a couple of minutes until slightly golden, then set aside in a bowl to cool.
3. Add the coconut oil and syrup to the pan and heat gently until the coconut oil is melted. Stir in the Cacao Boost, then tip in the rest of the ingredients and coat it well in the liquid chocolate mixture. Pour into the prepared tin and smooth down the surface.
4. Place in the fridge to set for at least 2 hours.
5. Slice into squares and serve. Enjoy!