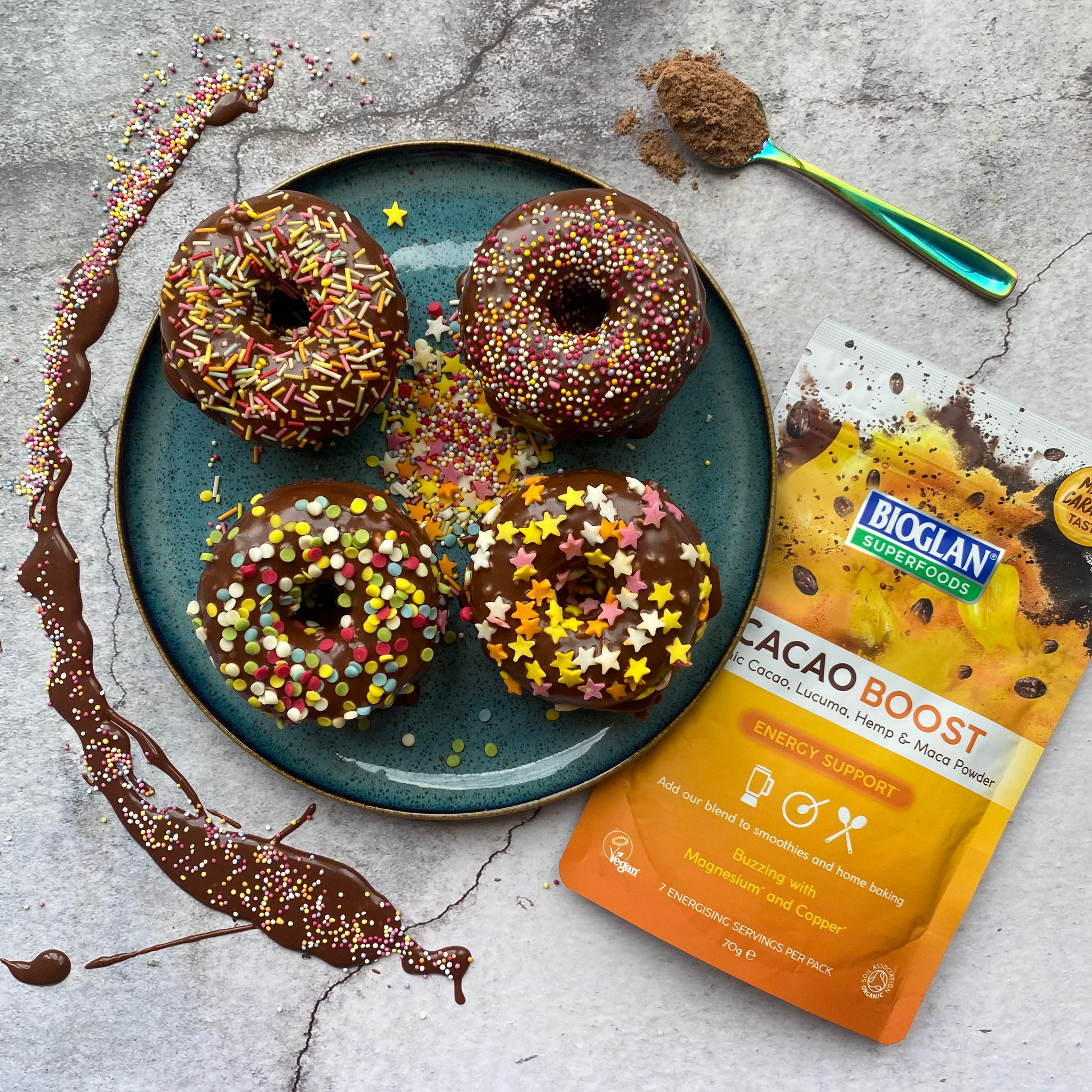 Vegan Rainbow Doughnuts with Cacao Boost

4-6

Fifteen minutes
Our Vegan Rainbow Doughnuts with Cacao Boost make the perfect weekend breakfast. These chocolatey treats are baked, rather than fried, for an easy breakfast the whole family will love.
Ingredients
Buy ingredients online at your selected retailer
1 ¼ cups plain flour
¼ cup cocoa powder
⅓ cup granulated sugar
½ tsp baking soda
½ tsp baking powder
½ tsp salt
1 tsp vanilla extract
1 tsp apple cider vinegar
¾ cup unsweetened almond milk (or nut milk of your choice)
¼ cup vegetable oil
For the icing:
½ cup dark chocolate (melted)
¾ cup icing sugar
2-3 tbsp almond milk
1 tsp Bioglan Superfoods Cacao Boost
Sprinkles
Method
1. Preheat the oven to 180°C.
2. In a large bowl mix together the flour, cocoa powder, granulated sugar, baking soda, baking powder and salt.
3. Add in the vanilla extract apple cider vinegar, almond milk and vegetable oil and then mix until smooth.
4. Spoon the mixture into a donut mould or pan and put in the oven for 10-15 mins. Once done put on a wire rack to cool.
5. For the icing mix the icing sugar, melted chocolate, almond milk, and Bioglan Superfoods Cacao Boost, making sure you have a good consistency for dipping the donuts.
6. Once the donuts are cooled, dip them in the icing one by one and add the sprinkles.