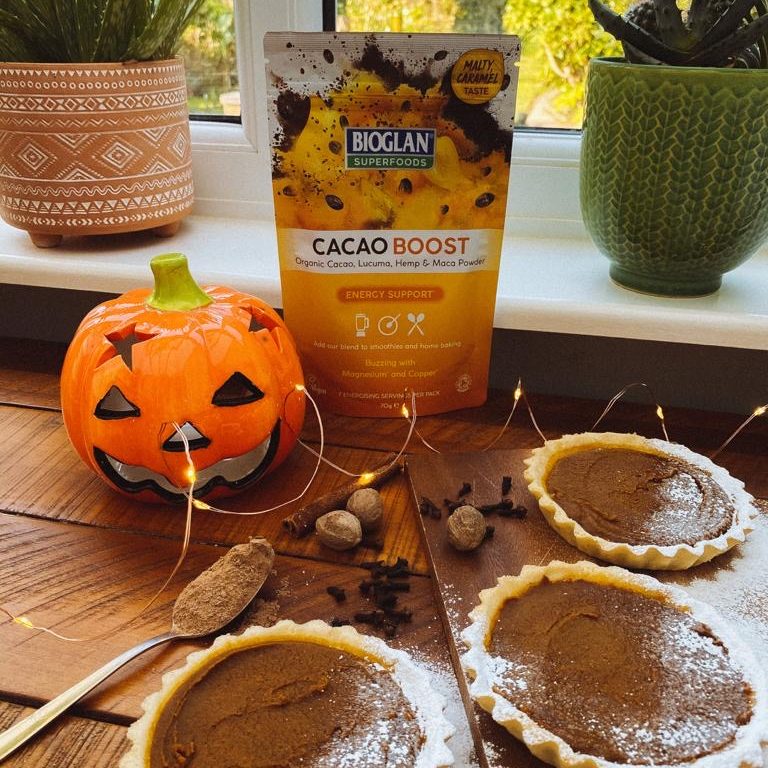 Vegan Pumpkin Pies
with Cacao Boost

Makes 4

One Hour & Forty-Five Minutes
Trick or treat! Here's the perfect recipe for any leftover Halloween pumpkin, vegan pumpkin pie with Cacao Boost. Yum!
Ingredients
Buy ingredients online at your selected retailer
425g pumpkin puree (we used canned or you can roast and puree yourself)
350g vegan shortcrust pastry
33ml maple syrup
65g light brown soft sugar
½ tsp vanilla extract
¼ tsp salt
2 tbsp Bioglan Superfoods Cacao Boost
1 tsp cinnamon
½ tsp mixed spiced
1 ½ tbsp cornflour
200ml oat, almond or soya milk
1 tbsp icing sugar, for dusting
Method
1. Begin by rolling out the pastry into a large rectangle, roughly half a centimetre thick. Cut vertically down the centre of the rectangle, then cut in half horizontally so that you have 4 equal sized rectangles.
2. Place each rectangle into a loose-bottomed fluted mini tart tin and push the pastry into the corners of the tin using a scrap of excess pastry. Trim the excess pastry, leaving about 1cm hanging over the edge of the tin. Prick the base of the tart with a fork and place in the fridge to chill for 20 minutes, and preheat the oven to 200C/180C fan/gas 6.
3. Line the tart cases with a sheet of baking paper (scrunch it up first to make it more pliable), then fill with baking beans or dry rice. Bake for 10-15 mins until the sides look golden, then remove the baking paper and beans. Bake for another 5-10 mins until the pastry looks golden and dry. Leave to cool slightly then trim off the excess pastry using a serrated knife.
4. To make the filling, add the pumpkin puree, Cacao Boost, maple syrup, sugar, salt, spices, cornflour and milk into a small pan and stir until combined. Cook over a medium heat for around 5 minutes, or until thickened, stirring continuously.
5. Fill the tart cases with the pumpkin filling, then return to the oven and lower the heat to 180C/160C fan/gas 4. Bake for 15-20 mins until the filling is set. Leave to cool for 15 minutes and remove from the tins. Dust with icing sugar and serve warm, or chill and serve within two days. Enjoy!