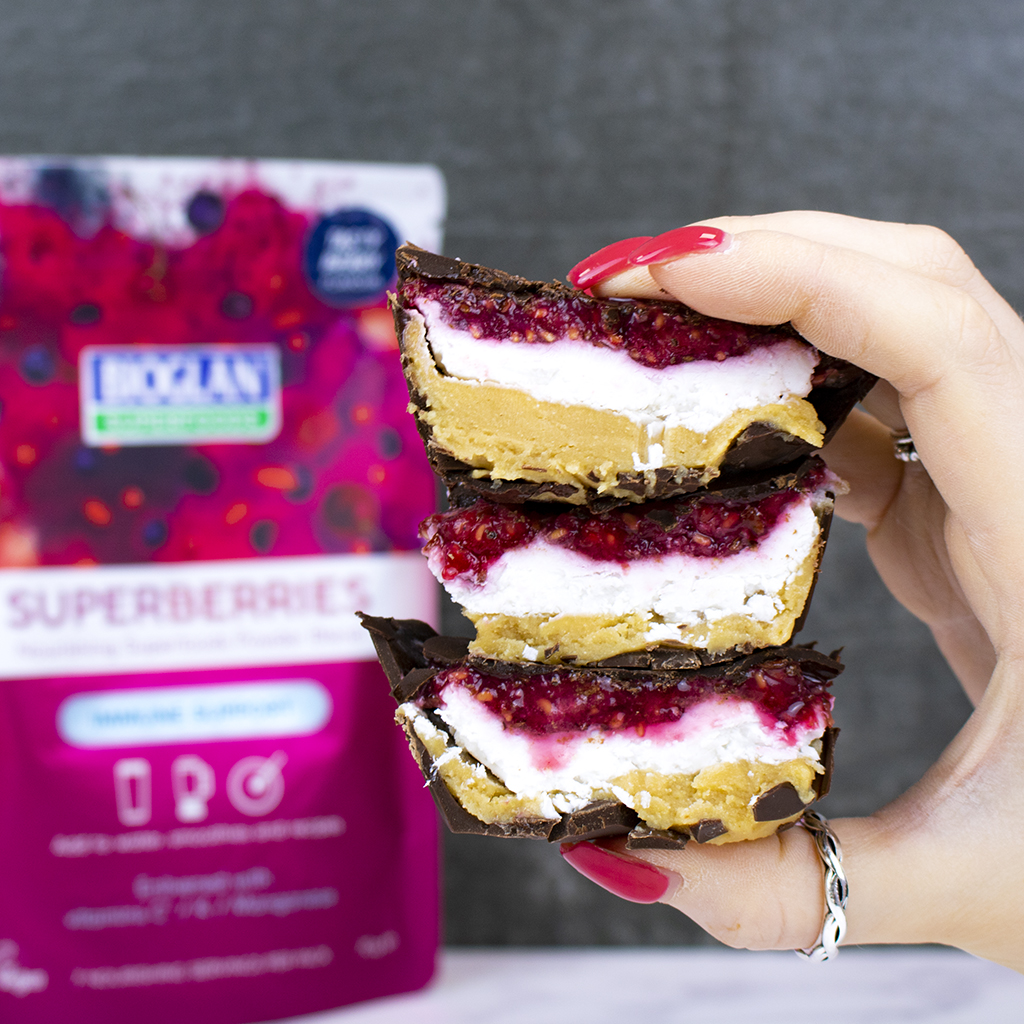 Vegan Peanut Butter and Jam Chocolate Cups
with Superberries

6

One Hour Thirty Minutes
Three layers of incredible, complementing flavours covered in dark chocolate – what's not to love! We added Flax + Chia and Superberries to the jam layer for a superfoods twist.
Ingredients
Buy ingredients online at your selected retailer
180g vegan dark chocolate
6 tbsp smooth peanut butter
3 tbsp agave syrup
50g coconut cream
2 tbsp desiccated coconut
100g raspberries
1 tsp Bioglan Superfoods Flax + Chia
2 tsps Bioglan Superfoods Superberries
Method
1. Melt 130g of dark chocolate in the microwave or over a pan.
2. Cover the bottom and sides of foil pie cases with the melted chocolate making sure it's all covered as evenly as possible (you can use a silicone mould or cupcake cases if you prefer).
3. Place the chocolate covered cases in the freezer while you start making the peanut butter layer (leave it in there at least 15 minutes to let it set nicely).
4. Mix the peanut butter and agave syrup together and then spoon a tbsp of the peanut butter mix into the bottom of each cup and place back into the freezer while you make the coconut layer.
5. Mix the coconut cream and desiccated coconut together, it should be nice and thick so try to get the thick layer of coconut cream from your jar/carton and leave the liquid behind. Spoon this as the second layer over the peanut butter layer and place back into the freezer.
6. Add the Flax + Chia and Superberries to the raspberries and using a masher mix it all up.
7. Spoon this final layer over the coconut layer and place back into the freezer.
8. Melt the remaining 50g of dark chocolate and pour over the jam layer on each cup before placing back into the freezer.
9. Leave them to set for about an hour or so and bring them into the fridge to keep until you serve them.
10. Enjoy!