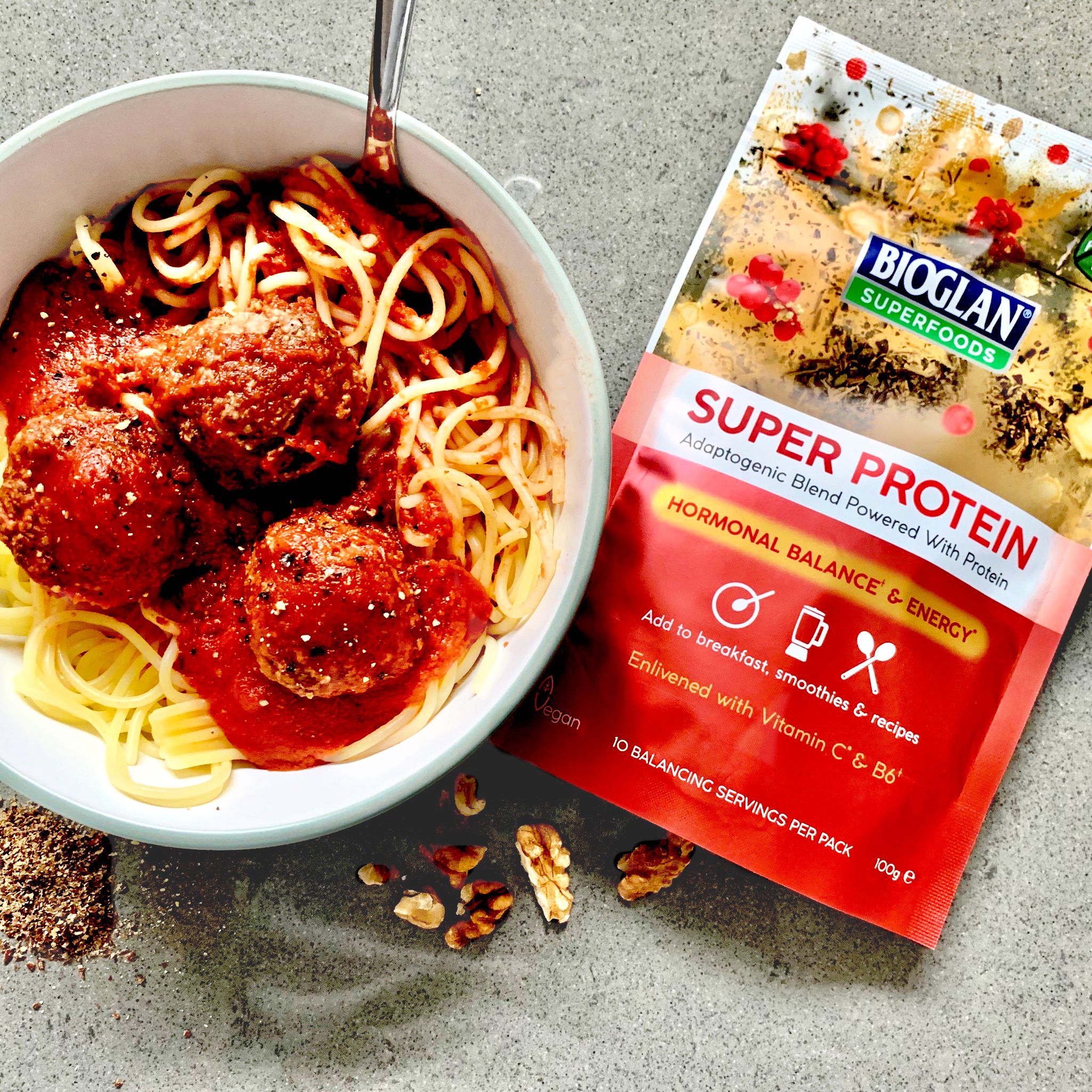 Vegan Meatballs
with Super Protein

Makes 12 Meatballs

Forty-Five Minutes
Did you know 25th October is World Pasta Day? These Vegan Meatballs with Super Protein and spaghetti are so tasty and packed full of flavour!
Ingredients
Buy ingredients online at your selected retailer
2 tsp Bioglan Superfoods Super Protein
1 tbsp Bioglan Superfoods Flax + Chia with 2 tbsp warm water
250g chestnut mushrooms
1 tbsp olive oil
2 tsp chilli paste
1 ½ tbsp nutritional yeast
1 tbsp mixed herbs
1 tsp salt
½ tsp pepper
70g gluten free rolled oats
½ cup walnuts
To serve:
Spaghetti
Tomato Sauce
Method
1. Pre-heat the oven to 180°C.
2. In a small bowl, add the warm water to the Flax + Chia and allow it to rest for 10 minutes.
3. Chop the chestnut mushrooms and fry them in a little oil until they have browned and softened.
4. Add the chilli paste, mixed herbs, salt and pepper and continue to cook until most of the moisture has evaporated. Take them off the heat and leave them aside to cool.
5. Blend the oats and walnuts until course and place them in a large mixing bowl.
6. Now blend the cooked mushroom mixture but be careful not to over blend, you still want it to be slightly chunky.
7. Add the mushroom mixture to your oats and walnut along with the nutritional yeast and Flax + Chia. Mix until combined and if the mixture looks too wet, add some more oats.
8. Roll the mixture into balls and place on a baking tray. Bake for 20 minutes, turning them around after ten minutes to ensure even cooking.
9. Once they are cooked serve them with spaghetti and tomato sauce and top with more seasoning. Enjoy!