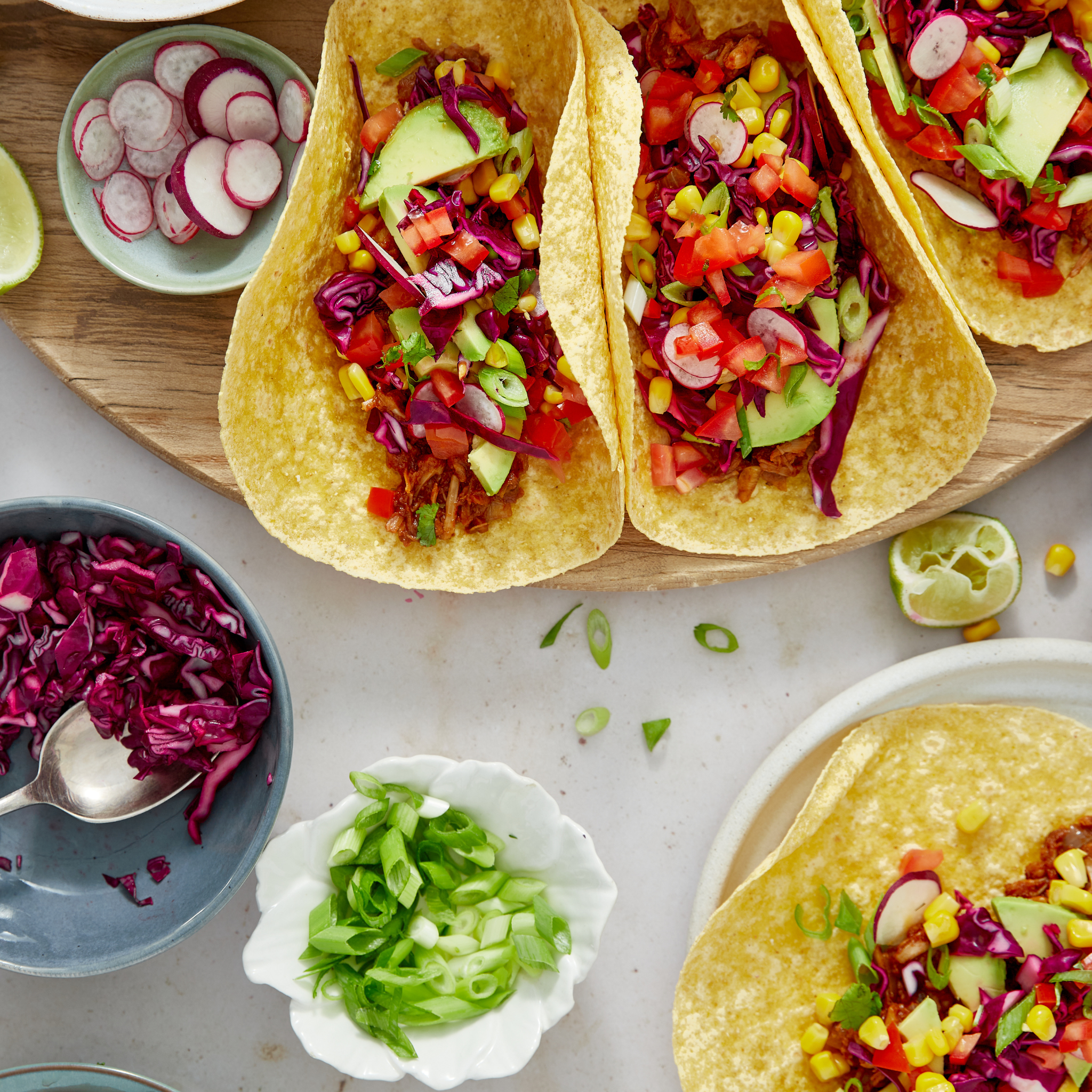 Vegan Jackfruit Tacos with Super Protein

4

Fifteen minutes
Part of the fun of Veganuary is trying new recipes. We've shaken up our usual weekday Mexican for these Vegan Jackfruit Tacos with Super Protein.
Ingredients
Buy ingredients online at your selected retailer
2 tbsp extra virgin olive oil
2 cans (400g) jackfruit, drained and rinsed
1 small onion, finely chopped
2 cloves garlic, minced
1 jalapeño, seeded and finely chopped, optional
175g barbecue sauce
2 tsp ground cumin
1 tsp Bioglan Superfoods Super Protein
1 tsp dried oregano
1 tsp ground coriander
½ tsp smoked paprika
½ teaspoon salt
1 tsp finely grated orange zest
To serve:
10-12 small corn tortillas
1 ripe avocado, thinly sliced
4 radishes, thinly sliced
45g coriander, roughly chopped
45g red cabbage, shredded
45g sweetcorn
1 lime, cut into wedges
Sour cream to serve, optional
Method
1. Place the drained jackfruit into a large bowl. Using your fingers or two forks, break apart the chunks of jackfruit into shredded pieces.
2. Heat the olive oil in a large saucepan over medium heat. Add the onion and cook until translucent, approx. 5 minutes. Add the garlic and jalapeño (if using) and cook for an additional minute, until the garlic is fragrant.
3. Add the shredded jackfruit to the pan and stir well. Add the barbecue sauce, cumin, oregano, coriander, Bioglan Superfoods Super Protein, smoked paprika and salt to the pan. Stir to evenly distribute the spices and cook for another 4 to 5 minutes, or until the jackfruit is browned and slightly crisped around the edges. Fold in the orange zest.
4. In a separate, lightly oiled frying pan, warm the tortillas.
5. To assemble add a large spoonful of cooked jackfruit to the centre of each tortilla. Top with avocado, radishes, coriander, red cabbage, corn, and sour cream. Serve with wedges of lime and enjoy!