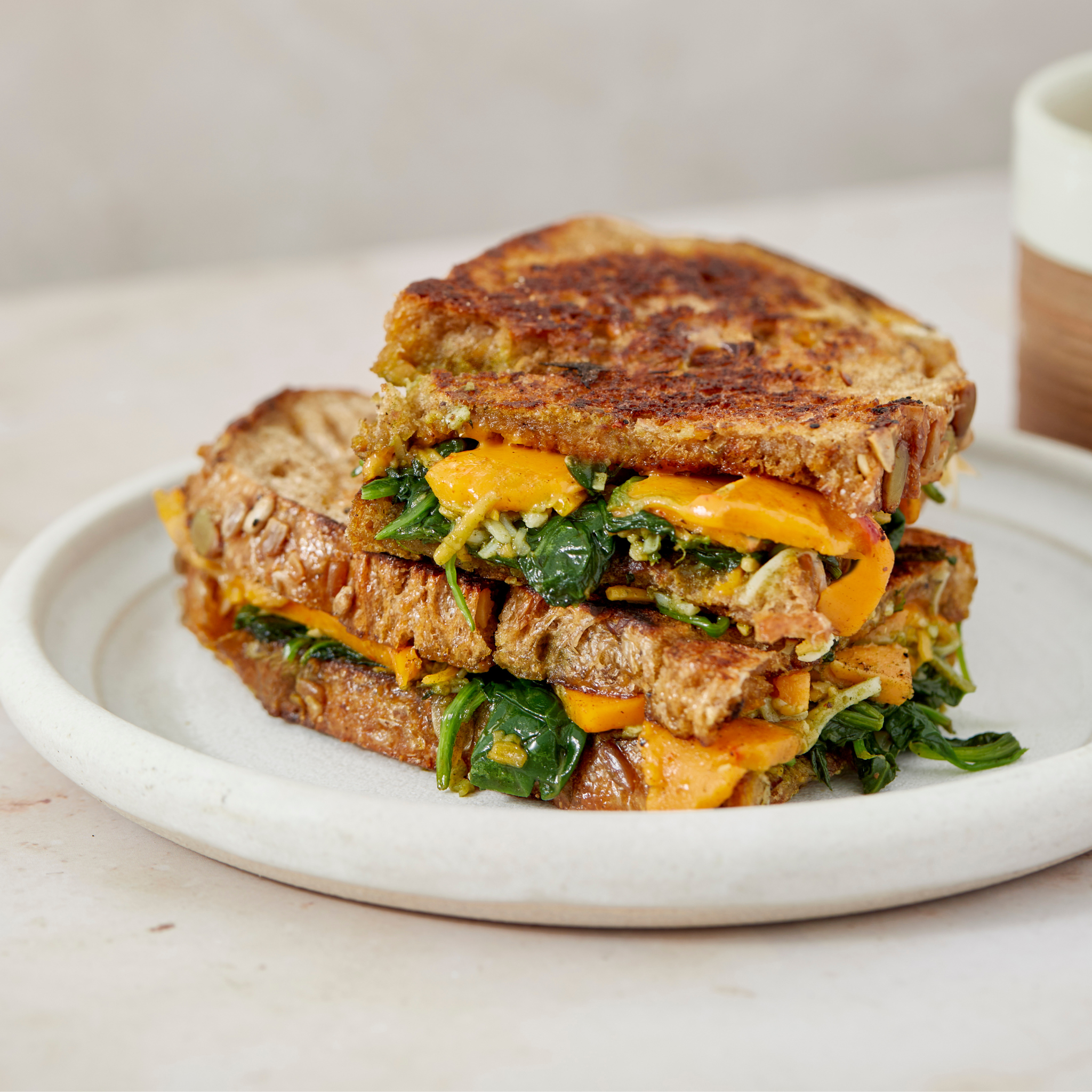 Vegan Grilled Cheese with Green Boost

1

Ten minutes
Up your sandwich game with our Vegan Grilled Cheese with Green Boost. We've added spinach to give our gooey, cheesy lunch some health points.
Ingredients
Buy ingredients online at your selected retailer
1 tbsp olive oil
2 slices of sourdough
1 tsp Bioglan Superfoods Green Boost
Handful of spinach leaves
1 tbsp vegan garlic butter (optional)
4 slices vegan cheddar slices
1 tomato, sliced
cracked black pepper to taste
tomato ketchup or hot sauce to serve (optional)
Method
Heat a large non-stick frying pan over medium-high heat, then bring down to medium-low and add the oil. Add the spinach, stirring with a wooden spoon, this helps to evaporate any liquid and the high heat will wilt the spinach quickly.
Add the Green Boost and keep stirring until all the spinach has wilted, approx. 1-2 minutes. Remove the pan from the heat and transfer it to the colander. Press down on the spinach with the back of the spoon to squeeze out any excess water.
Add the slices of bread to the pan, and spread the garlic butter on the insides. On one of the slices of bread, add 2 of the vegan cheese slices, then top with tomato, sautéed spinach, and the rest of the cheddar. Place the other slice of bread on top and press down.
Cook the sandwich for 2-3 minutes, then carefully flip the whole thing over. Cook for another 2-3 minutes or until all the cheese has started to melt and the bread is getting brown and crispy. Be careful it doesn't burn, though! A technique to keep everything from burning, but still getting the cheese nice and melty, is to turn off the heat once the bread is browned, then put a lid on the pan and take it off the heat. This essentially steams the whole thing so it finishes melting the cheese but doesn't burn the bread. Leave for 2-3 minutes, then it's ready!
Serve with ketchup or hot sauce and enjoy!