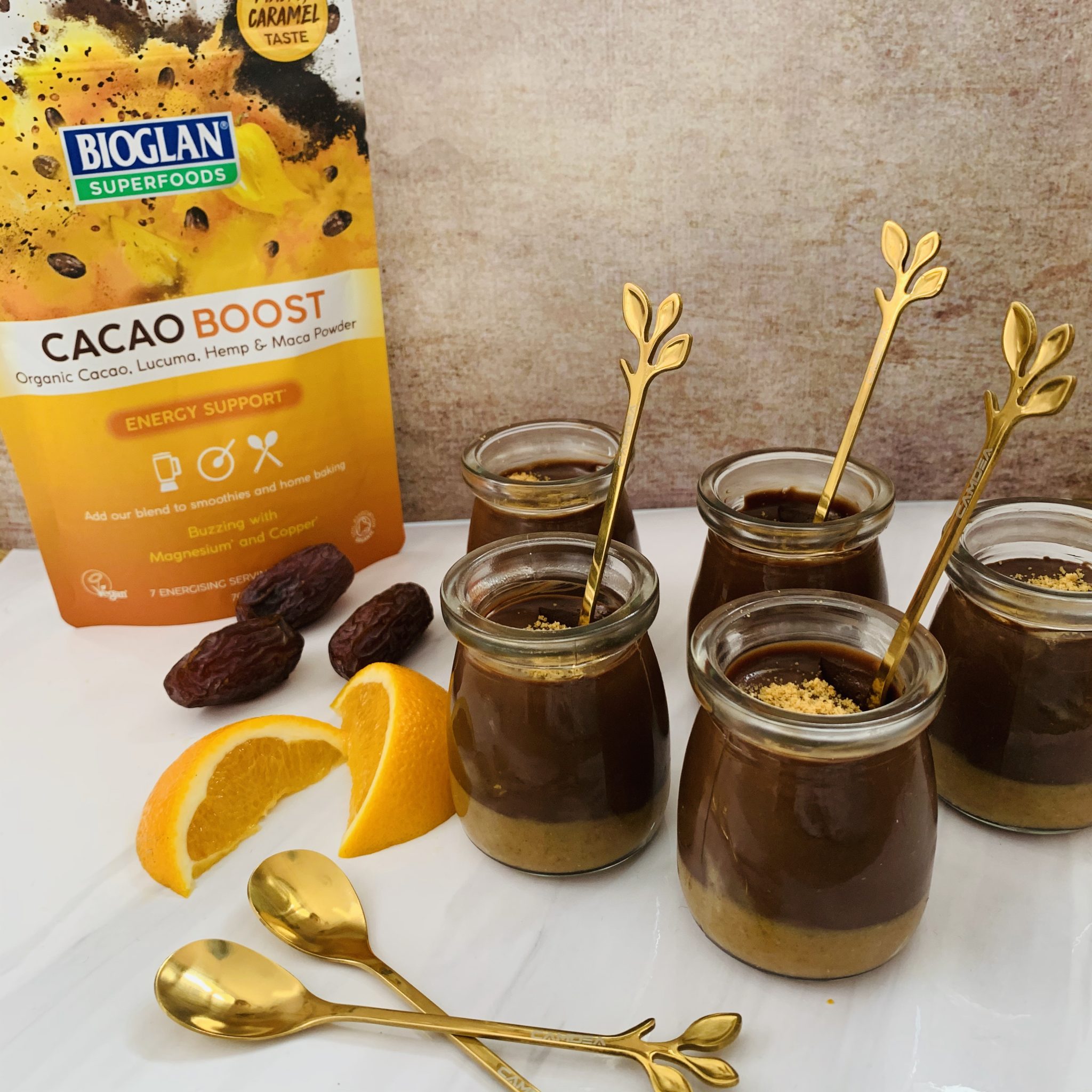 Vegan Chocolate Orange Pots
with Cacao Boost

6

Two Hours Thirty Minutes
There seems to be chocolate orange everything out there at the moment and we couldn't help but join in! These Vegan Chocolate Orange Pots with Cacao Boost are rich, smooth and the perfect treat during the festive season. You can make them ahead so no last minute desserts to worry about.
Ingredients
Buy ingredients online at your selected retailer
For the caramel:
8 medjool dates
60ml coconut milk
1 tsp vanilla extract
1 tbsp agave syrup
½ tsp salt
For the chocolate orange filling:
150g dark chocolate
200ml tinned coconut milk
1 tbsp Bioglan Superfoods Cacao Boost
1 tsp chocolate orange hot chocolate powder (optional, simply squeeze in some more orange juice if you don't have this)
1 tbsp agave syrup
1 tsp vanilla extract
Juice from one orange Crushed Ginger Nut biscuits to top (optional)
Method
1. Remove any stones from the dates and cover them with boiling hot water. Set aside while you create the chocolate orange filling.
2. In a mixing bowl, break the dark chocolate into small pieces. In a pan, add the coconut milk to a saucepan over medium heat and bring it to a simmer, then pour the hot coconut milk over the chocolate. Stir well so the chocolate melts smoothly and then add in the Cacao Boost, orange chocolate powder, agave syrup, vanilla extract and orange juice until completely smooth. Leave aside.
3. Drain the dates and add them to your blender. Pour in the coconut milk, vanilla, agave syrup and salt, blend until smooth.
4. Using a small spoon, add some of the caramel evenly into the bottom of each pot. Try and flatten this with a soon or by swirling the pot.
5. Then spoon in the chocolate orange filling into each pot. If you get some chocolate around the edges, wipe it clean with some kitchen towel. Leave them to cool at room temperature then place them in the fridge for 2 hours.
6. Take them out the fridge about 20 minutes before serving so they have time to soften a little. We topped ours with some crushed ginger nut biscuits for a little crunch but this is an optional step. Enjoy!