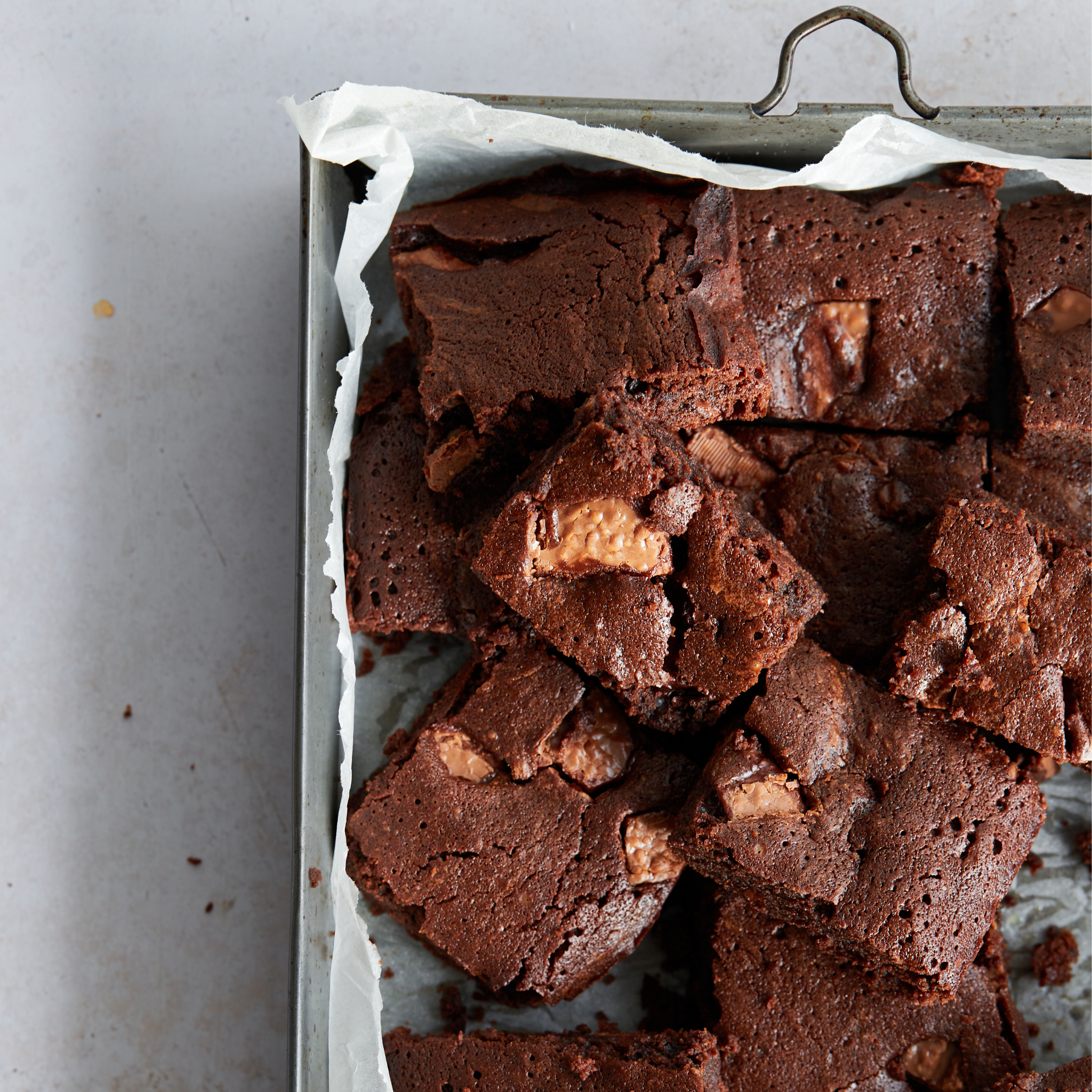 Vegan Chocolate Brownies with Cacao Boost

Makes 16 brownies

Forty five minutes + cooling time
If you're looking for a chocolate treat to make for a loved one (or yourself) this Valentine's Day, try our Vegan Chocolate Brownies with Cacao Boost.
Ingredients
Buy ingredients online at your selected retailer
250g all purpose flour
1 tsp Bioglan Superfoods Cacao Boost
85g unsweetened cocoa powder
200g light brown sugar
200g white granulated sugar
1 tsp baking powder
½ tsp salt
1 tbsp instant coffee
240ml vegan buttermilk (1 tbsp lemon juice + 240ml soy milk)
240ml coconut oil, melted
1 tsp vanilla extract
115g vegan chocolate, melted
175g vegan chocolate chips and chunks (plus extra to place on top)
Method
1. Preheat the oven to 180°C/160°C fan. Line a 9 x 9 inch square dish with baking parchment, ensuring there is overhang over the sides so you can easily lift out the whole tray of brownies when they're baked.
2. Sift the flour, Bioglan Superfood Cacao Boost and cocoa powder into a mixing bowl. Then add the brown and white sugar, baking powder, salt and instant coffee powder and mix together.
3. Prepare your vegan buttermilk by adding 1 tbsp of lemon juice to a measuring jug and then adding the soy milk up to the 240ml line. Allow it to curdle and then add to the mixing bowl.
4. Add in the melted coconut oil and vanilla extract and stir it into a thick batter.
5. Pour in the melted vegan chocolate and stir.
6. Fold in the chocolate chips and chunks. The batter will be extremely thick.
7. Spoon the batter out into the prepared baking dish and smooth down with the back of a spoon.
8. Place the extra chocolate chunks and chocolate chips on top.
9. Bake in the oven for 30 minutes if you want them extremely gooey or 40 minutes if you want them super fudgy but not gooey.
10. When baked let them cool for around 15 minutes in the tray and then lift out using the parchment paper and place onto a wire rack to cool completely.
11. To cut the brownies, heat up a knife by dipping it in some very hot water (from the kettle) and then drying it off with a towel and cutting. Then dip the knife again, dry it off and cut the next section and repeat until you have cut all the squares. This simultaneously allows you to cut perfect squares and makes the chocolate in the brownies all melty as you cut them.