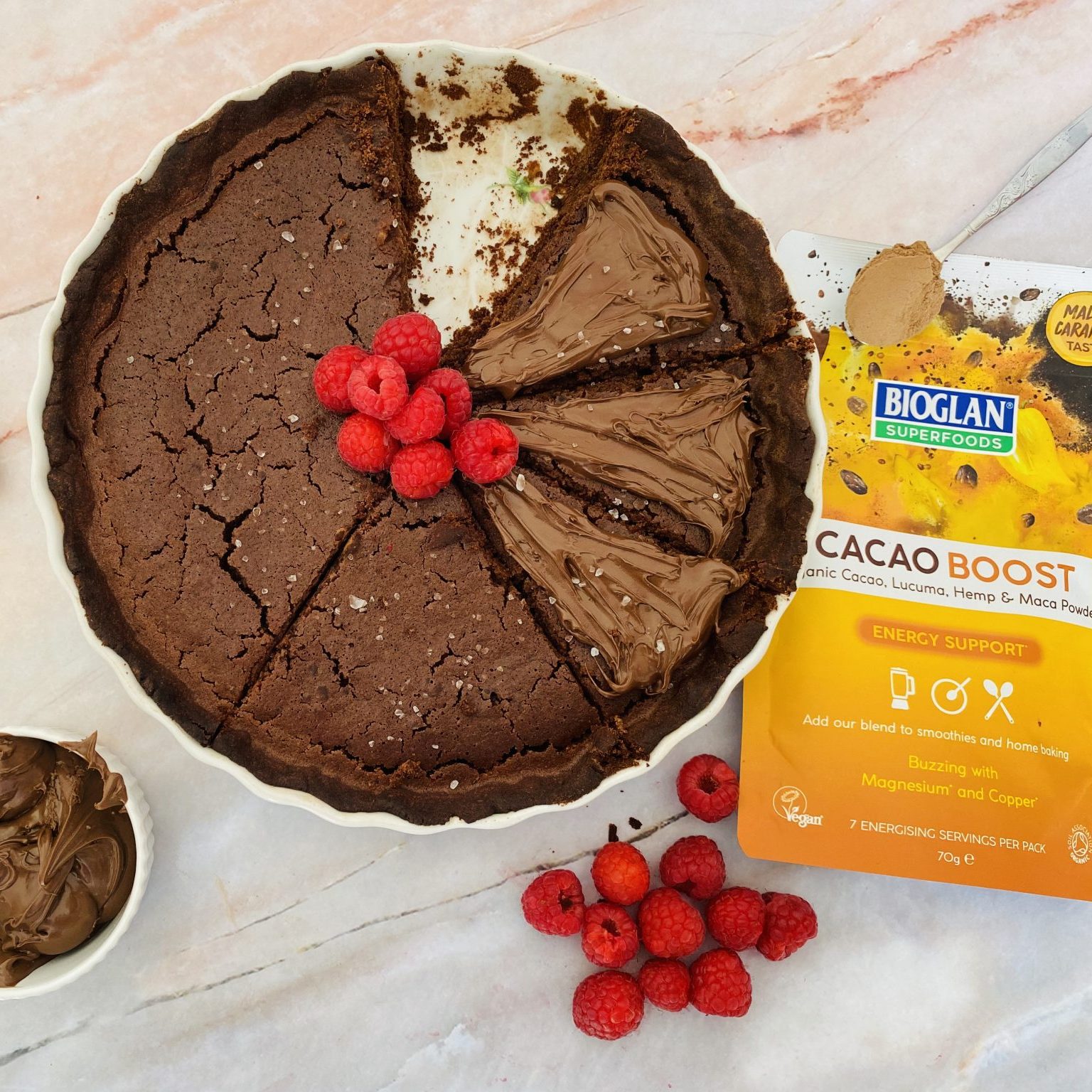 Vegan Brownie Tart
with Cacao Boost

10

Forty-Five Minutes
A vegan dessert that we're sure you'll love! This Vegan Brownie Tart with Cacao Boost is a delicious treat and perfect served with ice-cream.
Ingredients
Buy ingredients online at your selected retailer
For the base:
250g of plain flour
30g of cocoa powder
2 tablespoons of maple syrup
120g of coconut oil (melted)
For the brownie filling:
170g of self-raising flour
110g of caster sugar
20g of cocoa powder
Pinch of salt
2 tsps Bioglan Superfoods Cacao Boost
1 teaspoon of vanilla essence
5 tablespoons of vegetable oil / coconut oil (melted)
260ml of dairy-free milk
To serve:
Dairy-free ice cream -
Vegan chocolate hazelnut spread
Pinch of sea salt
Method
1. Preheat your oven to 180 degrees Celsius and lightly grease a loose base fluted tart tin with coconut oil.
2. To make the base, in a mixing bowl, combine the flour, cocoa powder, maple syrup and melted coconut oil. Mix and bring together with your hands to form a dough. You may need to use a rolling pin to make the dough fit the shape of the tin.
3. Press the dough into the greased tin, prick the base with a fork and pop into the oven to bake for 8 minutes.
4. Remove from the oven and set aside.
5. To make the brownie filling, sieve the flour, sugar, cocoa powder, Cacao Boost and salt in a large mixing bowl and mix together.
6. Add the vanilla extract, oil and dairy-free milk into the dry ingredients and mix to fully combine.
7. Once you have your brownie batter, pour onto the tart crust and spread out with a spoon or spatula until flat.
8. Place into the middle of the oven and bake for 20-25 minutes. If it's not fully baked, pop back in the oven for an extra few minutes.
9. Allow to cool for 15 minutes then slice and serve immediately.
10. Serve with a scoop of vegan dairy-free vanilla ice cream, a sprinkle of sea salt or a drizzle of vegan-friendly chocolate hazelnut spread. Enjoy!