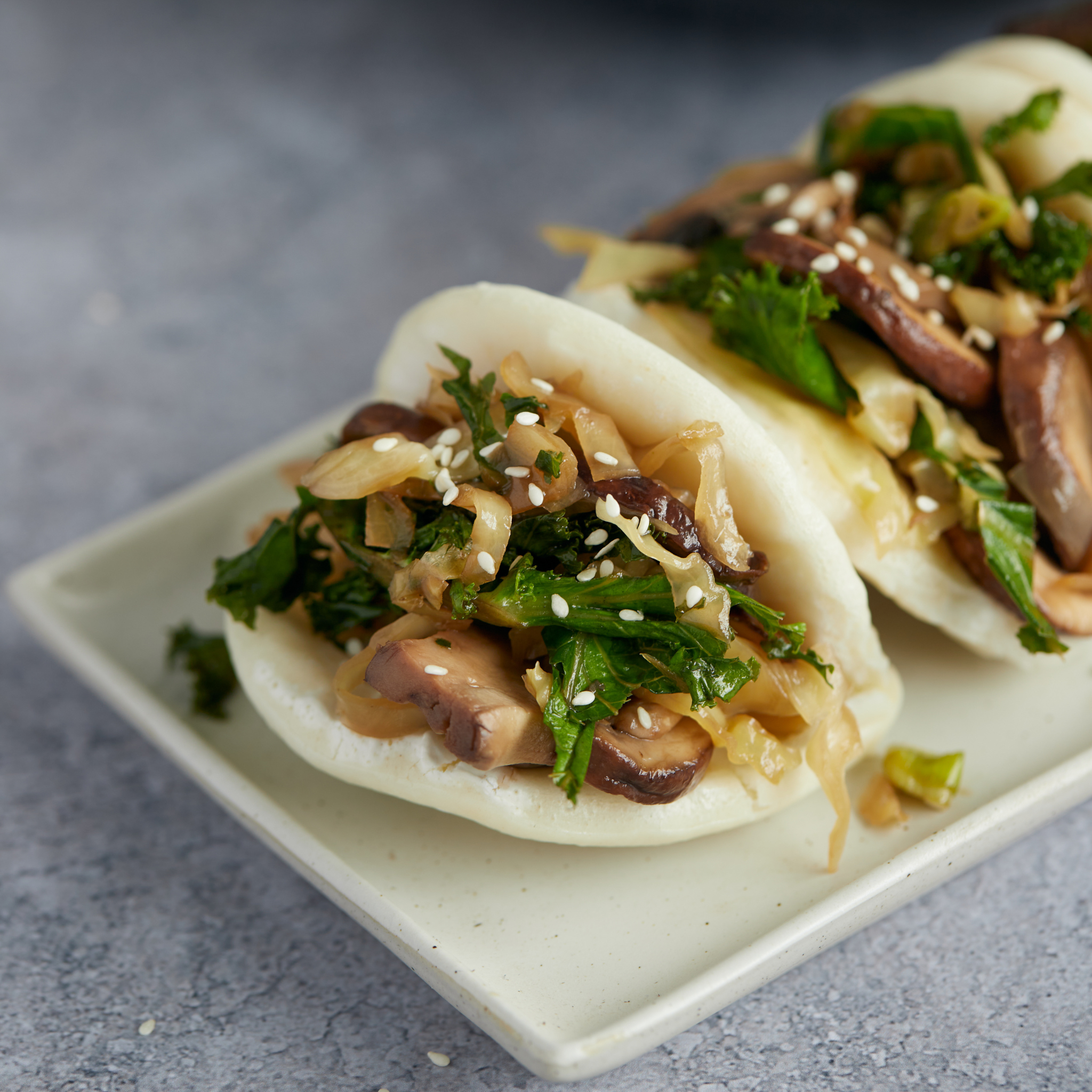 Vegan Bao Buns with Super Protein

20 small bao buns

One hour
To celebrate Chinese New Year, we'll be whipping up our Vegan Bao Buns with Super Protein. These vegan buns are light and fluffy and stuffed with tasty veggies.
Ingredients
Buy ingredients online at your selected retailer
For the dough:
1 ¾ cups all-purpose flour
1 tsp Bioglan Superfoods Super Protein
2 ¼ tsp (1 packet) active dry yeast
1 tbsp sugar
1 tbsp oil
⅔ cup warm non-dairy milk
For the filling:
2 tsp oil
2 tsp ginger, thinly sliced, plus a sprinkling of minced
3 cloves garlic, minced
7-8 mushrooms, soaked until soft and thinly sliced
4 cups finely shredded cabbage
2 tbsp soy sauce
2 tsp stir fry sauce
1 tsp sugar
1 cup chopped kale
salt and pinch white pepper
sesame oil
pinch of sesame seeds
handful spring onions chopped
Method
1. Make the dough: mix flour, Bioglan Superfoods Super Protein, yeast and sugar in a bowl, then add the wet ingredients. Using a dough hook, knead the mixture until a soft dough forms. Turn dough onto a floured surface and knead for 4-5 minutes until you see a smooth top. Let the dough rest in a bowl for 30 minutes, covered.
2. While the dough rests make the filling. Heat the oil in a pan. Sauté sliced ginger, mushrooms and garlic until fragrant. Add the cabbage, soy sauce, stir fry sauce and sugar and cook for 2 minutes and spoon mixture into a bowl. Sauté the kale with a little oil and salt, then add to the cabbage mixture along with the chopped spring onions, minced ginger and a drizzle of sesame oil and seeds.
3. To make the buns, turn dough onto a floured surface and roll into a log. Divide log into 20 pieces and roll each one into a ball. Take 1 ball of dough and flatten it slightly with your palm,. With a rolling pin, roll it out to a 3-inch circle, thicker in the middle. Place a heaped tablespoon of filing in the middle and pleat dough to seal. Continue until you have 20 bao buns.
4. Heat a drizzle of oil in a pan. Place buns sealed side down and pan fry for 30 seconds until the bottom turns light brown. Slowly add in hot water to cover about 1/3 of the buns, cover the pan and turn heat to medium-low. Cook until all water is absorbed, you may have to do this in batches.
5. Serve warm with extra soy sauce if you like, enjoy!