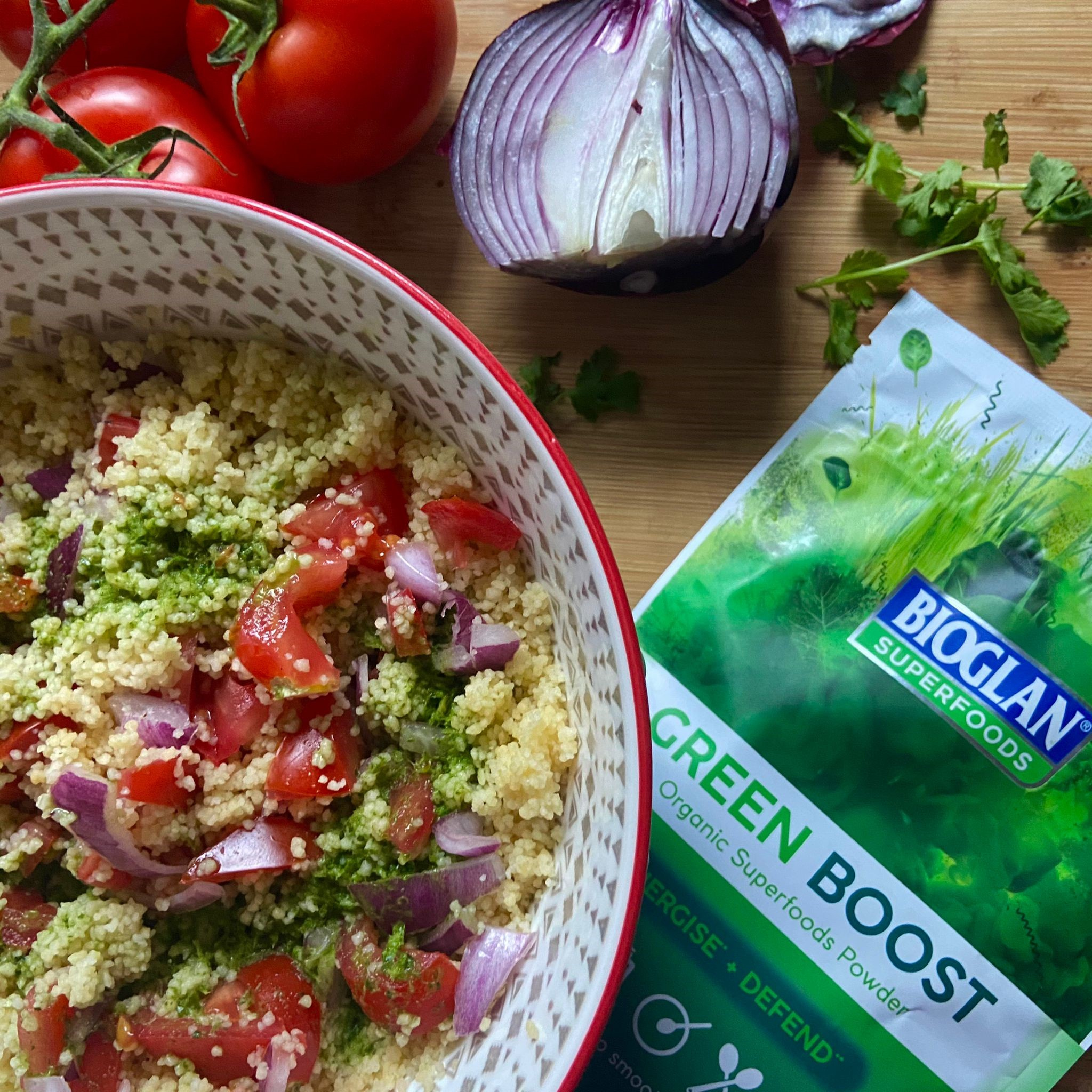 Tomato Couscous Salad with Green Boost

6

Thirty minutes
To celebrate British Tomato Fortnight we've created a dish that highlights our favourite veg: Tomato Couscous Salad with Green Boost. Colourful and fresh, this salad is the ideal light lunch.
Ingredients
Buy ingredients online at your selected retailer
200g couscous
500ml hot water
½ tsp sea salt
4 large vine tomatoes
½ large red onion, diced
For the dressing:
1 small bunch fresh coriander
1 small bunch fresh parsley
1 tsp Bioglan Superfoods Green Boost
2 tbl fresh lemon juice
1-2 green jalapeños
2 garlic cloves
1 tsp ground cumin
½ tsp sea salt
½ tsp sugar
1-2 tbsp water
3 tbsp olive oil
Method
1. Tip the couscous into a heatproof bowl and pour over the hot water. Cover with cling film or a lid and leave for 5-10 mins until the couscous is soft. Fluff the couscous with a fork and season.
2. Quarter the tomatoes, scoop out the watery seeds then finely dice into smaller chunks. Transfer to a large salad bowl along with the diced onion and toss with 1/4 teaspoon salt. Set aside.
3. Place all the dressing ingredients into a food processor or blender and pulse until mostly smooth. Taste and season with salt and lemon juice as needed.
4. Add the couscous to the bowl with tomatoes and onion. Toss together until well combined. Add a 2-3 tablespoons of the dressing to the couscous and mix together. Serve with the remaining dressing on the side and enjoy.