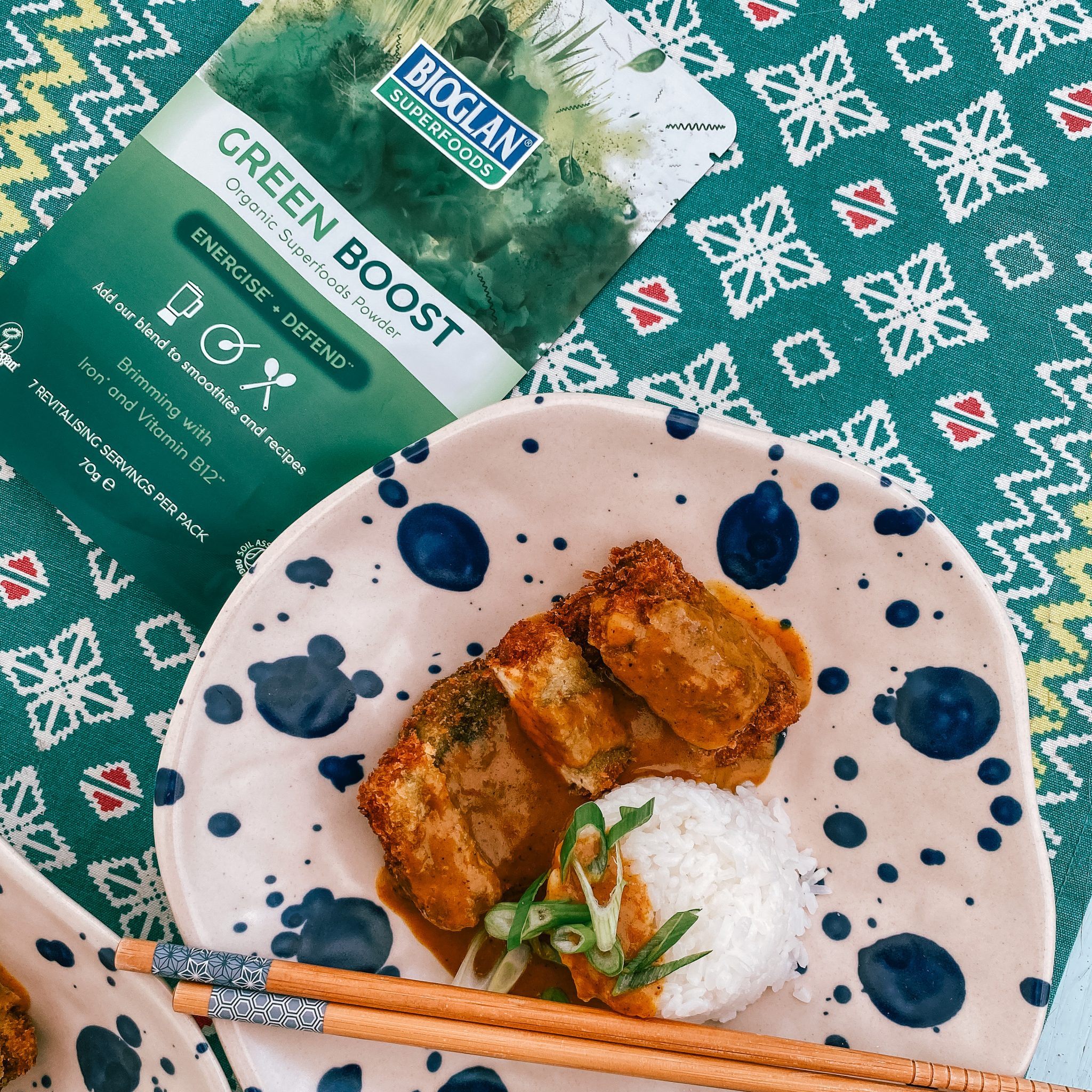 Tofu Katsu Curry
with Green Boost

2

Forty Minutes
We were inspired by the Wagamamas Katsu Curry recipe but decided to super power this dish with a touch of Green Boost. This creamy sauce and crispy, golden tofu makes for a delicious dinner.
Ingredients
Buy ingredients online at your selected retailer
1 block (roughly 280g) firm tofu
100g panko breadcrumbs
1tsp Bioglan Superfoods Green Boost
50g plain flour
50ml vegetable oil for frying
Rice to serve (we used sushi rice)
For the batter:
50g plain flour
150ml water
For the curry sauce:
1 onion, finely chopped
1 garlic clove, finely chopped
3cm piece of ginger, grated
2 tbps curry powder
1 tsp turmeric
1 tbsp plain flour
300ml vegetable stock
1 tbsp soy sauce
1 tsp sugar
100ml coconut milk
Method
1. Start preparing your tofu by slicing into 1cm slices. Add the 50g of flour to one bowl, the panko breadcrumbs and Green Boost to another, and use a final bowl to mix up the flour and water for your batter.
2. Coat each piece of tofu in flour, then dip into the batter and finally into the breadcrumbs. Once all the pieces are well coated, set aside whilst you prepare the sauce.
3. Add the onion to a pan with a little vegetable oil and cook for 5 minutes until soft. Add the garlic and ginger and cook for another 2-3 minutes.
4. Add the turmeric and curry powder and cook for 2 minutes, then add the flour and stir until you get a fairly smooth paste. Slowly add the stock, stirring constantly, then bring to a gentle simmer until you have a thick sauce. Add the coconut milk and finish with the soy sauce and sugar. You can leave your sauce on a low heat whilst you cook the tofu.
5. Pour the vegetable oil into a wide shallow pan over a medium heat. Once hot, add the tofu pieces in an even layer. Cook or 2-3 minutes on each side until golden and crispy. Remove from the pan and drain on some kitchen paper.
6. To assemble the dish add some rice to your bowls, followed by the crispy tofu. Top with the sauce and enjoy!