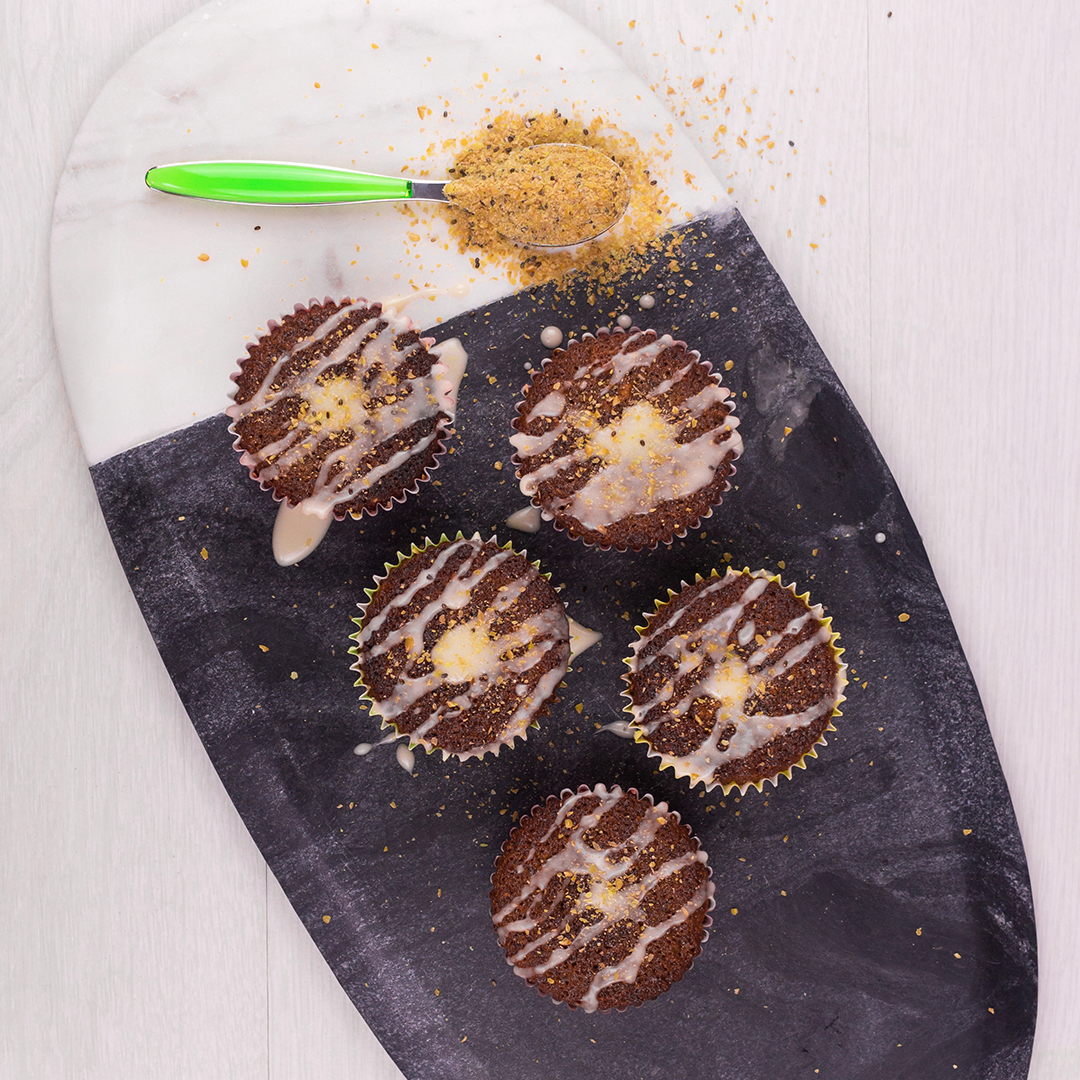 Spiced Muffins
with Flax + Chia

Makes 12

30 minutes
These Flax + Chia spiced muffins taste as good as they'll make your kitchen smell! They are a delicious, moist treat and perfect with your mid-afternoon cup of tea.
Ingredients
Buy ingredients online at your selected retailer
1 very ripe banana, mashed
1 large egg
1 tsp vanilla extract
zest of half an orange
1-1/2 tsp ground cinnamon
1 tsp ground ginger
1/2 tsp ground cloves
1/4 tsp ground nutmeg
1/2 tsp salt
100g coconut oil, melted
115g molasses/black treacle
80ml almond milk
70g caster sugar
70g dark brown sugar
1 tsp baking powder
160g self raising flour
50g icing sugar
Juice from half an orange
2 tbsp Flax + Chia
Method
Preheat the oven to 200/gas mark 6. Line a 12-hole muffin tin with paper muffin cases
In a large mixing bowl, use the back of a fork to mash the banana together with the egg until completely combined and only small lumps remain. Use a spatula to stir in the vanilla, orange zest, Flax + Chia, spices and salt.
Add the oil, molasses and milk, stirring until completely combined between each addition. Add the sugars and stir to combine. Add the baking powder and fold in the flour until just mixed. Do not overbeat.
Divide the batter evenly between the muffin cases so that they are ¾ full.
Bake for 15-20 minutes until the muffin tops are set and a cake tester inserted into the centre of the muffins comes out clean. Let cool in the muffin tins for 5 minutes, then transfer to a wire rack to cool completely.
Mix together the icing sugar and orange juice and drizzle over the top.