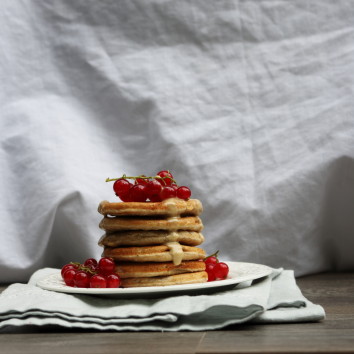 Pear Pancakes
Recipe by Maxine Ali

Serves 1

Takes 20 minutes (plus overnight)
This recipe is egg-free and vegan, as well as being totally yummy! Serve these pancakes with your favourite nut butter for a hearty weekend breakfast.
Ingredients
Buy ingredients online at your selected retailer
75 grams buckwheat flour
2 heaped tablespoons of oats
1 tablespoon of brown rice flour
75 grams of almond milk
2 pears
1 teaspoon ground cinnamon
1 tablespoon of Bioglan Superfoods Flax + Chia mixed with 3 tablespoons of water, allowed to rest for 20 minutes – 8 hours (the longer the better)
1 teaspoon baking powder
Coconut Oil for cooking
Method
Prepare your Flax + Chia and water mixture and place these aside until ready.
When ready, simply place the oats, buckwheat and brown rice flour, almond milk, pears, cinnamon, baking powder, and the Flax + Chia and water mixture into a high speed blender or food processor and blend until a batter forms. Transfer this to a bowl.
Heat a frying pan on the stove-top to a medium heat, grease with a little coconut oil and pour 1/2 a tablespoon of the mixture into the pan, using the spoon to form a circular shape. Cook until bubbles begin to form on the top of the batter, then flip and cook for another minute and a half or so, until the pancake is slightly golden. Then, transfer to a plate and repeat with the rest of the batter.
Serve with some fresh fruit or nut butter and enjoy!