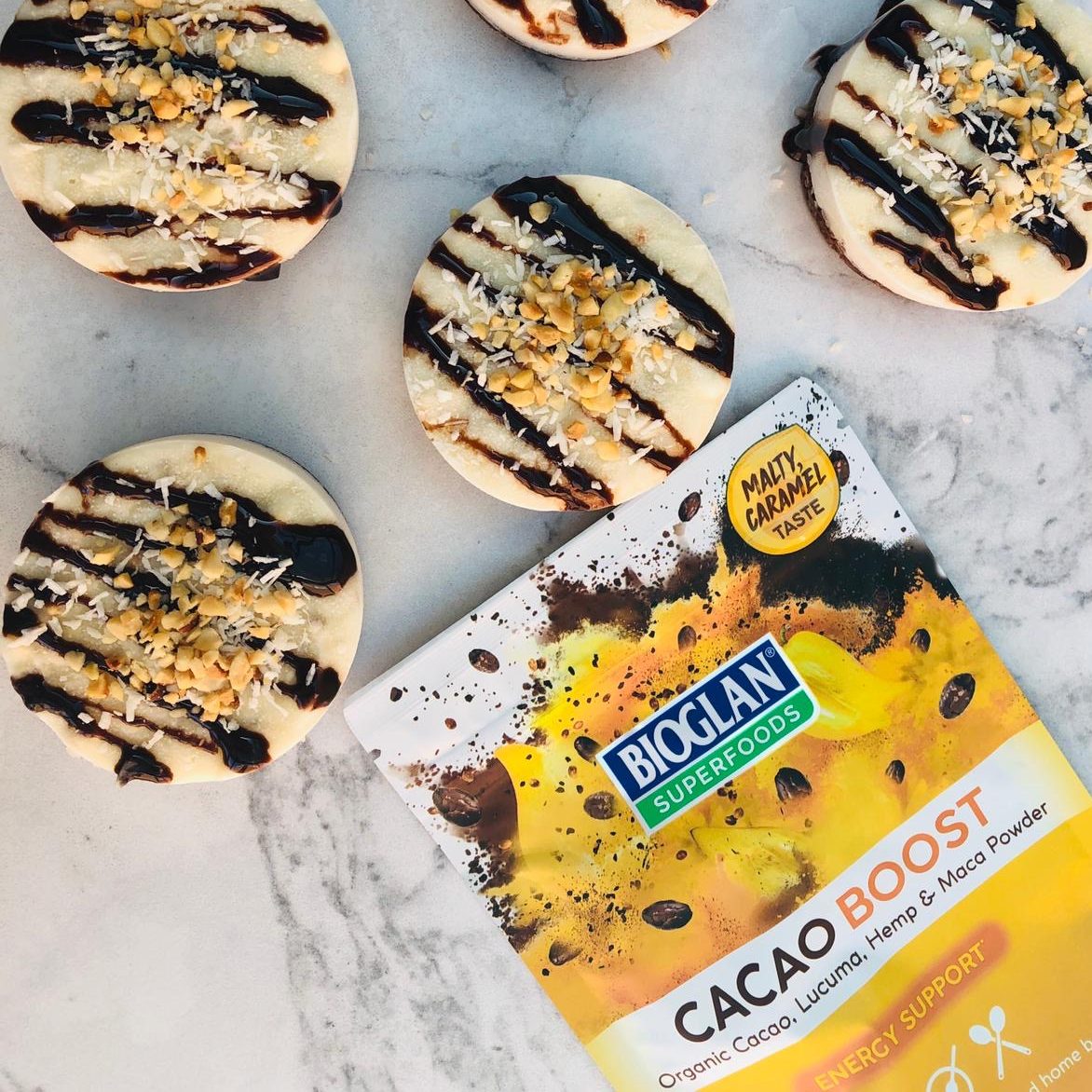 Mini Frozen Cheesecakes
with Cacao Boost

6

Three Hours Thirty Minutes
Mini bites of goodness with a chocolatey twist! These mini cheesecakes with Cacao Boost and Super Protein are so simple to make and are a healthier alternative to a typical cheesecake, and there's added protein!
Ingredients
Buy ingredients online at your selected retailer
For the base:
35g Bioglan Superfoods Super Protein
30g desiccated coconut
60g ground walnuts
4tsp coconut oil
3tsp honey
1tbsp Bioglan Superfoods Cacao Boost
For the filling:
180g low fat cream cheese
90g Greek yoghurt
75g Bioglan Superfoods Super Protein
3 tbsp peanut butter
2tsp honey
1tbsp crushed hazelnuts
For the drizzle:
1 tsp Bioglan Superfoods Cacao Boost
1 ½ tsp coconut oil
2 tsp honey
Method
1. Blend the ingredients for the base and press into moulds. Freeze for 15min.
2. Make the filling, spoon into the bases and freeze for at least 2 hours.
3. Make the drizzle – you might need to amend the quantities if the consistency isn't quite right so add more Cacao Boost if it is too runny or more coconut oil if it needs to be looser.
4. Drizzle the cheesecakes, then top with hazelnuts and desiccated coconut.
5. Defrost in the fridge for 30min-1hour before eating. Enjoy!