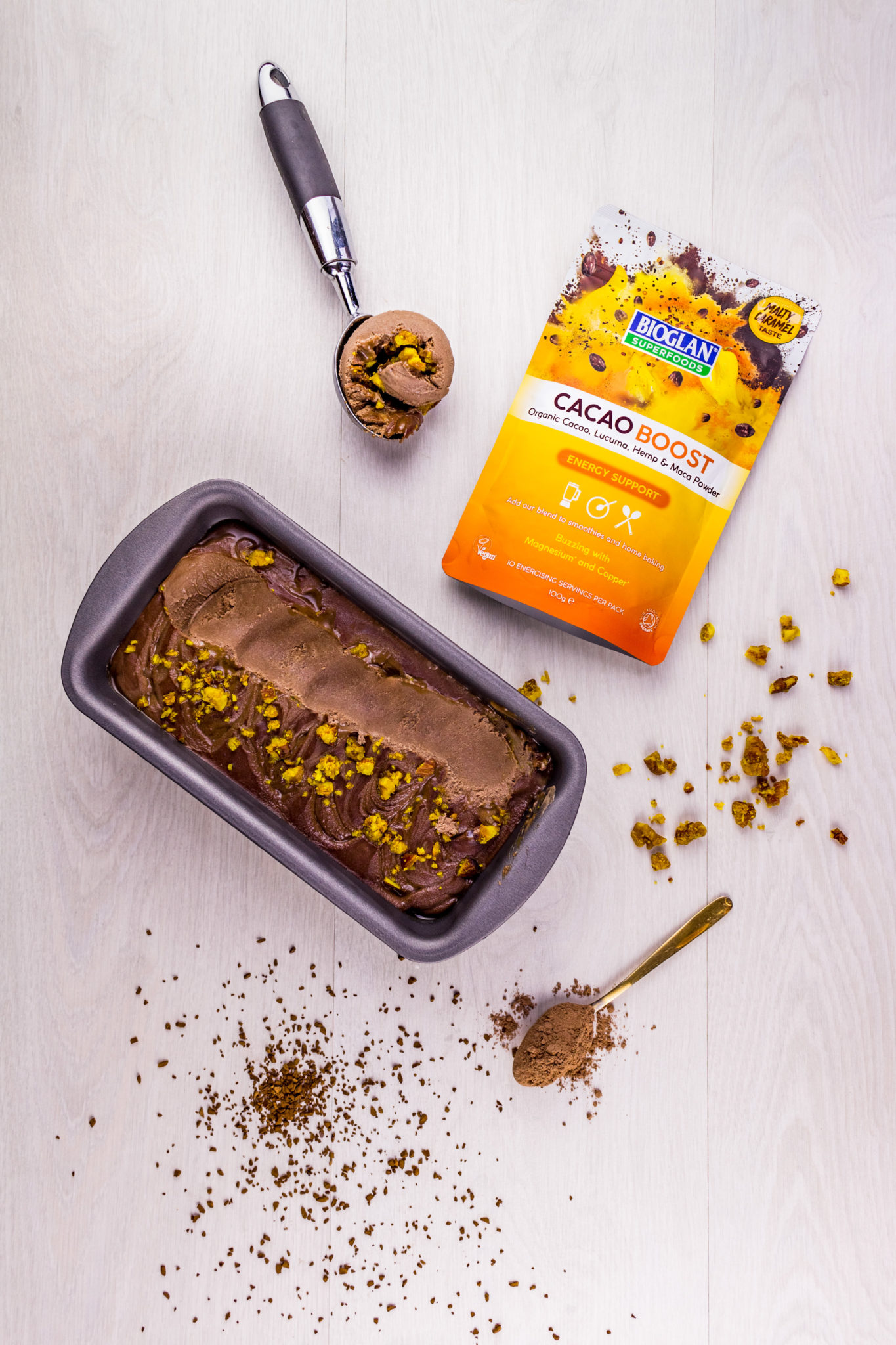 Malty Mocha Ice Cream
with Cacao Boost

Serves 8

15 minutes + 8 hours soaking and freezing time
This is a super simple ice cream recipe that doesn't involve an ice cream maker! Whatsmore, this tasty treat is 100% vegan, so it's healthy too. A deliciously malty flavour comes from the Cacao Boost which also improves energy levels! Feel free to adjust the amount of coffee, add extra if you are in need of a pick-me-up.
Ingredients
Buy ingredients online at your selected retailer
250g cashew nuts
50g Cacao Boost
2 very ripe bananas
1 tbsp melted coconut oil
1 tsp vanilla extract
Pinch of fine sea salt
80ml maple syrup
2 tbsp instant coffee
Optional toppings:
Granola
Extra maple syrup
Method
Soak the cashews in a bowl of cold water for at least 4 hours. Peel the bananas and break them into chunks and freeze. Remove from the freezer 10 minutes before using.
Add the cashews and 120ml of water to a blender and blend until smooth. Next, add the banana, vanilla extract, Cacao Boost, sea salt, maple syrup, coffee and coconut oil and blend until smooth. A top tip is to add a splash of vodka at this point so that this ice cream doesn't set too solid. Scrape the ice cream out into a loaf tin and top with the granola and a drizzle of maple syrup if desired. Freeze for at least 4 hours.
To serve, remove the ice cream 5 to 10 minutes before you plan to enjoy so that it's soft enough to scoop.