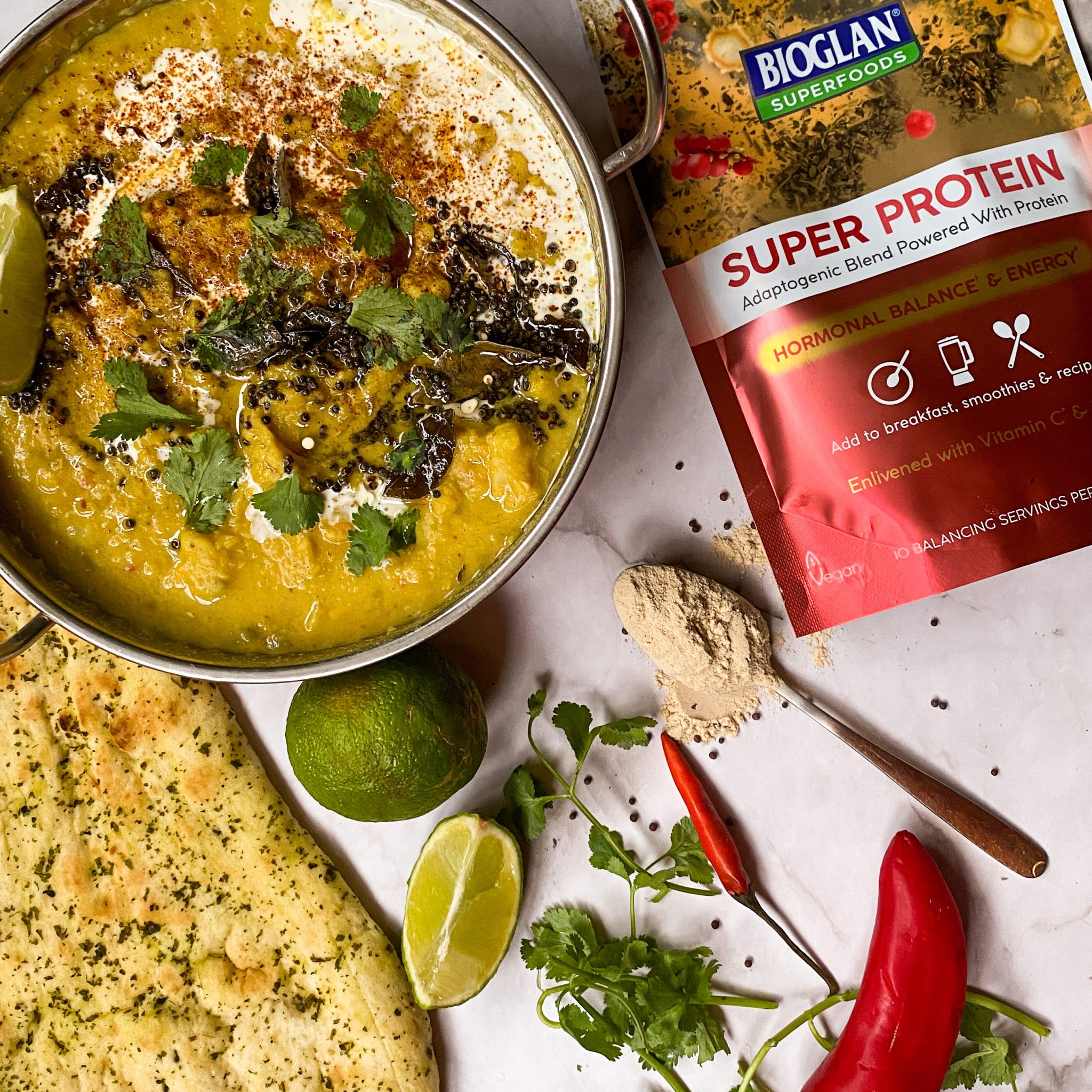 Lentil and Cauliflower Dahl
with Super Protein

4

Forty Minutes
An amazing recipe for those cold, winter nights. Lentil and Cauliflower Dahl with Super Protein – packed full of goodness and protein!
Ingredients
Buy ingredients online at your selected retailer
1 onion, finely chopped
2 garlic cloves, grated
1 inch piece of ginger, grated
1 red chilli, finely chopped
1 medium cauliflower, cut into florets
2 tbsp coconut or vegetable oil
350g red split lentils
1 tsp ground cumin
1 tsp ground coriander
¾ tsp cinnamon
1 tsp turmeric
1 tsp salt 4 large tomatoes, chopped or 1x 400g tin of tomatoes
400ml coconut milk
2 tbps Bioglan Superfoods Super Protein
1 lime
To serve (optional):
1 bunch of fresh coriander
4 tbsp of coconut yoghurt
4 naan breads
Method
1. Add the oil and onions to a large pan and gently fry for 5-10 minutes until the onions are soft and beginning to turn brown. Add in the ginger, garlic and chilli and cook for another 2 minutes.
2. Stir in the spices and cook for 1 minute to cook them out slightly, then stir in the lentils, tomatoes, coconut milk and cauliflower. Pour in enough water to cover the cauliflower and lentils and bring to a gentle simmer.
3. Add the juice of half the lime (save the other half for serving), then cover the dahl with a lid and leave to simmer for 20-25 minutes. When the cauliflower is soft and the lentils are cooked, remove from the heat, and add the Super Protein and stir well, then season with salt to taste.
4. Serve the dahl with fresh coriander leaves, coconut yoghurt, lime wedges and naan breads. Enjoy!