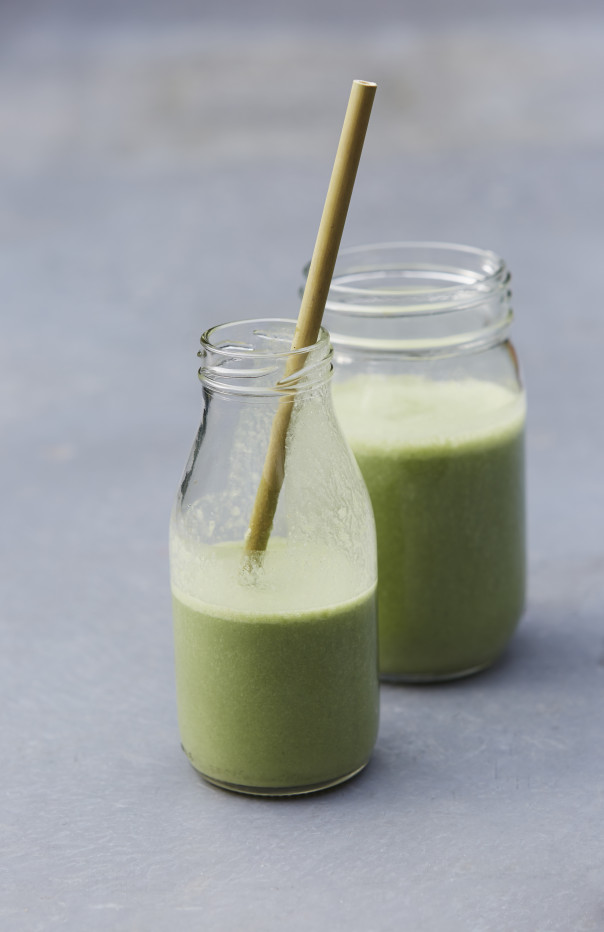 Green Milkshake
Recipe by Natasha Corrett

Serves 1

5 minutes
Natasha Corrett on her simple green milkshake:
"Eating green and clean can sometimes get repetitive but finding inspiration to make delicious nutritious food is the fun part. Putting nutritionally dense food into our bodies every day to reach our optimum health is the best way to avoid disease in the body. Planning ahead is the best way to stay on track and I find that planning my week by doing a weekly shop at a local farmers market buying fresh, organic produce is the best way to set myself up to feel fantastic.  Roasting up a variety of vegetables on a Sunday night, cooking up some grains and making a selection of dressings allows me to stay healthy all week long. This way each night before I go to bed I will make up new and different combinations of the ready prepared food in my fridge and have a wonderful lunch to take to work with me. Being in a rush in the morning can also be the downfall of the day as going to work on an empty stomach is setting you up for failure. Having a delicious green milkshake that is full of nutrients, protein and minerals is the best way to start the day. This Green Milkshake can be adapted to what you have in your fridge and you can add a handful of spinach, a pinch of spirulina or can even swap the
Green Boost
for
Cacao Boost
for a chocolatey indulgent healthy treat. Having a healthy body is the way to a healthy mind."
Ingredients
Buy ingredients online at your selected retailer
1 banana
1 tsp Bioglan Superfoods Green Boost
1 tbsp cashew or white almond butter
220ml almond milk
3 cubes ice
Method
Put all ingredients into a blender and blend until smooth. Serve straight away.