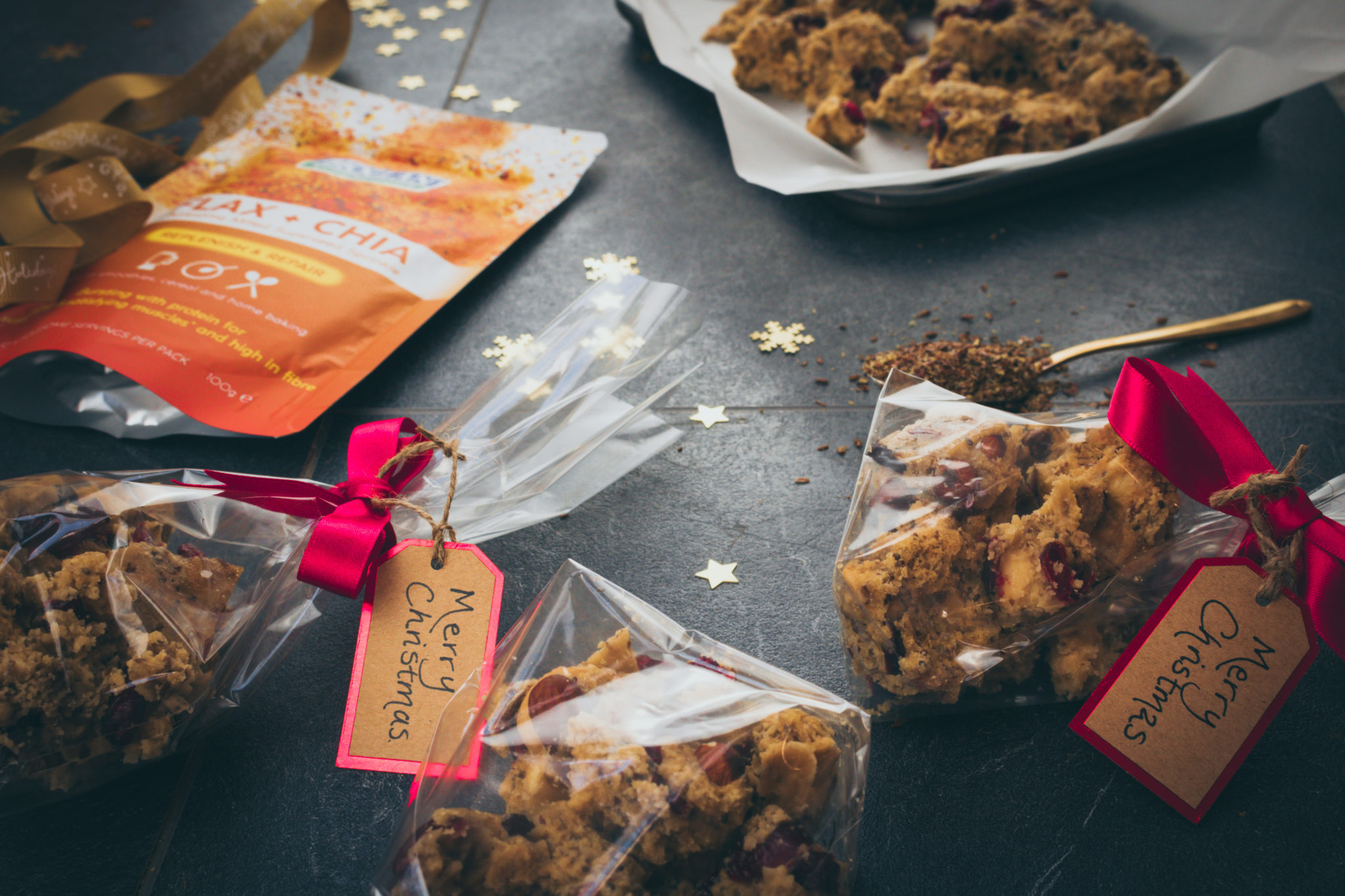 Cranberry and Nut Brittle
with Flax + Chia

Makes 6 bags

1 hour
This recipe using our Flax + Chia is a real winner when it comes to scoring points with your friends at Christmas time! The brittle is deliciously moreish and has a crunchy, chewy, crumbly texture all at the same time. You can customise it by adding different dried fruits like raisins, cherries or apricots. Feel free to experiment with the type of nuts too, peanuts and sesame seeds would work well in this recipe.
Ingredients
Buy ingredients online at your selected retailer
250 mixed nuts- we used cashews and almonds
100g Bioglan Sueprfoods Flax + Chia
100g dried cranberries
400g granulated sugar
120ml water
113g unsalted butter
1/2 teaspoon bicarbonate of soda
Sprinkle of sea salt
Method
Preheat oven to 350°C/ gas mark 4. Spread the nuts onto a baking sheet and toast in the oven for 7-10 minutes, just until the nuts begin to turn golden brown.
In a heavy bottomed saucepan, combine the sugar, water and butter over a low heat. Stir until butter is melted and sugar is dissolved. Once mixture begins to boil, insert a sugar thermometer and cook to 300 degrees F, while stirring occasionally.
As soon as the temperature reaches 300 degrees, immediately stir in the baking soda, which will cause the mixture to foam. Moving quickly, stir in the nuts, cranberries and Flax + Chia and pour onto a non stick baking tray lined with greaseproof paper. Use the back of a spoon to spread out the mixture as thinly as you can (mixture will be thick). Sprinkle generously with sea salt.
Let sit for 30 minutes until cool and then break into small chunks.