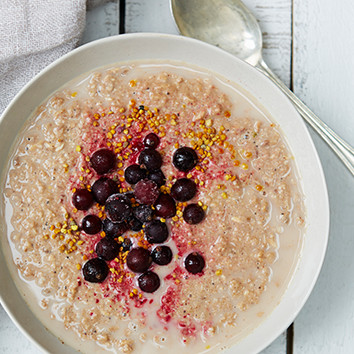 Energy Boosting Porridge
Recipe by Natasha Corrett

Serves 1

5 minutes
Natasha Corrett on her energy boosting porridge:
"Not having enough time to prepare healthy food is a struggle a lot of people come up against. Finding quick, simple and easy recipes to follow that make you feel full of energy while you are running around with work or after the kids is essential. If you are deprived of sleep we tend to reach for carbohydrates. At the moment of eating them they give you a spike in energy but you will get a low as quickly as you went up. This is because the refined flours and sugars in these starchy carbohydrates play havoc with your blood sugar levels leaving you feeling bloated, exhausted and wanting another quick fix. Eating delicious nutrient-dense meals is hard to plan ahead sometimes so one of the best things you can do is have a wonderfully filling and nourishing breakfast. I remember I was always told as a child to have a good breakfast as it will fill me up for the day. Well this old wives tale is true. Eating a hearty breakfast filled with slow releasing energy is priceless. This energy boosting porridge takes all of 5 minutes to make and because of the added
Cacao Boost
powder it makes it taste decadent and creamy."
Ingredients
Buy ingredients online at your selected retailer
60g oats
1 ¾ cups water
1 tbsp Bioglan Superfoods Cacao Boost
1 tbsp almond butter
1 tbsp Coconut Oil
1 tsp cinnamon
Syrup to taste
Frozen berries and bee pollen to garnish
Method
In a pan put the oats and 1 cup water on a medium heat for about 30 seconds. Add the Bioglan Cacao Boost and stir in the rest of the water and add the coconut oil, almond butter, cinnamon and stir until its your desired consistency. This will be about 1-2 minutes.
To serve add some syrup to taste and garnish with frozen or fresh berries and bee pollen.