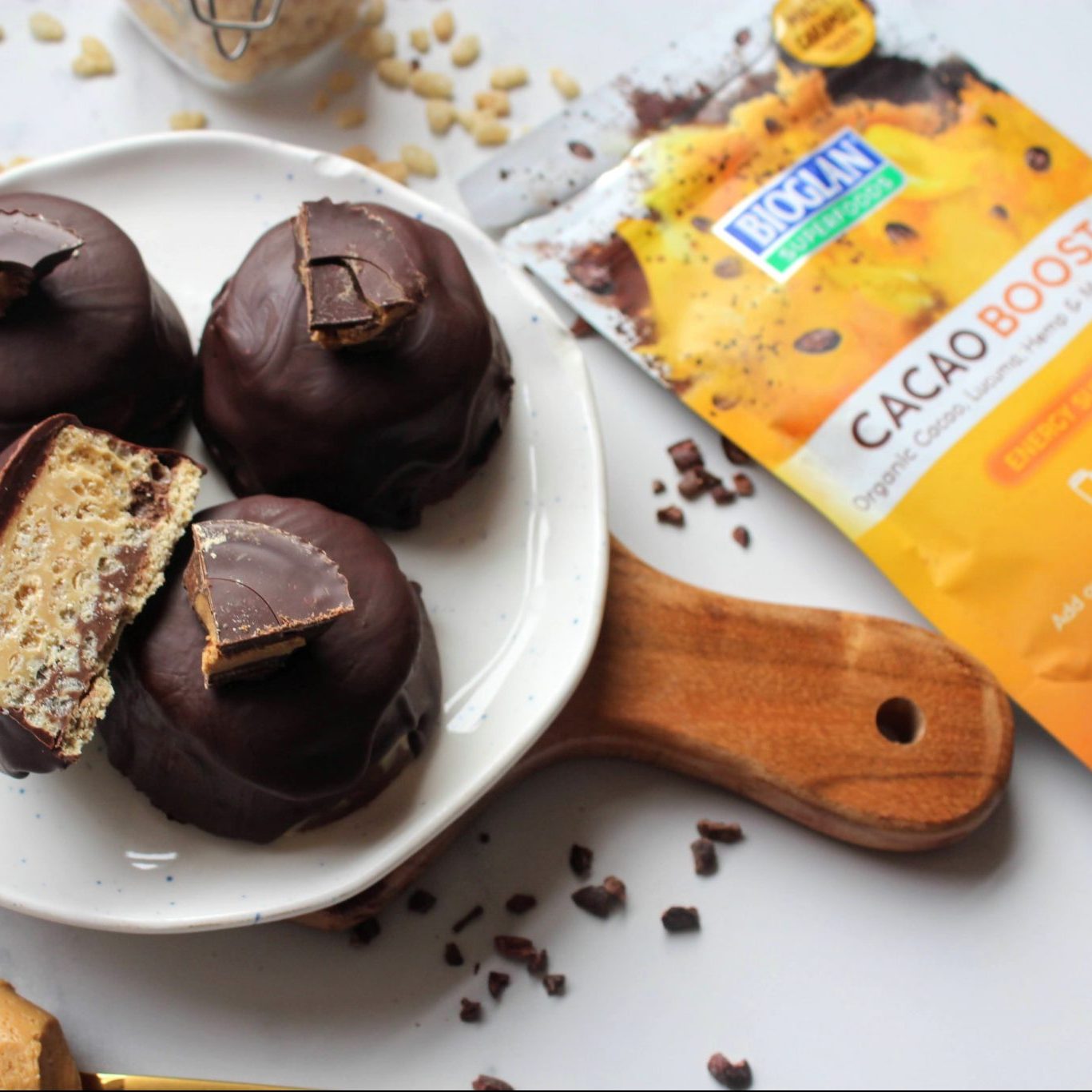 Crispy Chocolate Peanut Butter Teacakes
with Cacao Boost

2

Two Hours
Another amazing recipe from our Superfoods ambassador SpamellaB. Crispy Chocolate Peanut Butter Teacakes with Cacao Boost. A rich peanut butter crispy topping, smothered with a chocolate layer and a crunchy oaty base, coated in dark chocolate and topped with peanut butter cups – wow!
Ingredients
Buy ingredients online at your selected retailer
4 tablespoons coconut oil
4 tablespoons smooth peanut butter
6 tablespoons maple syrup
25g rice crispy cereal
4 tablespoons Bioglan Superfoods Cacao Boost
4-6 plain oatcakes
100g dark chocolate, to coat
Peanut butter cups, to decorate
Method
1. First melt the coconut oil, nut butter and maple syrup until smooth. Set aside 3 tablespoons of the mixture (put this in a bowl and whisk in the cacao powder) and add the rice crispies to the remaining mixture.
2. Spoon this into a 4-6 hole silicone muffin or dome shaped tin to fill and nearly reach the top.
3. Spoon the cacao peanut mixture on top of each to cover then gently press an oatcake on top of each. Chill in the fridge for 1 hour to set.
4. Pop each of them out onto a wire rack (oatcake at the bottom). Gently melt the dark chocolate with 2 tbsp coconut oil then pour over each one to cover. Place a small piece of a peanut butter cup on each.
5. Chill for a further 30 minutes at least - then enjoy!