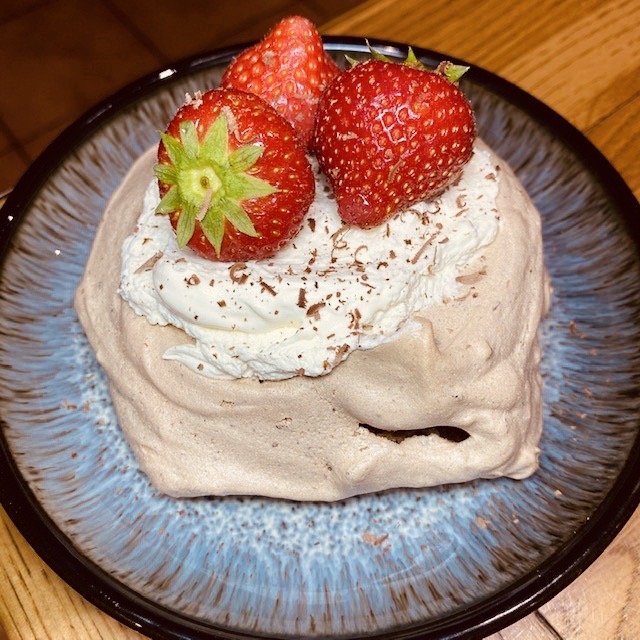 Chocolate Meringue
with Cacao Boost

6

Two Hours
This mini meringue and and pavlova recipe is from our Superfoods Ambassador @thelondonfoodflirt using our Cacao. Super delicious, light, crispy on the outside, soft & chewy on the inside and so fresh with the cream & strawberries on top.
Ingredients
Buy ingredients online at your selected retailer
For the base:
3 eggs whites
120g caster sugar
1 ½ teaspoon balsamic vinegar tablespoons of Bioglan Superfoods Cacao (sieved)
½ teaspoon balsamic vinegar
25g dark chocolate coarsely grated
For the topping:
250ml double cream (added a little Marsala and coffee liqueur)
Berries of your choice
Dark chocolate coarsely grated
Method
1. Preheat the oven on 180 Fan.
2. Beat the egg whites until they form silky peaks then beat in the sugar a few spoonfuls at a time until all the sugar is combined and the meringue is silky and stiff.
3. Sieve in the Cacao, add balsamic vinegar, add the grated chocolate and fold in until well combined. Split the mix into six & moulds onto a baking tray in round blobs and smooth as you like.
4. Pop into the oven and turn the heat down to 150 Fan immediately, cook for 30 minutes, switch the oven off & leave them in the oven for further 30 minutes, do not open the oven door. After 30 mins, take them out, allow them to cool, pop the cream and berries on top and you're good to go!