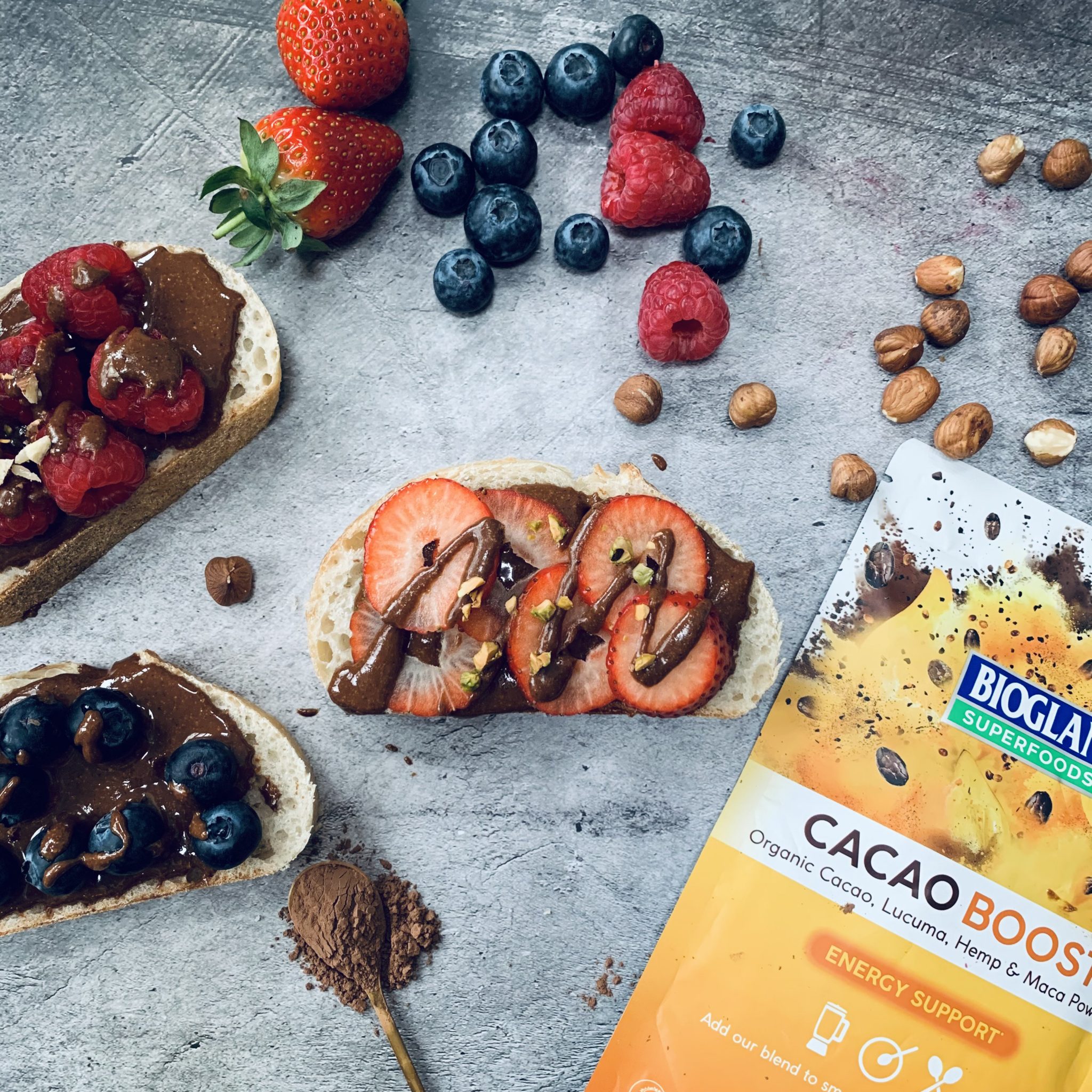 Chocolate & Hazelnut Spread
with Cacao Boost

2

Forty-Five Minutes
A healthy alternative to shop bought chocolate spread. This Chocolate & Hazelnut Spread with Cacao Boost tastes amazing on a loaf of fresh bread topped with delicious fruits. Great for the kids to enjoy too!
Ingredients
Buy ingredients online at your selected retailer
1 cup whole, raw hazelnuts
1tbsp rapeseed oil
50g chocolate (we used a 60% cocoa milk chocolate)
2 tsps Bioglan Superfoods Cacao Boost
1 tsp vanilla extract
Method
1. Preheat the oven to 180°C.
2. Line an oven tray with baking paper and place the hazelnuts on the tray for 15-20 minutes. Keep an eye on them so they don't burn and mix them up every now and then so they toast evenly.
3. Take them out of the oven and leave aside to cool for a few minutes.
4. To get the skins off, place the hazelnuts on one side of a tea towel and with the other side, rub the hazelnuts to get the skins to come off. Alternatively you can use your hands.
5. Place them in a blender or food processor and blend until you see a nut butter forming, you will probably have to scrape the sides every now and then. It can take a good 5-10 minutes for it to turn into a smooth nut butter.
6. Place the rapeseed oil and chocolate in a microwavable bowl. Heat in for 20 seconds and stir. Then place back in the microwave for 10 second bursts until it is smooth and melted – don't overheat or it will burn!
7. Pour the melted chocolate mix, Cacao Boost and vanilla into the blender. Blend again until the spread is smooth, scraping the sides occasionally. Don't worry if it is a little runny, it will thicken once it comes back down to room temperature.
8. You can also refrigerate it for couple of hours and then take it out, leaving it at room temperature for an hour to firm it up further.
9. Enjoy!