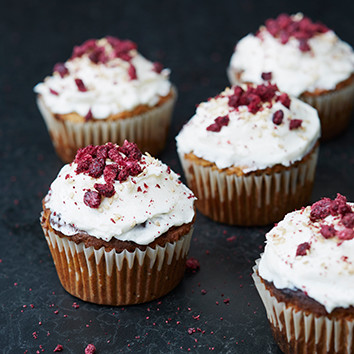 Flax + Chia Carrot Cake Muffins
Recipe by Natasha Corrett

Serves 12

50 minutes
Natasha Corrett from Honestly Healthy on her delicious carrot cake muffins:
"My philosophy is following the 70/30 rule. 70% of the time follow a healthy way of eating and 30% eat and drink what you like. The only way to sustain and succeed at having a healthy lifestyle is to make healthy eating a way of life rather than a diet or detox. Depriving yourself of the things that you tend to gravitate towards when you are being 'naughty' is only going to make you want them more. Finding the healthy alternative and making it delicious is the only way to really live a healthy life continuously. It's not about being on a diet or detox. Think of it as nourishing and cleansing the body. If you find yourself falling off the wagon and reaching for something like a chocolate bar then just make sure that the next thing you put into your mouth follows the Double G rule; is green and good for you. Don't wait till Monday or next month, it's about what you are doing at the moment in time to nourish the body. Finding the healthy alternative doesn't have to be hard or difficult. For example these delicious
Flax + Chia
carrot cake muffins taste like an indulgent treat but they are vegan, gluten, wheat, dairy and refined sugar free. How do they taste good? I hear you ask! Well the proof is in the pudding. Give them a try as they are super easy to make. Using ingredients like Flax and Chia not only help to bind the mixture together but help to fill you up making you want less."
Ingredients
Buy ingredients online at your selected retailer
2 tbsp Bioglan Superfoods Flax + Chia
6 tbsp water
100ml coconut blossom syrup or agave
60ml Bioglan Superfoods Coconut Oil, melted
125ml tinned coconut milk
80g apple purée
70g coconut cram (the cream off the top of the tin)
1tsp vanilla extract
Zest of 1 lemon
175 grated carrot
140g gluten free flour
100g almond flour
1/2tsp Himalayan salt
1/2 tsp xantham gum
1.5 tsp bicarbonate of soda
70g chopped dates
50g chopped pecans
100g coconut yogurt or milk
150g vegan butter
4 tsp powdered sugar
½ vanilla pod or ¼ tsp extract
Method
Pre-heat oven to 175 degrees.
Line your muffin tray with cases.
Grind up the Bioglan Flax + Chia in a spice grinder or blender.
Weight out your gluten free flour, almond flour, salt, bicarbonate of soda and xantham gum into one bowl and mix together.
In a separate bowl add your ground chia seed to the water, mix and leave to soak for 1-2 minutes till it becomes a thick gloopy texture. Mix in the coconut blossom syrup (or agave), coconut milk and apple purée till smooth. Then add the coconut oil - make sure it's no hotter than tepid when you do this. Once mixed stir in the lemon zest and grated carrot.
Slowly stir in the dry ingredients to your wet until completely incorporated then mix in the chopped dates and walnuts.
Spoon the mixture into the 12 muffin cases making sure the batter reaches the top of the case. It is approximately 2 heaped tbsp per muffin.
Put into the preheated oven for 30-35 minutes until they become a dark brown colour. If you test with a skewer it will still have a little moisture on it, it won't come out completely clean.
Leave to cool for at least 4 hours, this is because the muffin will stick to the paper case and not pull away cleanly (the joys of gluten free vegan baking!).
Blend together the icing mixture until creamy texture and smear over the top of each muffin with a pallet knife– sprinkle dried fruit, sesame seeds or chopped nuts over the top.